Going to put stripes on afterall... FINISHED - New pics added
04-16-2008, 05:20 AM
2nd Gear Member
Join Date: Feb 2007
Location:
Posts: 363
Going to put stripes on afterall... FINISHED - New pics added
---
Ok... after getting my hands on some nice silver 8 year grade vinyl today, I have decided i'm going to get some stripes put on my mustang. I went ahead and started up a simple mock-up of how I might want it to look. The stripes themselves aren't original really. I forgot where i've seen this side design before, but I know it's somewhere. No need to critique the work. It was done in photoshop really quick. The finished product will be vectored in illustrator so I don't really need a perfect mock of it right now. Just something for quick presenation. I didn't even feel the need to do thestripescontinuing to the roof if you notice lol
So what do you all think of the sides? I kind of re-did the car to make it LOOK how mine does right now (besides the stripes).
The sides will say 4.0L and underneath that is the word STANG. The font i'm using is basic right now but will be a nice looking block font when I actually get it vectored. I'll probably follow up with how it will look before I apply 'em sometime tomorrow (or day after).
[IMG]local://upfiles/61603/3760EAF8C6C3402CA06E55DF636E498C.jpg[/IMG]
04-18-2008, 12:02 AM
RE: Going to put stripes on afterall... Mock-up
---
I know you just said that the vinyl on the way, but I'm sure you'll still appreciate me saying that looks awesome and you made the right decision. By the way, I think the stripe you're thinking of is the Roush 427R stripe: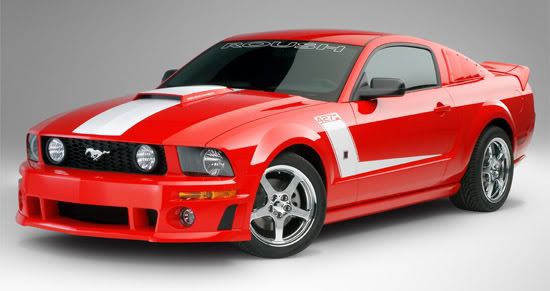 04-18-2008, 04:46 AM
2nd Gear Member
Join Date: Feb 2007
Location:
Posts: 363
RE: Going to put stripes on afterall... Mock-up
---
Yup that's what i think it was too! Except I think the car I saw it on (pic) was silver or white.
Damn even that center stripe down the front is looking pretty temping... but i want mine down the bumper in doubles sooo
lol. Getting the vinyl tomorrow, putting on the sides tomorrow and will deal with the doubles next week.
BTW That color scheme is pretty bad *** with those stripes. Usually i'm not too fond of white/red combo but that's pretty sharp.