what color should I paint my car
12-14-2008, 03:13 AM
5th Gear Member
Join Date: Aug 2006
Location: Near Wash. DC Posts: 13,541
Posts: 2,497
---
Money isn't different in kentucky, and it wouldn't matter if he used paint he stole for part of the work and such.
If you read my post "it costs $5000 *minimum* to repaint a Mustang correctly, right from the cheapest shop to the most expensive it's a similar minimum."
Heck even people that run paint shops from their back yard charge $2500 (and produce sh*t unevenly coated work (which is actually better than macco because it will last 12 years instead of 2)).
You should copy my friend Brad's car, he lives in socal so there is no way this ride won't be likable:
Those are Stern ST 1 19" wheels.
This makes you cool.
---
Last edited by Legion5; 12-14-2008 at

03:17 AM

.
12-14-2008, 09:48 AM
3rd Gear Member
Join Date: Apr 2008
Location: Merritt Island, FL
Posts: 996
---
Repainting costs way too much, and if you were to do it, you might as well get some custom color(s) that no one else has. You can get some charcoal colored stripes or some blue ones if you're feeling daring!
And what do you mean you're sick of silver?!?!?!
12-14-2008, 11:46 AM
---
that schwinn bicycle orange on the roanele is sweet...do you know what im talking about?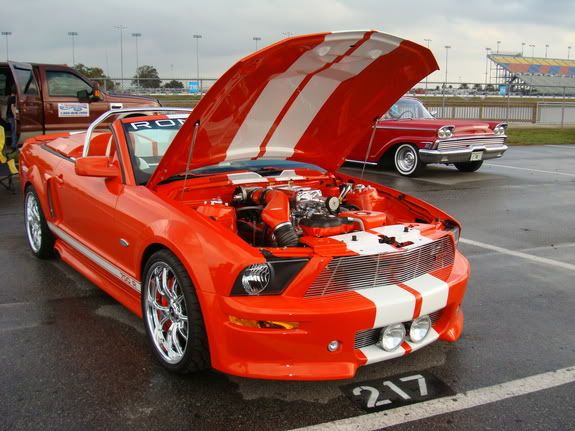 oh and im sick of silver because before this car i had a white 03 v6 for 2 months and before that i had a silver jeep forever
12-14-2008, 12:48 PM
---
If you want your paint job to look better why not just re-clear the whole car .Have them cut and buff it. Add some black stripes while your at it. You could have that done in the 2k price range.
A color change requires pulling the engine,all the wiring from under the hood.WAPITA.
Thread
Thread Starter
Forum
Replies
Last Post
The New S550 2015-2020 Mustang
Members Rides and Car Show Section