Caliper paint brush-on kit standoff! Duplicolor vs G2
03-12-2010, 06:16 PM
---
Brake caliper color for a redfire? Something cool and different would be refrigerator white.
03-13-2010, 10:46 AM
---
I painted my calipers chrome silver from a rattle can. Cleaned the calipers good spray painted and they turned out fine. I did this over a year ago and they still look good. I also did the same on the 07 mustang(vista blue) and the paint was on them for over two years.
Current mustang vapor silver.
03-13-2010, 11:14 AM
---
I used the blue G2 color on my 07 the summer of 2008. In 2009 I put caliper stickers on the front and rear, the paint peeled off on the rear calipers when putting them on. The car is garaged in the winter, and I took great care to clean off the calipers before applying the paint. I am a little disappointed.
03-13-2010, 11:21 AM
---
Duplicolor - Brush kit - Red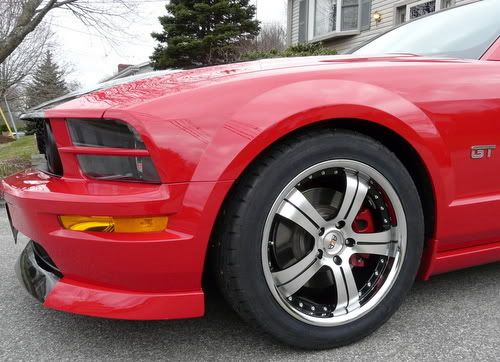 03-14-2010, 10:04 PM
---
I haven't used the G2 kit but it has to be better than the Dupli-color. I used Dupli-color on another car and it started coming off in a couple of months. Next time I think I'll powdercoat them.
03-15-2010, 10:54 AM
2nd Gear Member
Join Date: Jun 2007
Posts: 368
03-15-2010, 12:23 PM
---
Think the previous owner used duplicolor paint and it got chips all over. I'm thinking of using the G2 epoxy kit. Looks like it has a nice thick clear coat and the red paint has metallic qualities to it.
---
Last edited by alkemist; 03-15-2010 at

12:29 PM

.
03-15-2010, 01:34 PM
---
i have used both. i used the Duplicolor on my current car. let just say i will be re-painting them this spring with the G2 kit.

Duplicolor is a waist of time.
03-15-2010, 07:12 PM
---
G2 all the way, its a little more money but its worth it, it sticks much better and doesnt chip as easily
03-15-2010, 07:24 PM