First Post: Considering buying an 07 Mustang GT: Compare to 06 GTO
01-31-2007, 12:03 PM
1st Gear Member
Join Date: Jan 2007
Location:
Posts: 67
RE: First Post: Considering buying an 07 Mustang GT: Compare to 06 GTO
---
Thanks for the replies. Please keep them coming. I have to redrive both cars on a bit longer test drive. The GTO seems to be a riskier proposition. I have concerns about it being a discontinued version of a low volume car. Also being a rebadged version of the Holden. It could hold it's value very well like a mid-90s Impala SS or it could be an albatross. I also have concerns about longer term parts availability on things other than drivetrain. I like the fact that there is a local Mustang club. I was in the Miata club and enjoyed hanging out with people with a similar interest although many of the Miata club members were much older and more interested in going to eat rather than driving.

The styling of the GTO doesn't bother me as much as it does some people. I don't think it is ugly, just much more generic looking than the Mustang. It looks a lot like a 2-door Grand Prix without all of the plastic crap Pontiac used to put on all of their cars. While I am not a drag racer, I am looking for performance. The on-a-roll acceleration of the GTO was attractive but this was somewhat offset but the fact that it felt bigger and heavier than the Mustang. I would like to get back into an occasional track day. There are a couple of roadcourses locally that rent to car clubs and you can sometimes get hooked up if they have openings. An additional reason I am selling the Miata is because the tracks have gotten stricter on allowing convertables and I would likely have to further modify the Miata to run a track day. Thanks again for the replies. Decisions, decisions, decisions....
01-31-2007, 12:43 PM
3rd Gear Member
Join Date: Dec 2005
Location:
Posts: 749
RE: First Post: Considering buying an 07 Mustang GT: Compare to 06 GTO
---
I have a caddy CTSV (though a 2004 with the LS6 not the LS2) and a 2006 Mustang GT vert. The CTSV has many similarities to the GTO. I like both cars, but the 400 hp/400 ft lbs makes the Caddy (and from all accounts, the LS2 gto) much more powerful than the mustang. The 0-60 and 1/4 mile numbers are not that different because the launch of the IRS GTO is pathetic...but it's not a drag car.

Styling is what it is; the cars are quite different. get the one that you like best. If you don't have a clear preference yet, try to test drive some more.
01-31-2007, 01:23 PM
I ♥ Acer
Join Date: Feb 2006
Posts: 420
RE: First Post: Considering buying an 07 Mustang GT: Compare to 06 GTO
---
Car&Driver did a "head to head" comparision of the 05 Mustang GT and the GTO (I think it was called Pony vs Goat) about 2 yrs ago. The Mustang won overall - by just a bit - but it was 300hp vs 400hp. It was the Mustang's styling and new platform that made the difference.
01-31-2007, 01:25 PM
1st Gear Member
Join Date: Dec 2006
Location:
Posts: 76
RE: First Post: Considering buying an 07 Mustang GT: Compare to 06 GTO
---
I have owned 7 GTO's the last was a 69 GTO Judge. I just can't get over the ugly no style of the new GTO. Is it a Grad Am or a chevy cavalier?
They could have re-done the front end to give it a retro but Garabage Motors cheaped out like they always do. Also the rear wheel arch is way to small. When I heard about the new GTO I was very excited only to be let down.

I know this opinion is mostly based on looks, retro is in, we spend most of our time on the street so looks do matter Performance is about the same so I had to go with the car that did not blend into he backround as a chevy cavalier
01-31-2007, 01:28 PM
3rd Gear Member
Join Date: Sep 2006
Location: Raleigh, NC
Posts: 576
RE: First Post: Considering buying an 07 Mustang GT: Compare to 06 GTO
---
ORIGINAL: StowesStang
I think you will find the opinion on this forum will lean toward the Mustang
I have not compared the two but just wanted to chime in with input. Ive seen the GTOs inside and out but have never driven one. You are right, the styling of the GTO doesnt even touch the Mustang. I know that the GTO has more HP stock then a Mustang but since that is not your big selling point then Id have to consider the money spent. I think you will get more bang for your buck with the Mustang and if you ever decide to get crazy with it, the options are endless. Not saying anything bad about the GTO, I just think the Mustang is a better car in general!!
Either way, good luck, decisions, decisions!!!
P.S. The Vista Blue is particularly a great color!!!
+1 in regards to the vista blue!!
[IMG]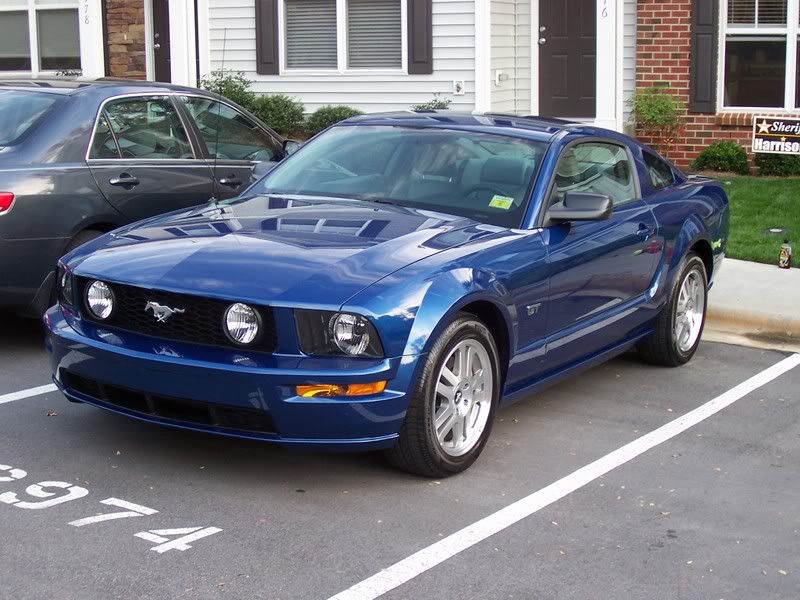 [/IMG]
01-31-2007, 01:29 PM
5th Gear Member
Join Date: Nov 2006
Location: California
Posts: 4,132
RE: First Post: Considering buying an 07 Mustang GT: Compare to 06 GTO
---
I have a good friend with an 06 Goat so I have spent my time in the the car. The mustang looks better all around inside and out. Now stock for stock the Goat is faster --- do a few mods and you'll beat it in the stang. I can relate to needing a bigger car as my finace is pregnant and due in 3 months... if your shooting for the family & speed then the Goat is the way to be... the mustang has no backseat room really at all BUT enough for a 1 baby
We already have 2 boys and 1 more on the way so I'll be getting an SUV and keeping the stang. I love my mustang but I say the Goat is better for your situation.
01-31-2007, 01:49 PM
RE: First Post: Considering buying an 07 Mustang GT: Compare to 06 GTO
---
i also considered both cars. in fact my friend has an 05 GTO (w/the ls2) that he let me drive pretty hard. i'll post a pic... (he loves his...)

everything you said in your reviewwas spot on. one other thing that i loved about the gto were the seats!! wow, they were so comfortable and great lateral support!

the gto definitely feels heavier. however, the interior is definetely of higher quality. i loved the sound of the ls2 but love the sound of my gt, too. the looks of the gto didn't bother me i kind of liked the sleeper look. my other friend got into a race with a gto in his g35 coupe because he didn'trealize what it was until it flew by him! that's sort of a good thing and bad thing depending on how you look at it. i can say this, too, i'm a car guy but i HAVE mistaken a gto for a cavalier from a distance!!! (just once....)

what it came down to for me was looks and functionality. i had the bland explorer before my mustang so i decided that while the sleeper/anonymous look has it's benefits i wanted something a little flashier. also, i need a decent trunk and the gto... nada. that could really be an issue especially if you have a family like you do. throw in regular gas vs. premiumAND lower price AND 0% for 72 mo's (back in sept.) and it was a no-brainer.

i think the gto would be a great commuter car to work if you had an hour drive on a highway each way. heavier car, IRS, smoother ride, great seats...

but for more fun, more mods, more community support, etc... go mustang!






[IMG]local://upfiles/47702/8F3D99606AB24C328BF599EA0D77CC67.jpg[/IMG]
01-31-2007, 01:52 PM
2nd Gear Member
Join Date: Jan 2007
Location: .
Posts: 253
RE: First Post: Considering buying an 07 Mustang GT: Compare to 06 GTO
---
The looks of the mustang did it for me I mean sure I looked at the GTO's (but never drove one) and after driving the stang I couldn't get the grin off my face. I knew I had to get my wife to drive it to seal the deal. I wasa GM guy for over 10 years, now I own 2 Fords! Get the stang you won't be sorry.
01-31-2007, 02:04 PM
1st Gear Member
Join Date: Jun 2006
Location: Metro Atlanta, GA
Posts: 66
RE: First Post: Considering buying an 07 Mustang GT: Compare to 06 GTO
---
I think the Mustang and the GTO would both be competent track day cars.Personally I prefer the styling of the Mustang but like you I like the goat pretty well too. I find the 'sleeper' aspect of the Pontiac appealing in a way.
I have done two open track days in my Mustang at Road Atlanta (7/06, 12/06), doing a third coming upin March. I plan on doing 3 or 4 track events a year in the car, which is also my daily driver. I have the FRPP handling pack (springs, dampers, swaybars) installed, plus SS brake lines and DOT4 brake fluid. For track days I swap out the stock brake pads for Hawk Blues. In this configuration the car does fine on the open track - don't get me wrong it's no Z06 and doesn't handle like a Lotus but still plenty of good fun. For me personally, it will be some time before my ability level increases to the point where my lap times are limited by the capabilities of the car.
You are right down the road from Barber which I have not personally driven but I know several guys who have and everyone loves that track. Also Road Atlanta is a pretty short drive, so you should have plenty of track opportunities if that's what you're after.
Here's a link to some track day pictures from December. The pagealso has a link to in-car video from that day on youtube.
http://www.pbase.com/frodaddi/panoz1206
Kevin.