how do you remove the license plate bulb???
01-12-2009, 08:02 PM
Join Date: Aug 2007
Location: Sunny FL
Posts: 29
how do you remove the license plate bulb???
---
the screws above the license plate that hold the light in plate keep aimlessly spinning...and not unscrewing.....

i tried reaching back with my hand to find the other side of the screws but the metal bumper is in the way. HOW DO I REPLACE THE BULBS??? thanks
01-13-2009, 08:00 AM
---
Doug,
I just did this over last weekend.

The "screws" are actually just plastic pins that spread the plastic snap holder to keep it in place. if you take a phillips screwdriver and turn the pin, without putting any pressure on it, it will begin to screw out of the holder. Once you can get a finger nail or a pick behind the head of the pin, it just pulls straight out.

With the pins removed, you can then pop out the light holder.

Of note, this bulb is a 194 style wedge bulb. I replaced mine with a 5 LED wedge bulb and it looks cool as hell.

UB10
05-15-2009, 10:28 PM
---
just remove the two screws circled below with a philips head screwdriver. Then gently pull down on the light fixture.
Unscrew bulb and remove light fixture:
Replace with new led bulb. Important to note that LED has polarity, so if doesnt work first time switch it around!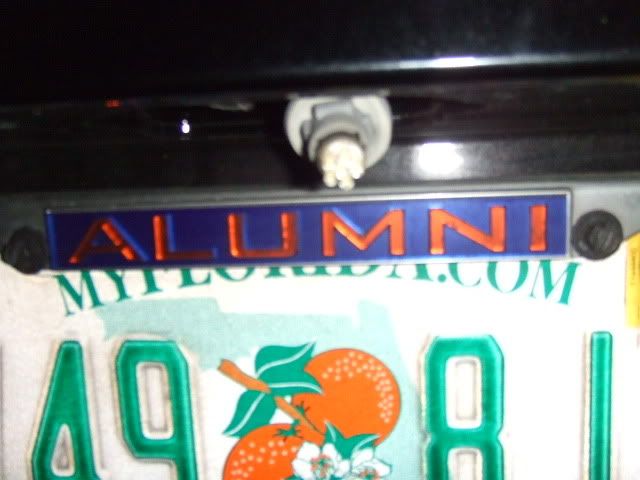 05-15-2009, 10:32 PM
---
I got the LED from vleds.com along with replacement LEDs for my dome light.

For some reason they sent me two license plate LEDs. So if anyone wants it, PM me your address and I will mail it to you, wont even charge you postage! First person to PM me gets it!

EDIT: LED no longer available.
---
Last edited by nmd55; 05-16-2009 at

02:15 AM

.
10-31-2014, 10:12 PM
Join Date: Oct 2014
Location: Washington
Posts: 1
License Plate Bulb out
---
Tried to replace what I thought was a burned out license plate bulb with an LED, come to find out that there is no power to the socket. Any suggestions on how to repair or even troubleshoot? Is there a wiring diagram available?
11-01-2014, 11:05 AM
---
Your local Ford Dealer might share that diagram with you, maybe.
Or purchase one of the Manuals after-market that has wiring diagrams etc.
Terry