Did your Mustang come with two-tone interior?
05-03-2011, 12:42 PM
Did your Mustang come with two-tone interior?
---
My 2007 V6 convertible came with a dove interior and charcoal leather seats. I also have a leather wrapped steering wheel even though I don't have the interior upgrade package (I have the black dash). I was thinking about changing it all to charcoal but I didn't know if this was somewhat rare. How many of you guys have factory two-tone interiors?
Here are some pics of mine:
05-03-2011, 12:48 PM
---
Mine didn't. Came black on black on black with no options. It was like sitting in a plastic cave. I swapped out the steering wheel for an IUP leather one, swapped out the cloth for leather etc.
---
Last edited by Alec; 05-03-2011 at

12:50 PM

.
05-03-2011, 01:09 PM
05-03-2011, 02:46 PM
---
My dash is very similar to yours. But I have the plain gray cloth seats, non-leather steering wheel, and the gear shift is all black. But mine is just a completely base model. I didn't have a choice in it though since it was used when I bought it in 2008.
I wish I could take all of my gray panels and make them black though. The two-tone drives me nuts.
05-03-2011, 02:53 PM
---
The only real two tone interiors only come on the Cal specials.
05-03-2011, 03:03 PM
6th Gear Member
---
All black in both of my Stangs; GT and Pony.
05-03-2011, 03:13 PM
2nd Gear Member
Join Date: Sep 2009
Location: Arizona
Posts: 451
---
yeah my interior is all gray leather interior but I think my car was a special order becuase of the random mix of options it has. It has leather and heated seats and power front seats, shaker 1000, auto dimming rearview mirror but doesnt have the mycolor option and also has the 18" wheels but with a 5 speed manual.
05-03-2011, 05:21 PM
---
I am in the same boat as you. I got my 09 GT after the 2010's were out. I wanted the black exterior and all black interior but when I started looking my choices were limited. I found a car that was black with a scoop, spoiler just like I wanted but it had the tan/ black interior. I am looking into changing the tan to black either by buying new parts or painting the old ones. I am also in talks with a friend to trade his black parts for my tan. If anyone on MF wants to discuss a trade let me know.
05-03-2011, 05:33 PM
---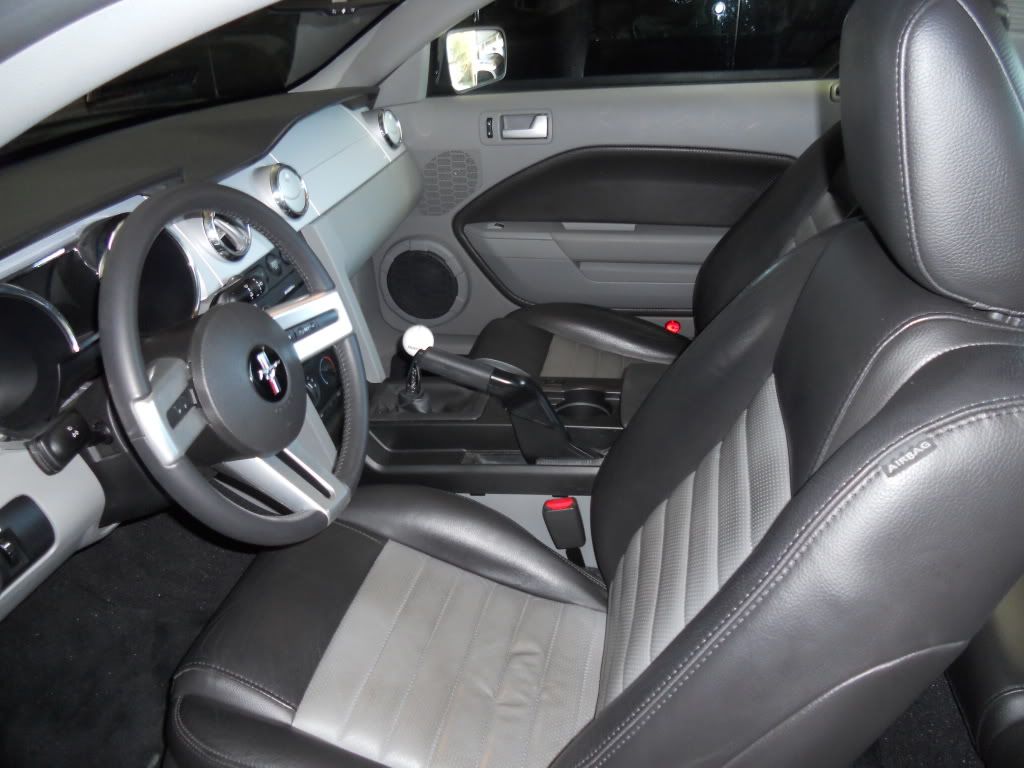 I love my interior, only thing I'd change is the gray part to blue
---
Last edited by 09cs; 05-03-2011 at

07:21 PM

.
05-03-2011, 05:38 PM
---
I really hate the black though. Shows dust so easily
Thread
Thread Starter
Forum
Replies
Last Post
Vendor For Sale / Group Buy Classifieds
2010-current S197 Appearance Section