My 4.0 v6 to 4.6 v8 swap
07-27-2011, 09:32 PM
My 4.0 v6 to 4.6 v8 swap
---
This was done in late 2009/early 2010, reposted here for those who are considering something like it...
Well, the first step is getting an engine and some parts. Here it is..a pickup load!
2009 4.6L with under 9K miles, 5r55s auto tranny with 3K tci stall, and most of all the peices that go with it.
(Got it all unloaded now and the engine on a stand. )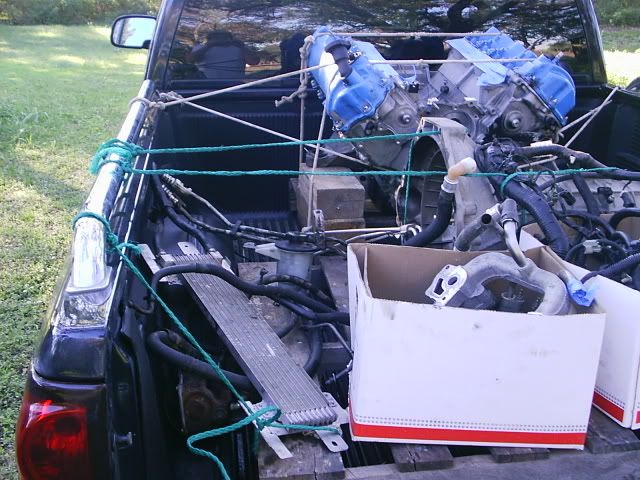 ..a little later...
I stumbled across the engine, and got it just as it was being pulled from the donor car
We did some work today on the engine; first steps, yesterday, getting it unloaded and onto the engine stand (with my brother's help)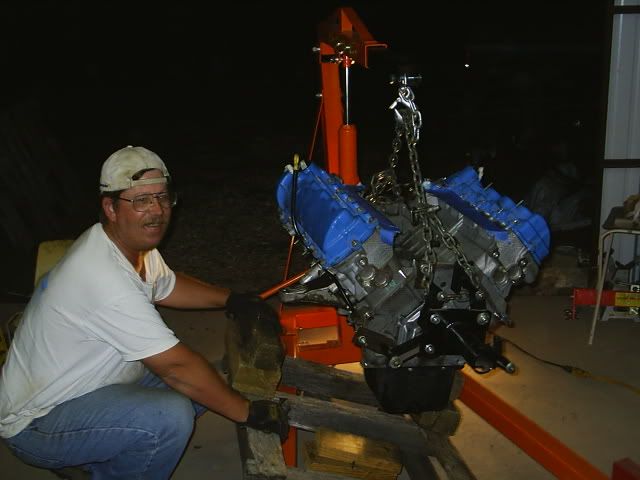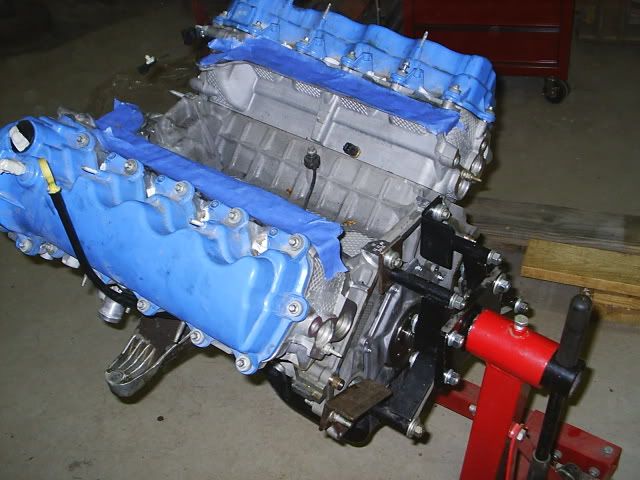 Engine teardown was next:
front/timing chain cover removed: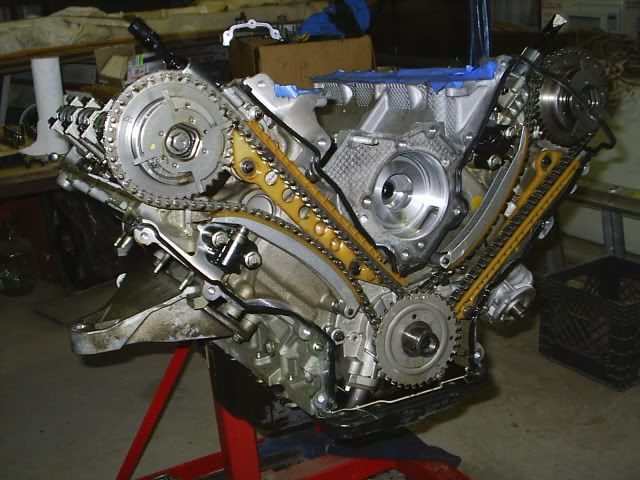 front with timing chains removed: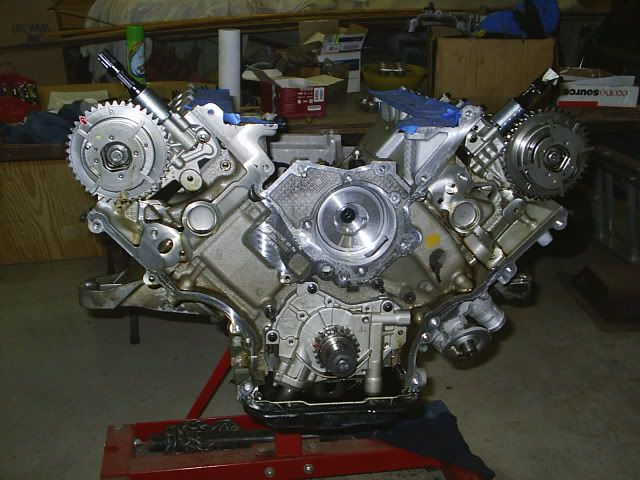 Shortblock, tilted after we took off the oil pan and windage tray.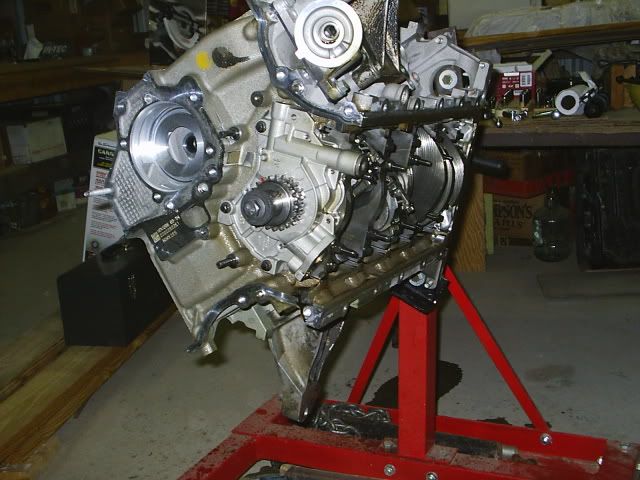 Now I have 2 tables full of parts; here's only one, just from the engine: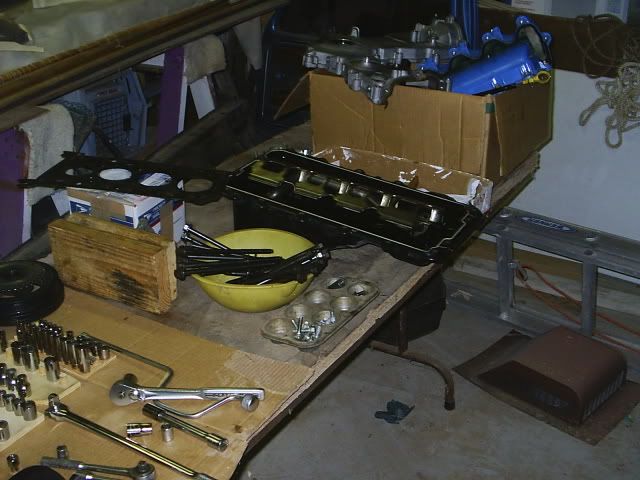 ......
In January, I installed custom-grind Comp cams, valve springs, and vct limiters. The heads were off, so it was a really good time to do this, now. Used the 2V spring compressor tool; I slightly modified the tool via some grinding to fit the 3v cams, and used a breaker bar, pipe extension, and rope to hold down the spring compressor, and used a big c-clamp to secure the head to the work table. Some padding under the head pushed up on the valves to keep them in place, with the head laying flat.
Some pics:
Before disassembly, left head.
Using the special 2V spring tool:
One of "my helpers" (the rope), holding a pipe on breaker bar:
Lately, in the past could of weeks, finally got back on the engine, taking the built stroker shortblock and putting it all back together. Now it's getting somewhere! Almost ready to put in.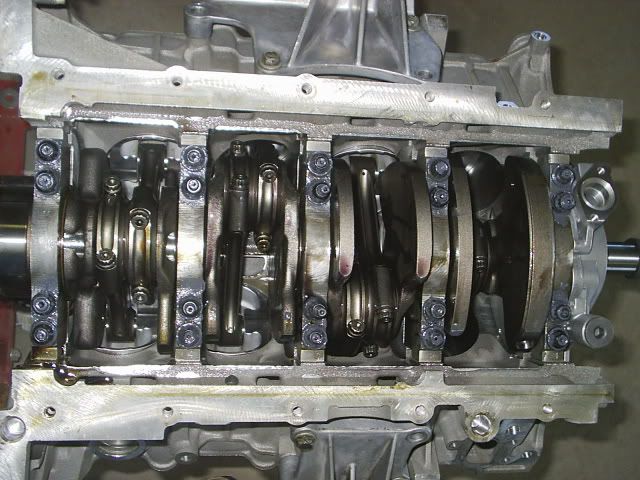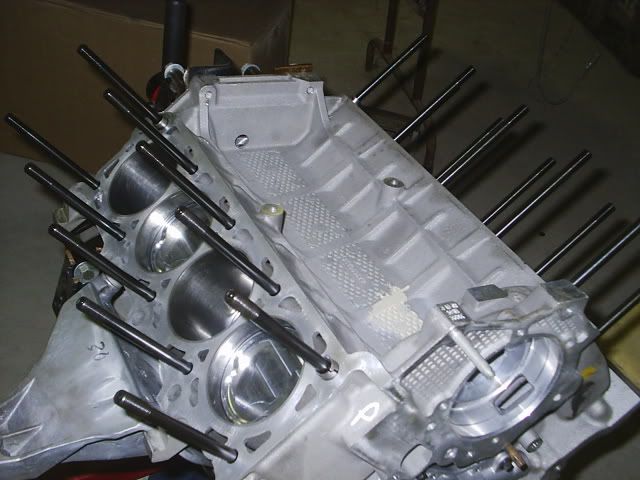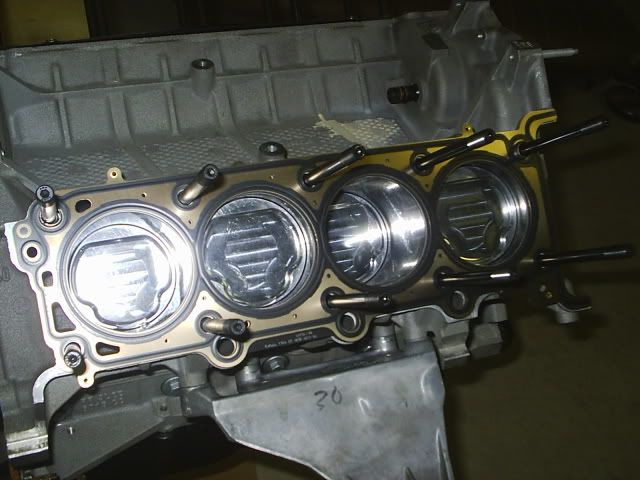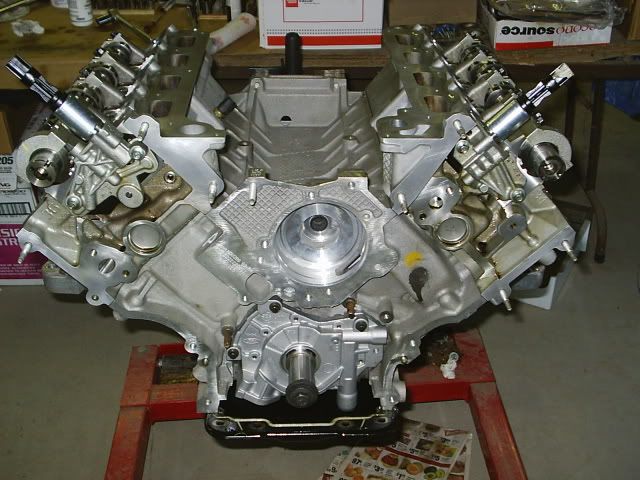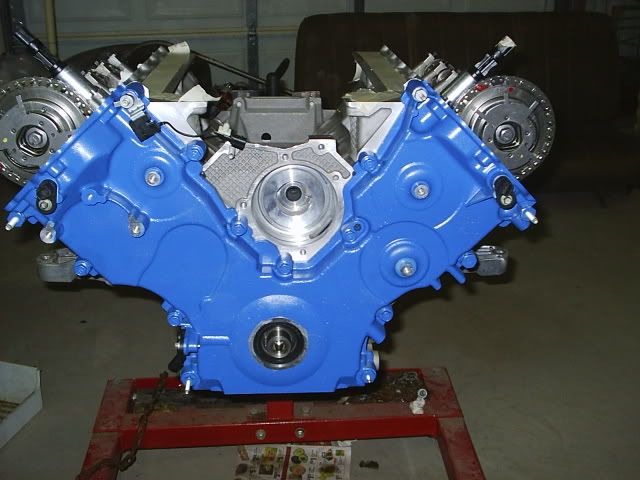 And finally, completely sealed up, with front dressing and nearly all complete (less wiring harness, p/s,a/c,alternator,etc.)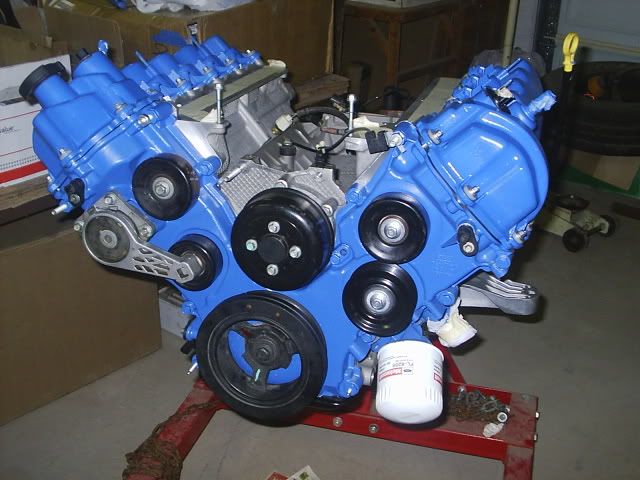 Some pics from progress:
Getting tranny/torque converter together: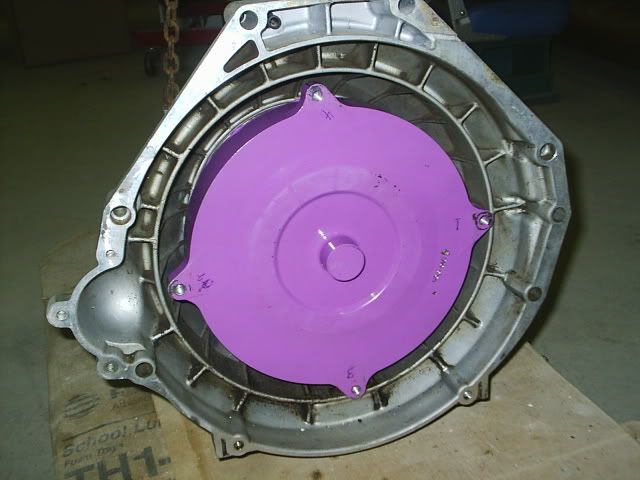 Finishing touches, ready to go in!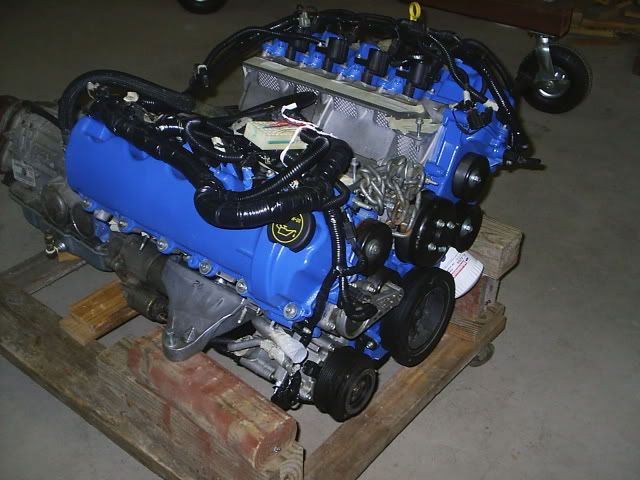 This past weekend and last night, the following progress was made:
V6 coming out:
Nekid engine bay: this is when the a/c lines were replaced, heater hoses removed, power steering line replaced, and a couple other little things done.
V8 going in!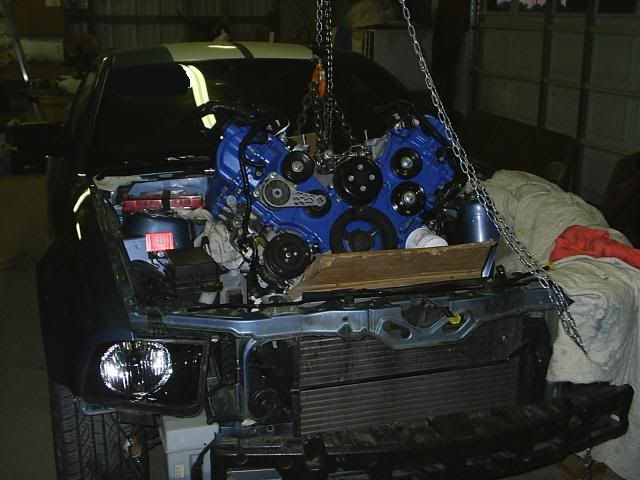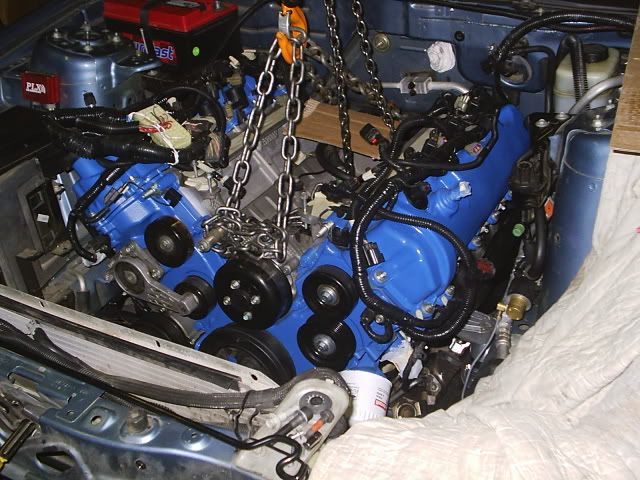 We pulled the V6/tranny and dropped the engine/tranny in together; removing the radiator fan shroud (2 screws) was all that was needed to get the extra room up front. Tilting them so the trans was about 45* or more down really helped.
There's many small details that will take time. Replacing the a/c lines, removing heater hoses, replacing power steering line, etc. Take your time and it'll go ok, just don't rush anything.
Still tons of stuff to bolt up and get together, but really taking shape now.
.......
Here's some pics of progress, and completion as she stands now.
Just using stock intake until she's broken in, then the Kenne Bell will go on in a couple months.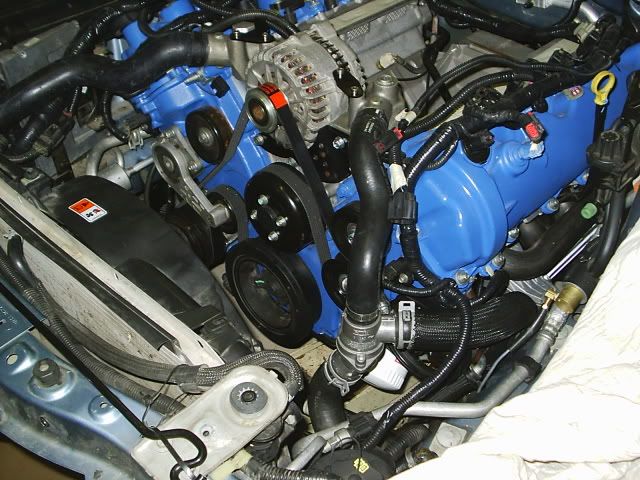 The AN line by the brake booster is my tranny dispstick tube :033:
Engine all done: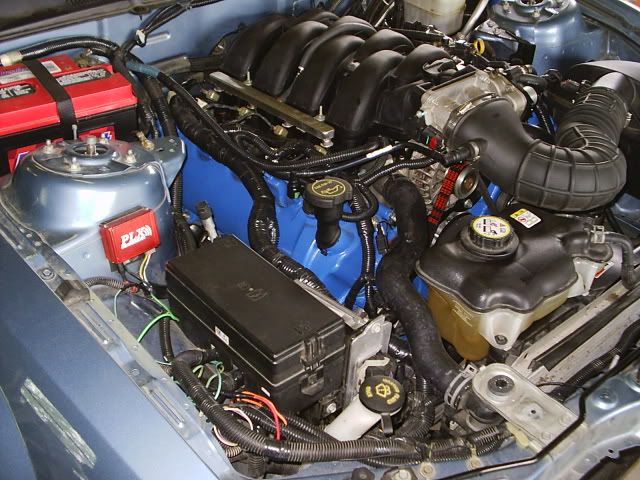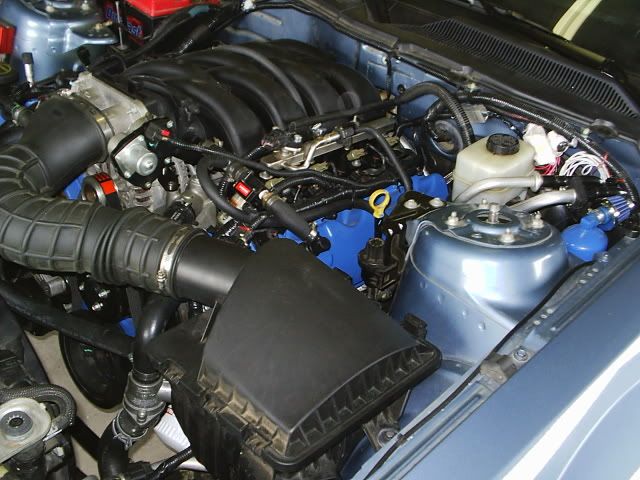 Some exhaust pics, with ARH headers, high-flow cats and X pipe. Hangs really low now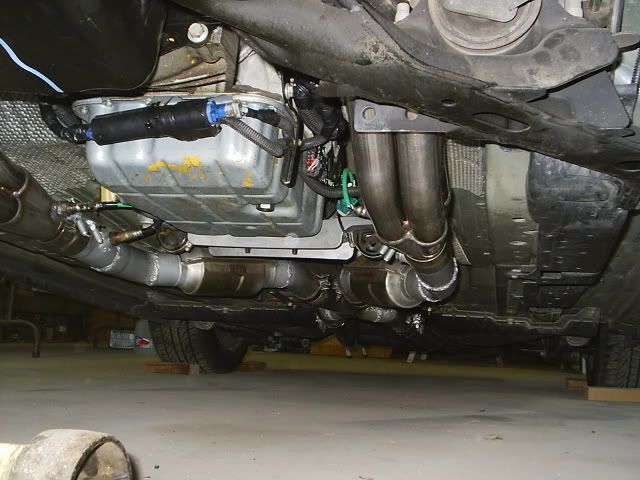 .. then a few months later, made a few more mods...
07-27-2011, 10:03 PM
---
Depends what a shop would charge you, lol.
Seriously though, I don't work on other people's cars. I'll help someone do something now and then, but that's about it. If someone wanted to do a swap or some work, I'd help out or 'supervise', but I would not do a whole project, especially like an engine swap. I get banged up enough working on my own car, lol.

This thread is more for someone who'd want to do a lot of the work themselves and was able to do so. If someone was considering a swap and had to pay for labor, it'd be far more cost effective to sell the car and get a GT. My 2 cents.
07-30-2011, 11:38 PM
---
'05 wiring harness, '06 PCM, both for an automatic. My car's an '05 with automatic; a 05 or 06 PCM is compatible.
An '06 wiring harness could have been used if C110 was replaced (it changed between '05 and '06).