Holster in the stang
01-08-2012, 04:48 AM
Join Date: Nov 2010
Location: CA
Posts: 31
---
i got a random question
what do you guys do with your guns? you refer to them as toys and they seem to bring you fun but all i can see when i look at them is self-defense and danger
01-08-2012, 07:40 AM
---
01-08-2012, 08:46 AM
---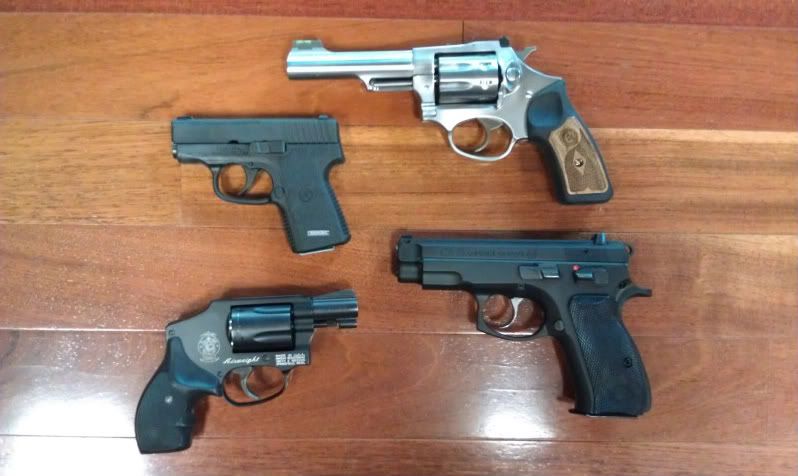 I alternate carrying between these. Tennessee is very gun friendly.
01-08-2012, 09:20 AM
---


To answer pastywhiteboy (great question btw), I love having them for a couple reasons. I am not sure how much exposure you have had to guns growing up or as an adult, but in my eyes they are tools, plain and simple, much like a hammer is to a carpenter or a skillet is to a chef. They do not pose an air of danger in my mind, I am more afraid of people and the terrible things we are capable of with/without a gun, as many people seek to harm others. While a gun can be used to kill someone, so can a baseball bat or a skillet when used to inflict blunt force trauma.

My Marlin 336 in WIN 30-30 (lever gun) is a tool used to provide sustenance when hunting. My handguns are tools for target practice and for self defense. While one is a practical reason (SD), I enjoy the target time at the range. It is fun, atleast to me, to put holes in paper. Who'd-a-thunkit?

Don
01-08-2012, 10:04 AM
---
01-08-2012, 10:47 AM
01-08-2012, 11:07 AM
---
01-08-2012, 12:57 PM
01-08-2012, 01:58 PM
---
01-08-2012, 05:43 PM
---
And of course, CA does allow open carry but there's some rules about it...