Group Buy Aluminum Thermostat Housing! All interested reply to this thread
10-15-2018, 07:32 AM
Join Date: Sep 2015
Location: California
Posts: 13
12-21-2018, 08:05 AM
---
Although our 2016 Mustang has the 2.3 Ecoboost, we have a 4.0 SOHC in our 2001 Sport Trac. I posted this over on the Explorer forum, but I wanted to post here as a public service to fellow Mustang owners. Bottom line is you are wasting your time and money on anything other than a Simmons aluminum thermostat housing.
While on a recent trip to Florida, the tensioner pulley seized, destroyed the belt, and caused overheating. This also split the seam on the nylon thermostat housing, which required replacement to get home, more than a thousand miles away. A local NAPA store was great at getting one in from Jacksonville that day, Part No S4402AT by Motorad. As a side note, our local NAPA store stocks these in our town of 30,000 people, indicating high demand for these.
This new plastic thermostat housing started leaking ~ 1,500 miles after I installed it shows evidence of weld line separation and where it leaked.
Of most interest are the date codes on these parts, they were molded several months apart before welding. This is key to understanding the failure.
These parts are molded from glass filled nylon, which will absorb moisture from the air. Nylon parts should be welded together immediately after molding to prevent moisture absorption. This moisture absorption has a great effect on weld strength, as documented in DuPont's literature regarding best practices for welding nylon:
" b. Effect of Moisture on ZYTEL. Nylon resins absorb somewhat more moisture from the air after molding than most other plastics. When released from joint surfaces during welding, moisture causes poor weld quality. For best results, parts of ZYTEL should either be ultrasonically welded immediately after molding or kept in a dry-as-molded condition prior to welding. Exposure of 1 or 2 days to 50% relative humidity at 23°C is sufficient to degrade weld quality by 50% or more . . ."
So to fix this, I installed an Austekk aluminum thermostat housing. This also started to leak after ~ 1,000 miles.
This great video explains why:
If you want to do this difficult job once and have it last, an aluminum Simmons Autosportz is the only one I recommend. Check
https://simmonsautosportz.com
---
Last edited by pcfithian; 12-21-2018 at

08:56 AM

.
12-21-2018, 05:51 PM
---
Thanks pcfithian for showing us the difference and a link to a great price on a "whole" unit. I don't need one yet, only 15k miles but I'm thinking about ordering one anyway for "just in case."
12-22-2018, 03:15 AM
5th Gear Member
Join Date: Jan 2018
Location: Pennsylvania
Posts: 2,325
---
$92.25 eBay:
https://www.ebay.com/itm/BRAND-NEW-A...L/223214777234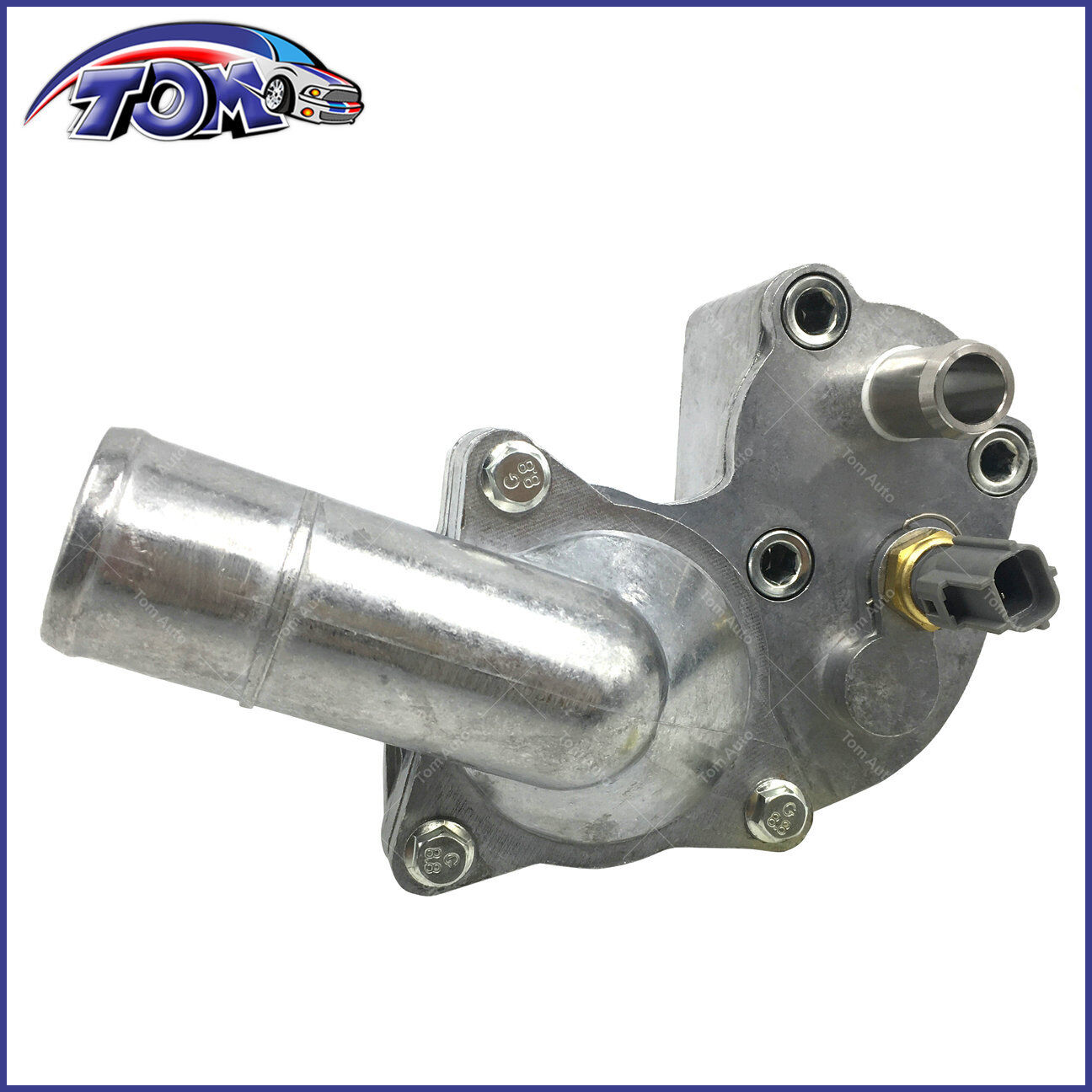 $68.75 / $72.85 eBay:
https://www.ebay.com/itm/BRAND-NEW-0...T/223214813879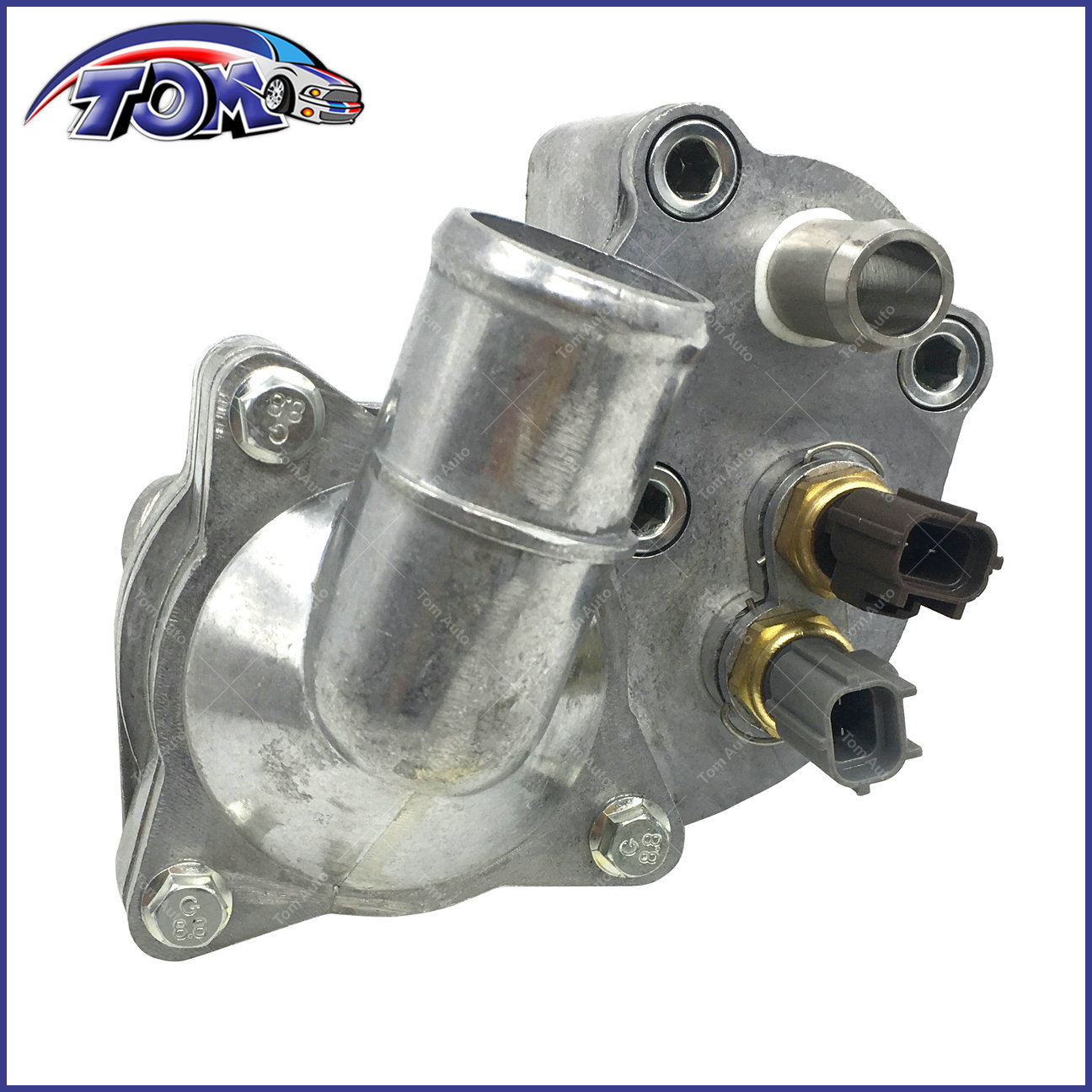 $45.35 eBay, without sensors:
https://www.ebay.com/itm/NEW-ALUMINU...L/223214823393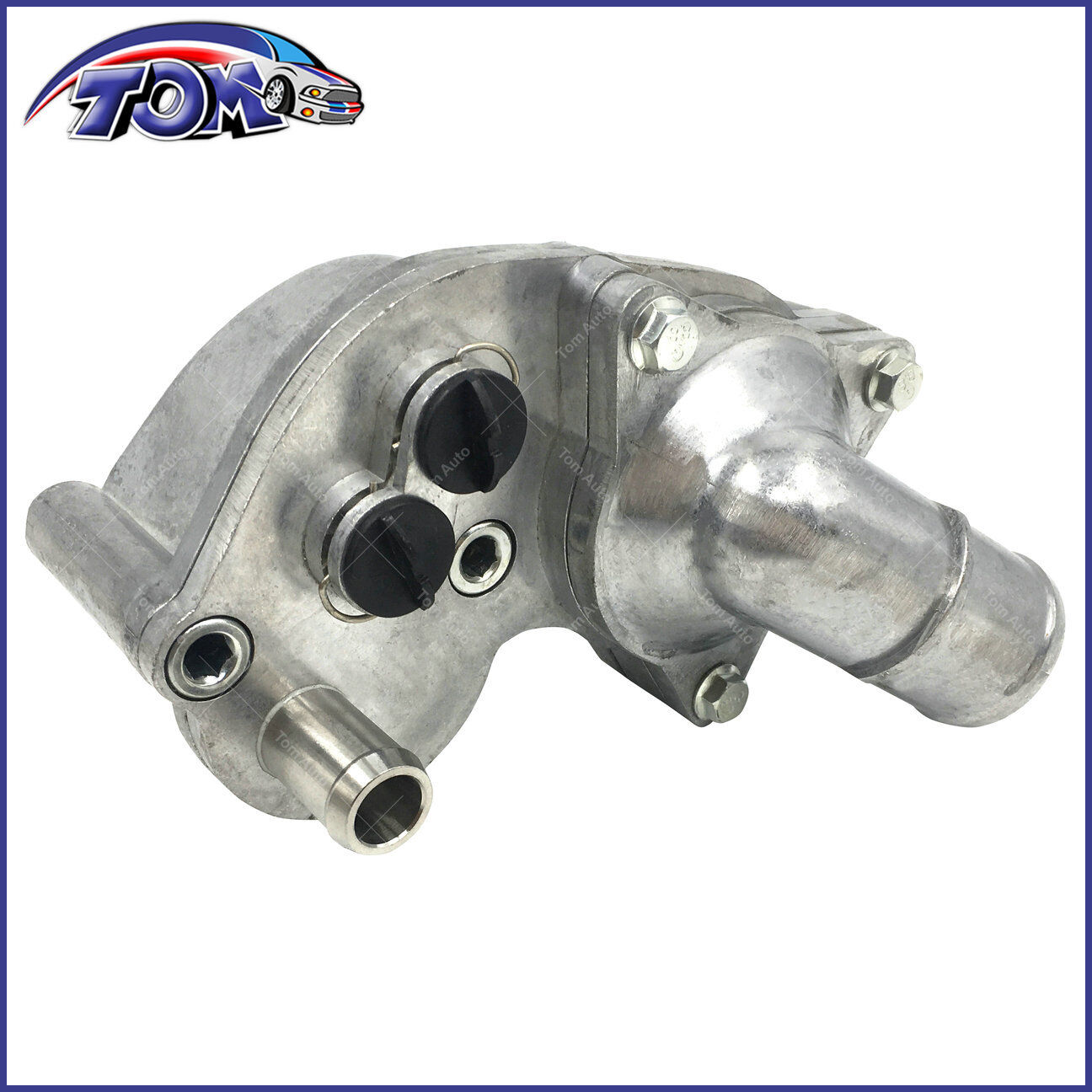 They both look the same, except the one sensor hole on the Mustang version is not
drilled and tapped for the 2nd sensor. I am buying the one with both sensors, and just
won't use the other one...
12-22-2018, 09:16 AM
---
Those units are from Austekk. The one I installed leaked at the hose fitting shortly after I installed it, which is why I recommend the Simmons one.

For a few extra $, install one that has the least potential of leakage.
---
Last edited by pcfithian; 12-22-2018 at

09:20 AM

.
01-30-2019, 08:35 PM
---
Hey guys, I have a question - is this the same thermostat housing that is on the 4.6 motor? I know, I have a disease, but I now own 3 Mustangs at the moment, 2 of them are 06's. One is a GT, one is a base/4.0 liter. I bought one of the machined aluminum ones from someone here on the forum for the V6. I have a buddy who wants to buy my V6 badly and I might sell it to him - but not sure if I want to let this thermostat housing go, if it'll go on my GT/4.6. Anybody know if they are the same? I am going to do some digging but thought I'd ask...Thanks in advance.

<<< Edited>>> I looked around and I see the 4.6 is way different than on the 4.0. Sorry for not doing my homework first.
---
Last edited by 66and06stangs; 01-30-2019 at

08:38 PM

.
Thread
Thread Starter
Forum
Replies
Last Post
4.0L V6 Technical Discussions