2001 GT w/ 5 speed 125k miles.
After driving on the highway for a few miles CES light began to flash. I could here a misfire and feel hesitation. I ended up pulling the codes and the code I got was for cylinder 4 misfire. After pulling the plug and COP this is what I found. I replaced both plug and coil.
ANOTHER ISSUE I ran into is that the battery was disconnected for a while as I ran to the store for anti-seize and my dad's house for an extension. After the installation of the new coil there was an incredibly loud humming noise coming from the engine. The engine would surge at idle and almost die. After about 20 minutes of idling everything was fine no CES light or surge. After that I tested the car on the highway and all was ok. Any ideas why hat could of happened after the change.
ACCEL coil and Bosch Iridium plug gapped to .054.
[IMG]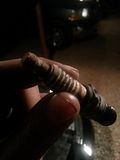 [/IMG]
[IMG]
[/IMG]