Best Exhaust Combo?
01-28-2010, 09:05 PM
---
Ok I think I found what I need to then, FYI fellas, the sound Im going for is that drag car sound, thats why next summer Im getting cams and heads
so I cant wait...
thanks fellas
01-28-2010, 09:19 PM
---
01-28-2010, 09:23 PM
3rd Gear Member
Join Date: Aug 2008
Location: Washington
Posts: 883
---
American Racing LT headers and a catted x with Borla cat-back. Or Corsa cat-back. They are one piece design so no leaks, Kooks are 2 piece on the passenger side(I believe the passenger side) I paid $1350 for the LT's and x pipe on LMPerformence(cheapest plus free shipping for ARH) Also, there is a set of Kooks headers for sale in the classifieds section of MF if you interested in them. I noticed though in his pics they were scraping on the header. My ARH headers dont scrape on the header, they scrape on the catts lol. O/r pipe will fix that...
Heres mine with ARH LT's, catted x and weld in Flows...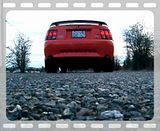 ---
Last edited by Fstanggt96; 01-28-2010 at

09:36 PM

.
01-29-2010, 06:40 PM
---
oh ok, so its the X pipe that makes it sound higher pitch? ok good to know, thanks, ill watch that video after work...

OH and one more thing, anyone know if LTs give you more torque vs Shorties giving you more HP is true?
01-29-2010, 06:58 PM
---
i have mac lt, vrs o/r x and lm2's, check sig for video..
01-30-2010, 11:49 PM
3rd Gear Member
Join Date: Aug 2008
Location: Washington
Posts: 883
---
01-31-2010, 09:04 AM
---
Thread
Thread Starter
Forum
Replies
Last Post
4.6L (1996-2004 Modular) Mustang
3.7L V6 S550 Tech 2015 - 2017
The New S550 2015-2020 Mustang