manual rack question
02-26-2009, 12:48 AM
---
ok im a little confused now what i have been hitting is the bolt that comes through the bottom of the spindle from the ball joint so what you guys are saying is to hit the side of the spindle?i figured that the bolt has to come out so hitting the top of the bolt to push it through the spindle is what i should do
02-26-2009, 01:10 AM
---
No dont hit the bolt because then u wont be able to get it out hit the side of the spindle where the tie rod goes threw if u hit that about 3-4 times it should fall right out
02-26-2009, 01:17 AM
---
here is a picture i found and circled the part that u need to hit its kinda ghetto but ull see what im talking about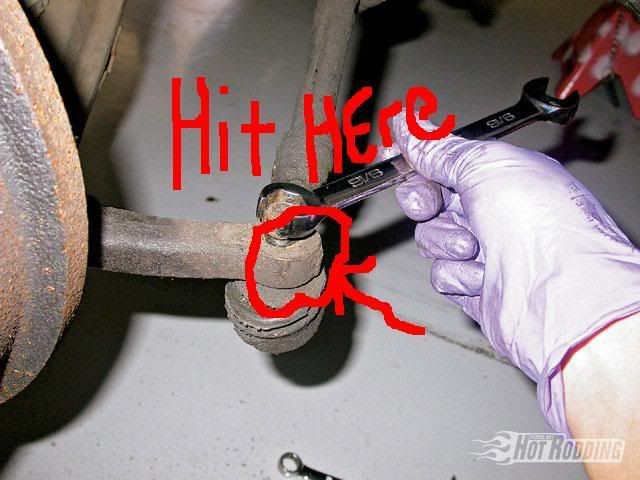 02-26-2009, 09:45 PM
---
none of the above has worked so tommorow im going to try i tie rod end puller.i will let everyone know how it worked if it works
02-27-2009, 12:51 AM
---
oh and i also wanted to know if anybody knows the difference in feel between power steering,no power steering,and manual steering
02-27-2009, 07:29 AM
---
Like was said just smack the hell out of the spindle right next to the tie rod and and it will fall right out. I bet I havent had to smak one more than four times in the last ten years. Swing the hammer like you mean it. I use a Snap-On 32oz dead blow steel face and they fall out normally the first of second strike.
02-27-2009, 01:47 PM
---
now when im smakin the spindle does it matter if the car is on jack stand or on the gound and should i turn the wheels or leave them straight i know this shouldent be that difficult but i have done everything the guys have told me and my tie rod end doesent want to come out at all
02-28-2009, 02:54 AM
3rd Gear Member
Join Date: Apr 2008
Location:
Posts: 939
---
I have yet to see a ball joint or tie rod end that wouldn't submit to a pickle fork and a 3# sledge. You could be the first, but I doubt it.
03-01-2009, 08:13 PM
---
the tie rod end puller worked but nothing else would i must have had a stubbern tie rod end/spindle
Thread
Thread Starter
Forum
Replies
Last Post