Power loss, hesitatation, sputter, chug
08-09-2009, 01:46 PM
Power loss, hesitatation, sputter, chug
---
The car will start up fine and idle perfectly. When I head down the driveway it drives fine too. However, under any kind of load or increased throttle, the car will backfire or hesitate. The rpms will not increase when the accelerator peddle is pressed. Its not u-joints, otherwise the rpms would increase, so that ruled out. If I press down on the peddle from a 1900rpm cruise in 4th gear, it'll sputter, chug, and the car will jerk - THEN it'll recover and get some power back. When taking off from a stop, I can't really go past 2500rpms when shifting, otherwise I'll hear/feel the problem.

This problem was noticed every once in a while during each week, now its every time I drive it.

I have a 1990 Mustang with a 302 crate motor with a Bcam, installed about two years ago. I've put about 10,000miles on it. Just recently had an oil change. Everything mechanical is new on the car except for the following: fan, fan clutch, wiring harness, fuel lines, distributer, and a rebuilt T5 with a 3 year old clutch. The fuel pump is 155lph.

The last time I checked my timing was two years ago. The idle was surging recently, so I did an idle setting procedure and raised the throttle to about 800-950rpms.

My mechanic said the problem is all motor and that the driveline on the car is fine. He told me to replace the spark plugs, distributer cap and rotor, and spark plug wires. The car ran noticeably better. BUT the problem still exists. I don't know what i'm doing when it comes to the internal workings of a motor, but I do understand how things move. I guess I need to pull the valve covers off and fix/replace something broke there or the cam is bad. But everythings new, I just don't get it.


While I'm at it, I have no adjustable fuel regulator on this car and I wonder if the engine has been getting too much fuel most of the time.
08-09-2009, 01:55 PM
---
oh yeah, when I turn my key, I can hear the fuel pump turn on. The fuel filter was replaced 3,000 miles/ 1 year ago. This car sits for a while sometimes. My fuel pressure gauge on the schrader valve reads between 30-40.
---
Last edited by cholericfc; 08-09-2009 at

01:57 PM

.
08-09-2009, 02:05 PM
---
The description of your problem fits the symptoms of a common Fox body issue involving the baffle inside the fuel tank. It breaks loose over the years, then eventually just swims around the tank, lodging itself in various places, breaking the sending unit for the gauge, and sometimes lodging itself underneath the pump, causing a volume flow issue, which would in turn create your exact symptoms, to a T.

I'm sure other people are going to chime in with sensors to test, etc... After all that doesn't work, go ahead and drop the tank. Open up the fuel pump side of it(the right side) and look down. When you don't see the baffle neatly welded to the tank, encompassing the pump nice and cleanly, go ahead and replace the tank. Problem solved.
08-09-2009, 02:10 PM
---
yeah, thanks for your advice man. You know another thing is this: Going up hills is harder and the other day I went up a hill with minimal hesitation, but when I did it with my friend (250lbs.) in the car, it struggled.
08-09-2009, 02:25 PM
---
Yup, that fits too. I've owned 3 Fox's, and had to replace the tank on 2 of them because of this issue. Some other symptoms are hard right hand turns causing the car to die out then suddenly spring back to life once you're straightened out again... hard straight launches also causing the dieing out then coming back to life..
Those baffles cause alot more damage than people think. Here's a picture of my fuel pump pickup setup from my last fox. The baffle, a thin piece of aluminum, was able to bend this piece of steel to a great extent. It's supposed to be straight. It also completely cut my sending unit clean in half.
As you can see, the pump is completely out of the cup that it's supposed to sit in, causing fuel VOLUME problems, whilst still maintaining good enough pressure to make the average mechanic think nothing was wrong.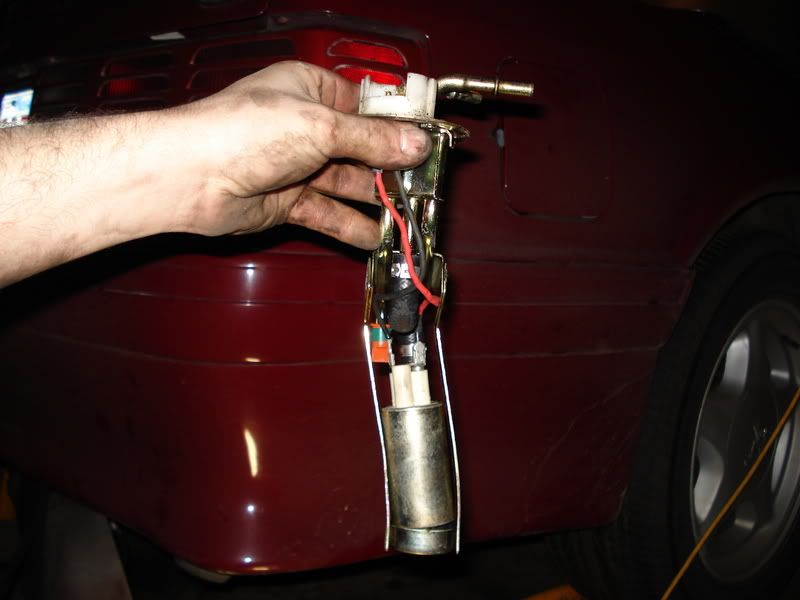 ---
Last edited by mattdel; 08-09-2009 at

02:36 PM

.
08-09-2009, 02:35 PM
---
I can rev the car to any rpm without a problem, when I'm at a stop. But when I'm driving this problem happens. Its just weird. the car kicks backward, pop pop pop, and then recovers, pop pop, recovers .. its disgusting. I want to be sure though.
08-09-2009, 03:09 PM
---
It depends on the exact way that the baffle has decided to mingle around in there, but in my case, yes. Because the sock was no longer connected to the bottom of the pump, the only filter in the entire system was the externally replaceable one. I replaced 2 before I dropped the tank to upgrade the pump and found this.
---
Last edited by mattdel; 08-09-2009 at

04:21 PM

.
08-09-2009, 04:37 PM
---
Had similar issues with mine, once it was a cracked spark plug. Another time the coil plug had wiggled loose, my coil plug in clip is broke. Being a fox though, your coil plug in is vertical and not horizontal like my SN95, so you probably wouldn't have that problem even if coil plug in clip is broke. Like I said, I've had two occasions with similar problems and those were my specific resolutions. My two cents...
08-10-2009, 01:34 PM
---
ok, so here's the latest. When I'm cruising around on a road and I let the throttle drop below 2000rpms. AND THEN try to give it gas it sounds like $hit and doesn't go anywhere. I've purchased a new fuel tank, sending unit, all hardware and grommets, supply line(tank to filter), and hopefully that'll fix it. I wanted to replace this a while ago and skimped out bc of money.

While I'm at it (even though this won't fix the problem), I'm replacing my fan and fan clutch. It's severely cracked and about to break off any minute. I just got a new radiator and dont' want it damaged either. I decided to take advantage of 50resto.com's 15 flat shipping charge.

AT IDLE::

Vacuum ______ 11
Oil Pressure ___32
Volts__________12.2 (factory gauge reads higher)
Fuel Pressure___32-39