HORSEPOWER AND 1/4 MILE ESTIMATES
03-14-2006, 06:14 AM
HORSEPOWER AND 1/4 MILE ESTIMATES
---
ok here's one for everybody that is trying to figure out what they would run in the 1/4 mile or how much horsepower they're putting down. remember this is only an estimator, i have found it to be fairly accurate but of course in these cases it's always a guess.
HORSEPOWER AND 1/4 MILE CALCULATOR
another useful calculator, courtesy of dochol01
HP by trap speed and ET
and here's a chart i've put together thanks to 88BlueGT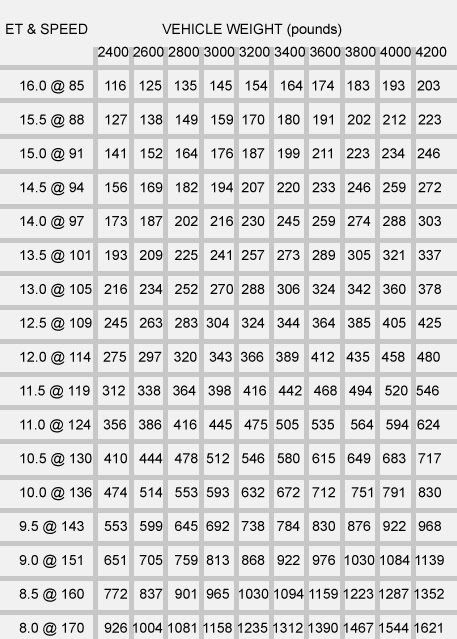 if anybody has some similar links or useful info that they would like to share, please send me a PM and they will be added to list above.
thank you[sm=smiley20.gif]
Martin
01-02-2008, 01:18 AM
RE: HORSEPOWER AND 1/4 MILE ESTIMATES
---
08-24-2008, 07:27 PM
1st Gear Member
Join Date: Jun 2008
Posts: 93
---
so i have a 95 gt 5.0 with a cold air intake, 75 mm throttle body, bbk o/r x-pipe, and 40 series flowmasters. i dont want to waste the money for a dyno cause im not gonna tune it, but i was wondering what you guys think i would be pushing for rwhp
10-06-2008, 02:13 AM
Join Date: Oct 2008
Location: LA
Posts: 9
---
Can someone tell me about how much a stock 87 LX Hatch weighs?
10-07-2008, 05:01 PM
Join Date: Oct 2008
Location: Texas
Posts: 4
---
10-25-2008, 08:21 PM
10-25-2008, 08:22 PM
---
sorry, it IS 3058lb. sorry for posting that other weight which wasn't even the right model lol.
Thread
Thread Starter
Forum
Replies
Last Post
4.6L (1996-2004 Modular) Mustang
Other Professional Racing