Couple quesions on my build
03-05-2009, 09:00 AM
4th Gear Member
Join Date: Nov 2004
Location: Mississippi
Posts: 1,115
---
Yeah, that happened about 2 years ago. I thought I had slung a rod or something. This is the outcome. I think it had something to do with that hidious rear bumper that was on the car. Needless to say, it was sold. LOL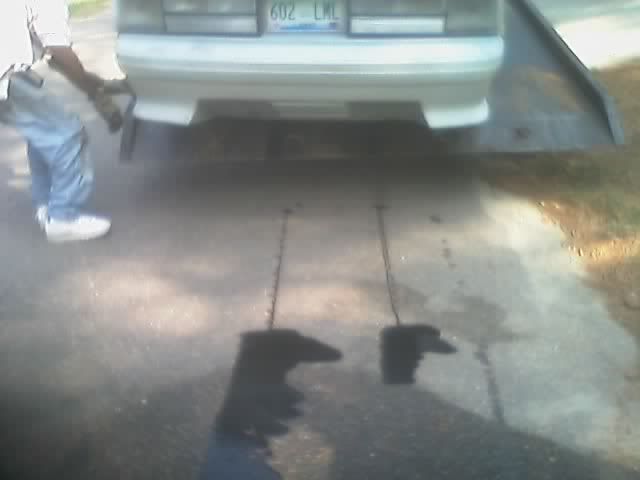 Originally Posted by calfroper_06
lol. Seeing i dont have my motor, but can you put a second pass side valve cover (the one with the filler tube) on the drivers side? This way i could put two filters on the valve covers so it would allow alot more venting. That is if the upper intake would clear
I don't see why that would hurt anything, but I'm no expert so don't hold me to that. It's just for crankcase ventilation. The oil problem should be solved first though. I have a 347 stroker and I don't get oil in the PCV. It sounds like one of the problems that mjr46 mentioned.
03-05-2009, 06:03 PM
---
03-06-2009, 08:29 AM
4th Gear Member
Join Date: Nov 2004
Location: Mississippi
Posts: 1,115
---
Originally Posted by
Portmaster
The main reason the plug is there is to fill that hole (obvious, lol) but the hole is there becuase Ford had to drill the block from the rear cam bearing to feed the oil gallies for the lifters. Then the hole was plugged. It is also needed when cleaning the block to be able to clean these short gallies. I have a Screw in plug in my DSS block.
Ah, I see said the blind man. Now I understand it.
03-06-2009, 08:48 PM
03-07-2009, 08:24 AM
Thread
Thread Starter
Forum
Replies
Last Post
4.6L (1996-2004 Modular) Mustang