my budget build for 2013 gathering up the pieces !
03-10-2012, 10:08 AM
my budget build for 2013 gathering up the pieces !
---
I got the gt 40 heads F3ZE ,all cleaned up and redone no port work just springs seals etc ready to bolt on.Cobra upper/lower intake,cobra valve covers,crane energizer 1.7 rockers,factory gt HO cam that's already in the car,255 walbro fuel pump,accufab 70mm tb and summit 75mm 19lbs maf. Going to leave the factory 19lbs injectors in from the car.. bbk shorty headers,h-pipe high flow cats,Also clutch flywheel,pilot bearing, throwout bearing,etc.... I got all summer to work on this and finding good deals on the corral. Looking to get around 250hp at the tires? I'm open for thoughts and suggestions on my build ! Going to be installing Maximum Motorsports Full Length Subframe Connectors in the next 4 weeks or so to give the car added strength for the extra horse power ..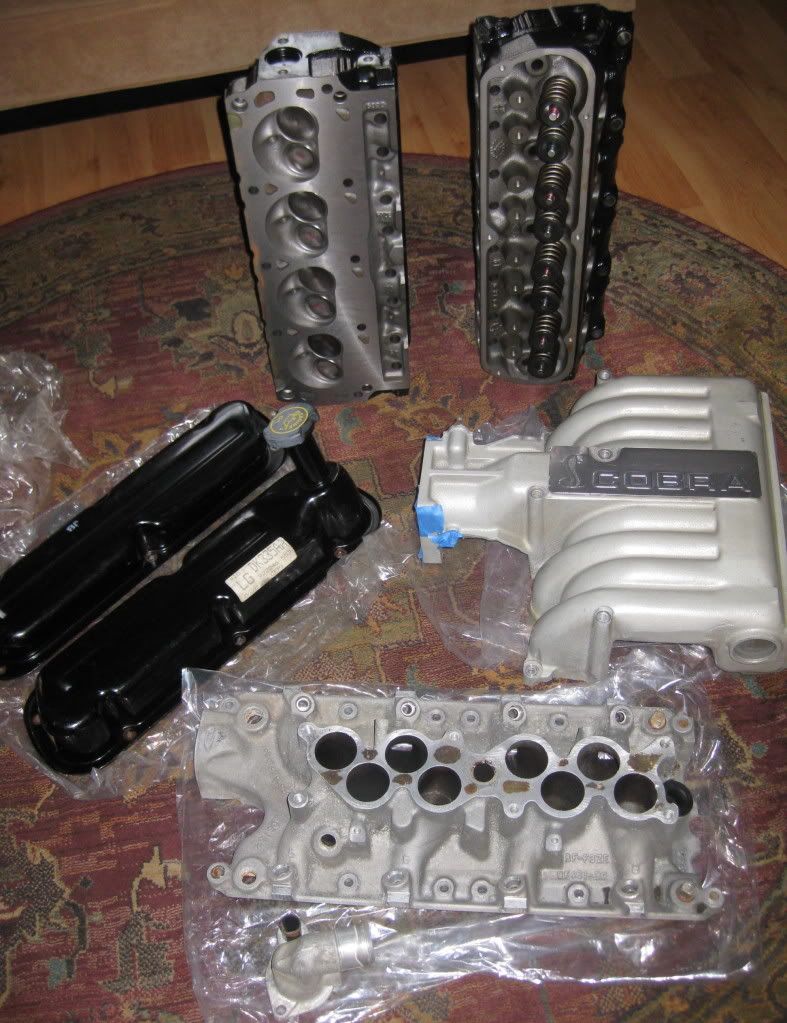 ---
Last edited by 9redfox3; 04-24-2012 at

05:35 PM

.
03-10-2012, 10:54 AM
---
---
Last edited by mjr46; 03-10-2012 at

10:56 AM

.
03-10-2012, 11:16 AM
---
i'd be interestged to know what you forked out for the GT40 heads, as I have a set that is in the same (freshly rebuilt and not run) condition. Which I need to sell.
03-10-2012, 11:20 AM
---
That's a good deal but I don't feel the need for 24's.The 19lb injectors should be good up to around 280 hp or so?
03-10-2012, 11:22 AM
03-10-2012, 11:56 AM
03-10-2012, 12:59 PM
---
03-10-2012, 02:11 PM
---
You been on the corral they're going for anywhere from $300 up $600 depending on the condition and whats done to them springs kits -port work etc....I find it hard to believe you would screw yourself AdderMk2 ..........no not you ! I hoped this helped anyway i'm in that range with free shipping ! lol
03-10-2012, 08:02 PM
---
I'm kinda curious on what you paid now Keith.....
Be sure to open up the intake port to match that TB. There is no reason why you won't have 250rwhp. Its a good little boost in the seat of the pants with the cobra top end
Mike, Wish I would have known you had a set that cheap...I paid $75 for a set last week. Do you have a MAF to match? Still need one for my 24lb setup......
Thread
Thread Starter
Forum
Replies
Last Post
Classic Mustang General Discussion