Noise at speed from Coyote
09-17-2011, 09:52 AM
Noise at speed from Coyote
---
I just hit 20K miles. It makes a noise something like this now.
http://www.youtube.com/watch?v=fsQ5R...eature=related
What could this noise be?
I am thinking it could be the tires (PNeroZero, stock from the dealer).
Or it could be the rear gears losing their proper mesh.
Maybe a wheel bearing?
Anyone know for sure what this sound is? If you have answers, let me know what it is so I can take it in and have it fixed.
09-18-2011, 12:59 AM
---
Does it sound warbly like that? Or is it just the video? Sounds like it increases with speed, not engine RPM. Would be strange for a wheel bearing to start going out at 20k, if it was defective I would think it would be making noise sooner, unless somehow it got contaminated. If you can pinpoint if the sound is coming from the rear, I'd guess its the rear gears. Just me spitballin' though, since no one else has responded yet.
09-18-2011, 02:34 AM
---
I took a 100mile trip back home today, and yeah, I listened closely, and it did have a warble to it.
I am going to put the rear end up on jacks tomorrow and have a peek at the wheels. I just hope it is not as bad as this:
http://www.youtube.com/watch?v=ZPFw7...eature=related
If it is the bearings, I will take it in for warranty.
09-18-2011, 10:45 AM
---
Rotate the tires as shown in the owner's manual and see if you notice any difference. With the long oil change interval specified for these cars, you should consider rotating the tires with every change. FWIW, I have 17k miles, have rotated the tires twice and don't have any funky noises.
09-18-2011, 04:30 PM
---
You should be taking it in for warranty anyway. Why spend your time self diagnosing a car with only 20k on it.

"Hey Mr. Service Mgr! My 20k mile car just started making this abnormal sound. Make it right."

See how easy that is?
09-18-2011, 05:08 PM
---
My first guess would be wheel bearings too. But maybe check the lugs on the wheels? I know it's obvious and I don't mean to insult anyone's intelligence but have you checked the torque on those?

When I first got my car (was still under warranty thank god) I had a terrible wobble too. After having the dealer look at it 4(!!) separate times, they finally took the tires off and low and behold, the TPMS band had snapped and the remains were rolling around inside one of the tires.

They rebalanced and remounted everything then had to align the car again...

Good luck, and I hope everything works out for you!
09-19-2011, 04:25 PM
---
i dont think its the rear gears. mine came with a pretty loud whine from the factory, put the new 4.10s in and it's really quiet now. had a good installer. but the whine sounds like a whirring sound, not like that. sounds more like tire noise to me.
or maybe you have one of these: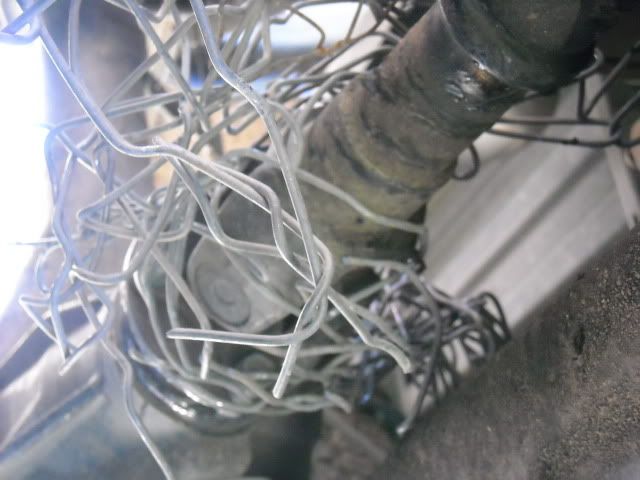 really I couldn't be certain what sound you are referring to.. you could disconnect/plug your sound tube to elminate engine noise. do you have aftermarket exhaust? sounds kind of loud..
09-25-2011, 03:06 AM
---
Just an update: The dealer techs are useless. We took it for a ride on the freeway and all the idiot said was "That's normal." He said it is normal drive train noise, even though I stressed that it did not sound like that for the 1st 20K miles. He also said it was my tires and asked me if I rotate them. I showed him shop job receipts of tire rotation jobs.

"That's normal" seems like their default answer for everything. If my car exploded in a massive bang and there was nothing left but bits, I bet the bastard would say it was normal for that too.
09-28-2011, 10:46 AM
---
That sounds like tire noise to me. Have you had the tires checked for tread separation? Is it possible to swap/borrow tires and wheels from a friend to see if it changes? HAve you put it on a lift and rotated all the parts to listen?

I agree, Ford should do more than they did. Maybe it is time for a different dealer....
Thread
Thread Starter
Forum
Replies
Last Post
GT S197 General Discussion