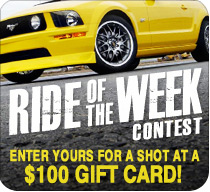 Hey everyone, check out our new weekly contest for "Ride of the Week"! Simply submit the best picture of your Mustang to our "Customer Rides" page, tell us about your Mustang and you're entered to win! Three Mustangs will be selected every week and then posted on Facebook for our fans to decide the winner! The picture with the most "likes" wins a $100 gift certificate! Check out the link below for more information!
Upload a Customer Ride - LRS
Make sure and "like us" on Facebook to get your votes in and have your friends vote for your Mustang! Three new Mustangs will be posted every Monday to start the voting over again!
latemodelresto - Automobiles and Parts - Hewitt, TX | Facebook