Look What Happened.... :(
11-18-2010, 08:04 AM
1st Gear Member
Join Date: Oct 2009
Location: MA
Posts: 112
Look What Happened.... :(
---
Well on Friday October 29, I had lent my car to a buddy because some girl at his work wanted to see the mustang. Turns out that was a very bad idea. I got a call about 11am from him saying that he crashed my car. I've known this kid for a while now and i figured he was just joking. So i hung up the phone with him. He called me right back and told me he wasnt kidding. So i said alright then, tell me where you are and i'll come. So on the drive there im thinking that, i know im going to show up and nothings going to be going on and he was just trying to mess with me. Well...... I pulled up and this is what i saw....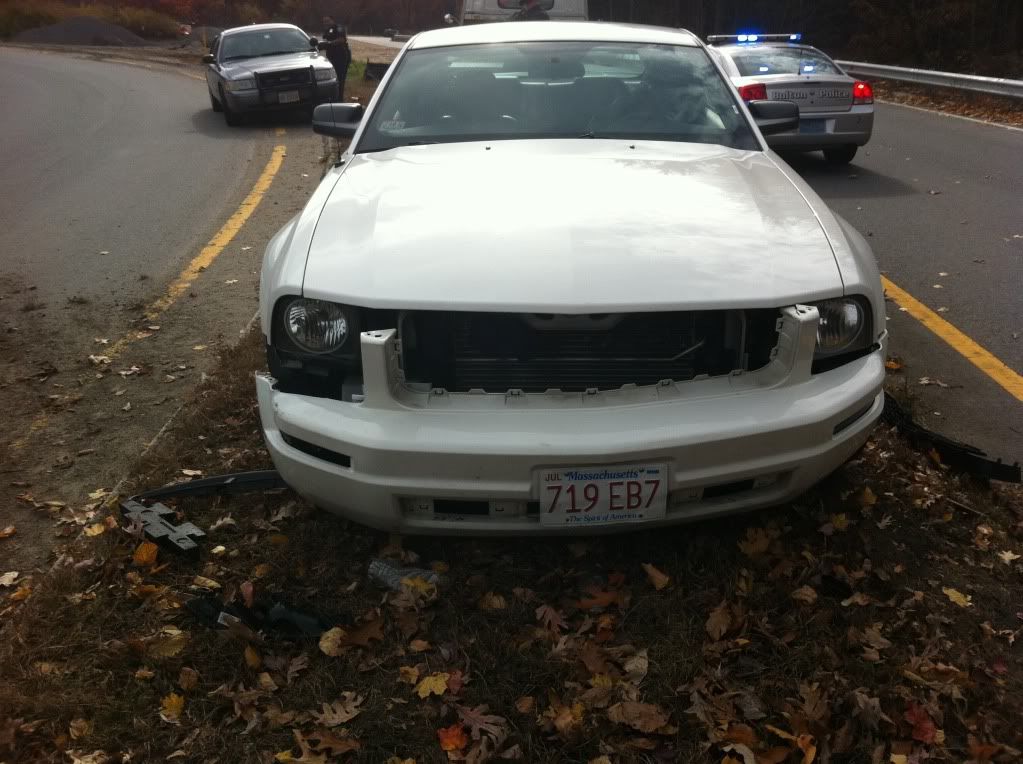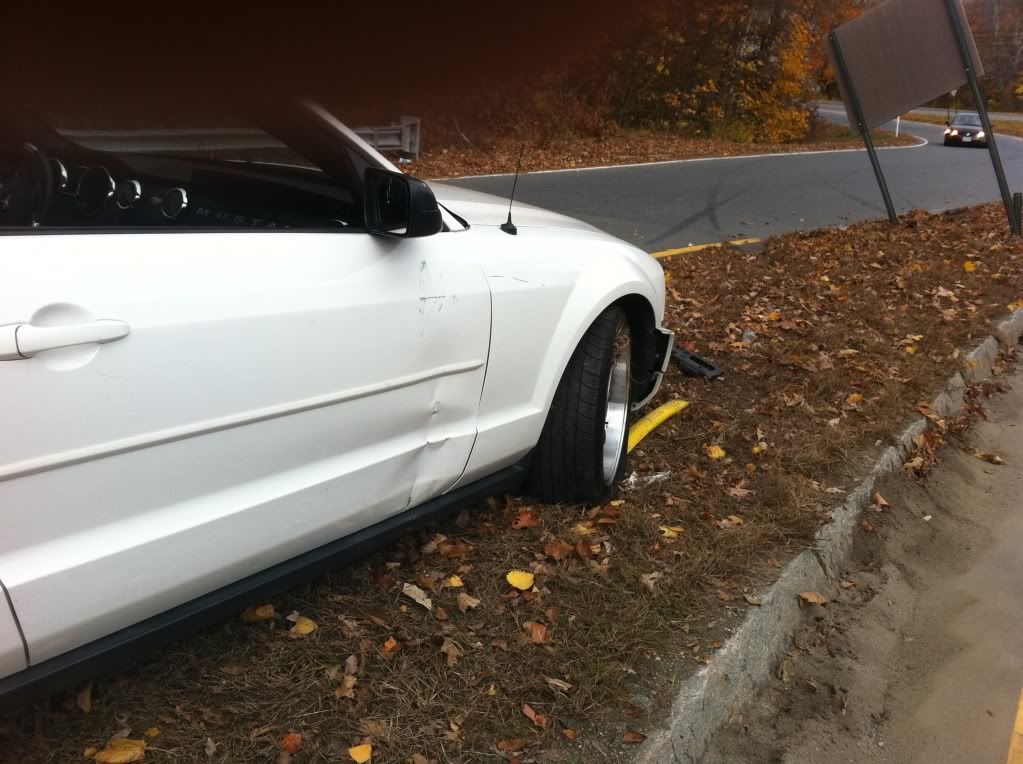 So it turns out he wasnt kidding. He was getting on the highway (probably going a little to fast) hit sand and did a complete 180 hitting 2 signs, running over a off ramp marker and ending up on the medium. Cost of the damage was $5000. New front bumper, new right quarter panel, and new right door shell. 2 new rims and tires. Unfortunatley, American Muscle doesnt carry that exact rim (specs are different now) and also the tires werent made anymore. So i made out, he bought me 4 new rims and tires and also i got a new front bumper that i really need. Seeing as how when i bought the car, the person who owned it before me ripped the plastic spolier off with some force and pulled the whole bottom of the bumper forward. It just looked like ****.
Good news is, i am most likely going to pick the car up this afternoon. I will post pictures when i get it back!
11-18-2010, 09:37 AM
---
that sucks man, good thing your getting upgrades out of it though. Did you try to get a GT bumper? This is why i would never lend someone my car, sure i've let some people drive it while i was in it, but people don't seem to "push the limits" when your sitting right next to them
11-18-2010, 08:49 PM
1st Gear Member
Join Date: Oct 2009
Location: MA
Posts: 112
---
I was thinking about trying to get the GT bumper, but i just didnt see anyway of doing it, because i didnt want to have to pay anything extra. Now that i was getting money back ( i only found out last week, when all the body parts were ordered) i just decided to grab a chin spoiler and maybe some new halos for since they replaced a headlight too. But they called me yesterday saying that every time the car was on and they turned the headlights on the car shut off. Turns out one of the HID ballast 's was bad and was tripping for some reason. Then i called today to see if i could pick it up, they said it was going down to ford to get the final alignment and i could grab it later this afternoon. I got a call about 2 hours later, the lower right control arm was broken. They ordered one and it will be here tomorrow at noon. So hopefully i will be getting her back late tomorrow or saturday! Anybody know how long a control arm takes to install? or how hard it is?