Awesome Recipes By Mustang Forums Kitchen Warriors FTW! WTF! LOL!
02-04-2012, 04:11 PM
---
Hahaha, that is actually a great idea. I used mango milkshake powder to make a milk based mango "flan" one time- I only say flan because that was easiest way for me to describe it, but I guess it was more like china grass (the dish, not the ingredient. Turned out excellent, and I used to make it pretty often.
I'll try to dig up the recipe, but it's been a while since I had the time to cook.
02-04-2012, 04:17 PM
---
i made these for my guinness-guzzling boyfriend last weekend. and my stoner roommate ate half the pan before i got them to my boy. they are fantastic, though. and no, no pictures...bite me, boozer

Guinness Brownies
fills 9 1/2'' x 13'' inch sheet tray

Ingredients


3 oz unsalted butter

8 oz dark chocolate, chopped

1/2 cup granulated sugar

1/2 cup dark brown sugar, packed

3 extra large eggs

1 cup all-purpose flour

1/2 cup unsweetened cocoa powder

1/4 tsp salt

1 1/4 cup (10 oz) Guinness or any stout beer

1 cup mini chocolate chips

Method


1. Preheat oven to 350 degrees F. Line sheet tray with parchment paper. Grease pan extenders and place above sheet tray. Or, use any 9'' x 13'' baking pan.

2. In a large saucepan, melt butter and chocolate over medium-low heat. Once melted, add sugar and brown sugar. Stir to combine. Remove from heat.

3. Transfer batter to the bowl of a stand mixer with a paddle attachment. Add eggs one at a time, making sure each egg is fully incorporated before adding the next.

4. Whisk together flour, cocoa powder, and salt. Alternate adding dry mixture and Guinness to the batter. Starting and ending with the dry mixture. Fold in chocolate chips.

5. Pour into prepared pan. Bake for 25-30 minutes until toothpick inserted in the center of the brownie comes out clean. Let cool on rack.

Butterscotch Fudge


Ingredients


1/2 cup unsalted butter

1 cup dark brown sugar, packed

1/8 tsp salt

2 cups confectioners sugar, sifted

3 Tablespoons heavy cream

1/2 tsp vanilla paste

salted pretzels, as needed

Method


1. In a medium sauce pan, melted butter and brown sugar. Heat over medium heat until sugar mixture starts to boil. Let simmer for a 1-2 minutes. Then remove from heat. Add salt.

2. In the bowl of a stand mixer with a paddle attachment, mix confectioners sugar, cream and vanilla. Once mixture is paste like, slowly add the slightly cooled butter-sugar mix. Beat at low-medium speed until thoroughly combined.

3. Immediately pour over cooled brownies and level with an offset spatula. If desired, place pretzels on top of fudge. Let fudge set before cutting.
02-04-2012, 04:25 PM
---
oh and this one earned me a case of beer on christmas eve. i threw a dinner party for all of my friends back home and this was one of the sweets on their cookie trays they got to take home...i think i put whiskey in just about everything that night. hmm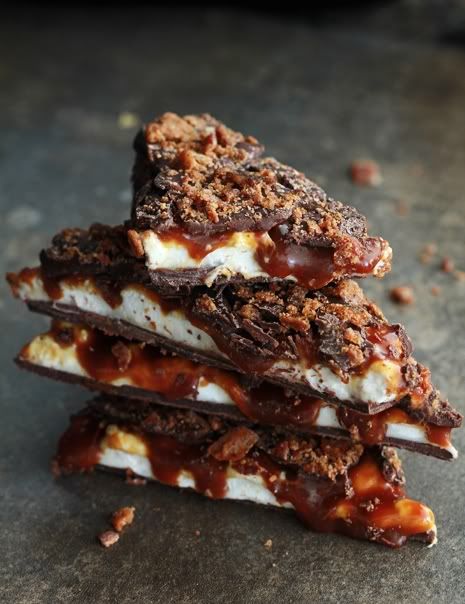 Whiskey, Caramel, Marshmallow and Bacon Bark
Makes 1 8×8 pan | Preparation: Line pan with parchment or wax paper with a one-inch overhang on each side.
16 oz of semi-sweet chocolate
4 cups of mini marshmallows
¼ cup whiskey
1 cup caramel (recipe follows)
1 cup of spiced bacon crumble (recipe follows)
Instructions:
1. Place chocolate in a bain marie or in a heat-proof bowl above simmering water. Heat on low until chocolate is melted. Pour half of melted chocolate into parchement-lined pan. Then using an offset spatula, spread chocolate until smooth. Transfer pan to freezer to chill for about 5 minutes or until melted chocolate becomes solid.
2. Place marshmallows in a large saucepan and heat until marshmallows starts to just melt and forms web-like strands when stirred. (See picture). Remove from heat and add in 5 tablespoons of whiskey; stir to combine. Spread marshmallow mixture over solid chocolate layer. (To easily spread the marshmallow to an even layer, spray offset spatula with non-stick spray.)
3. Pour caramel on top of marshmallow layer. Then, using an offset spatula, spread caramel until smooth. Transfer pan to freezer to chill for about 5 minutes or until caramel becomes slightly hardened. Pour remaining half of chocolate over caramel layer and, using an offset spatula, spread chocolate until smooth. Sprinkle and gently press bacon crumble into chocolate, Return fully assembled bark to refrigerator to chill for 20 minutes or until bark becomes solid. Bring bark to almost room temperature before cutting.
Bacon Crumble
16 oz bacon
1/4 cup sugar
4 tablespoon water
1 egg white
1/4 teaspoon black pepper
1/8 teaspoon cayenne
1. Cook bacon and set aside to cool completely. Once cooled, coarsely crumble bacon with hand; set aside and heat oven to 300 degrees F.
2. Place sugar and water in a pot and heat until sugar is dissolved. Toss crumbled bacon in sugar syrup to coat. Pass coated bacon through a strainer to drain excess sugar syrup.
2. Add egg white to a bowl and beat until fluffy and foamy. Add in black pepper and cayenne. Whisk to combine. Add in crumbled bacon and toss to coat.
3. Spread coated, crumbled bacon on a parchment lined bakesheet and bake for 30 minutes. Remove from oven and let cool, then crumble bacon one last time.
Caramel Filling
1 cup sugar
4 tablespoons water
4 tablespoon butter
7 tablespoon heavy cream
Instructions:
Add sugar and water into a saucepan over medium low heat. Stir until sugar has dissolved. Use a wet brush to remove any crystals that form on the side. Once sugar has dissolved increase heat to high. Now and then, using the handle, give the pot a swirl to keep the mixture moving. Do not stir the mixture directly. The mixture will start to bubble after a minute. As the mixture darkens to a medium amber color, approximately 5-7 minutes, add the butter and heavy cream to saucepan. The mixture will bubble wildly. Whisk to combine (bubbles will subside upon cooling). Set aside to cool completely.