2010 Saleen NATIONALS
09-29-2009, 01:26 PM
2010 Saleen NATIONALS
---
The 2010 Saleen NATIONALS will be held in Newburgh NY. The weekend includes 3 days of events with the Saturday show held at the Orange County Chopper headquarters. This is the national convention for Saleens and is hosted by the New England Region of the Saleen Club of America.
You don't have to be a member of the Saleen Club of America to attend. Although the focus is on Saleens, other Mustangs will be attending.
Registration, classes, contact and event information can be found on the club's website -
http://www.saleenclubofamerica.com
. Or call Mike Foley 617-835-7009
There will be more information as it becomes available
09-30-2009, 08:44 AM
---
It only happens once a year - there wil be a 100 Saleens there,
make it 101
. You won't regret it!
There's always an adventure around the corner at the NATIONALS!
Driving to the top of Pike's Peak with the top down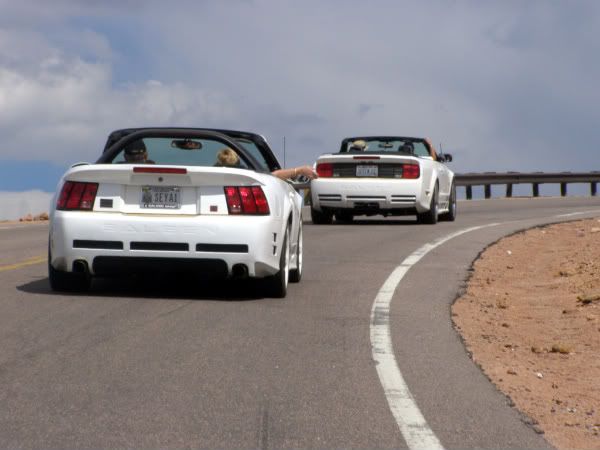 ---
Last edited by scspeedster; 09-30-2009 at

08:53 AM

.
09-30-2009, 09:53 AM
---


FWIW the Saleen National Show rotates around the county to give everybody a chance to come to it from a "local" location.

Locations so far:
Virginia - 2004
Indiana/Kentucky - 2005
California - 2006
Georgia - 2007
Indiana - 2008
Colorado - 2009
New York - 2010

The Nationals is THE Saleen show to be at for the year.
10-01-2009, 08:34 AM
---
Not sure when it will be in Florida - we'll start taking bids soon for the 2011 and you never know.
There are Regionals and State Reunion in the Southeast, maybe try to make one of those until the NATIONALS comes your way - visit our website and look at the events
http://scoatalk.saleenclubofamerica.com
.
Let me know if you have any questions or suggestions.
Here's a shot of the down side of driving to Pikes Peak, half of the road is dirt - that's a purple K & N filter -
---
Last edited by scspeedster; 10-01-2009 at

08:37 AM

.
10-01-2009, 10:15 AM
---
You will be so glad you made it to New York, you won't think twice about going to the next one, wherever it is (even if you have to fly in for the weekend).
Bob, SCOA State Rep for Florida, has a bunch of Florida events in the works for Saleen owners & all are welcome to join in the fun.
Some coming up:
Cypress Gardens event on October 25-26, 2009 in Haines City
St. Armands Circle Park in Sarasota on November 22, 2009
Silver Springs Car Show in Ocala it is usually the first weekend in January.
Keep up to speed here:
http://scoatalk.saleenclubofamerica....php?f=3&t=4442
---
Last edited by Saleen Mike; 10-01-2009 at

10:18 AM

.
10-01-2009, 10:51 PM
1st Gear Member
Join Date: Oct 2007
Posts: 93
---
Cypress Gardens show is off the schedule. The park has closed its gates for good.

S281E- got your car tuned yet? As for the 2010 Nationals. It is a $220 roundtrip ticket from OIA to Stewart International in Newburgh. I flew up for the regional show this year and it was a great time. Economy permitting, I will be trying to drive up next year for the Nationals.