2012 Roush S3 released
04-15-2011, 11:38 AM
2012 Roush S3 released
---
2012 RS3. 540 hp from 12 psi supplied by the TVS 2300.
All the typical bells and whistles, with optional 6 piston 14" brakes and coil over suspension from the Trak Pak.
http://www.themustangnews.com/conten...nveiled-540hp/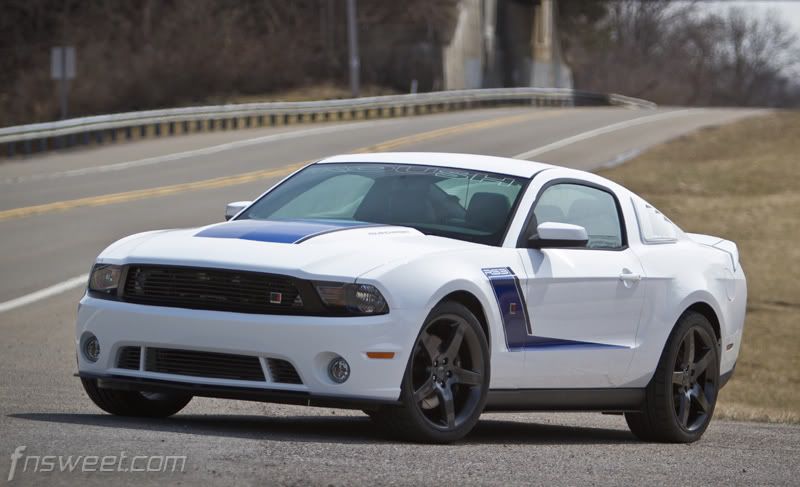 04-20-2011, 12:39 AM
---
Looks pretty sweet. I'd rather have a GT500 for that price though.
05-12-2011, 08:00 AM
---
Damn those wheels are nice!
05-18-2011, 06:06 PM
05-18-2011, 08:26 PM
---
I'm a big fan of the suspenion. That by itself (for me) makes it a better car than the GT 500.
05-19-2011, 07:31 PM
---
I agree, the Stage 3 suspension is an art form in itself but I just wish Roush would have come up with a 'different' look. Suspension and drivetrain is fine but it has those old 427 stripes on it. The P-51A/B had a distinct look as did the Blackjack, Drag Pak and Trac Pak,S. No mistaking those cars. This one reminds me of several others as far as looks go. The 540RH and 2010 Stage 3 looked good . I think the 427 stripes bother me the most. They shouldn't have carried those over to their flagship S3. IMHO.
05-20-2011, 04:59 PM
05-20-2011, 05:34 PM
6th Gear Member
Join Date: Feb 2005
Location: AZ
Posts: 11,437
---
Good luck find a boss at MSRP
05-22-2011, 04:09 AM
05-22-2011, 08:59 PM
---
I wish, I looked. No way I'd pay for the $7000 paint job markups on the BOSS color variations and I can't get black on black anyway no matter how I order. Spec'd out the way I was hoping, the BOSS lists at $48K. $10K more and RS3 has an extra 100 hp, bigger brakes, better adjustable suspension.


Don't get me wrong I LOVE the BOSS. Even priced them out to see what it would take to add one to the collection. To be honest, I'd probably buy the Boss over the RS3 right now.