Mustang Catch Can/Oil Separator
07-16-2018, 12:20 PM
Join Date: Apr 2018
Location: New Jersey
Posts: 16
Mustang Catch Can/Oil Separator
---
Hey everyone, I wanted to install a catch can on my 2017 GT Convertible, but at $150+ the parts seem to be MASSIVELY overpriced. I was wondering if anyone has used a part below, or something similar:
Amazon
Also, does anyone know where you can get the hose kit only that comes with some of the kits designed for the car. I like the custom fit look that those hoses would provide.
07-16-2018, 01:40 PM
4th Gear Member
Join Date: Jan 2018
Location: Pennsylvania
Posts: 1,914
---
I got mine on eBay for $25.00, and it even has a baffle, place for stainless mesh,
and a measuring dip stick.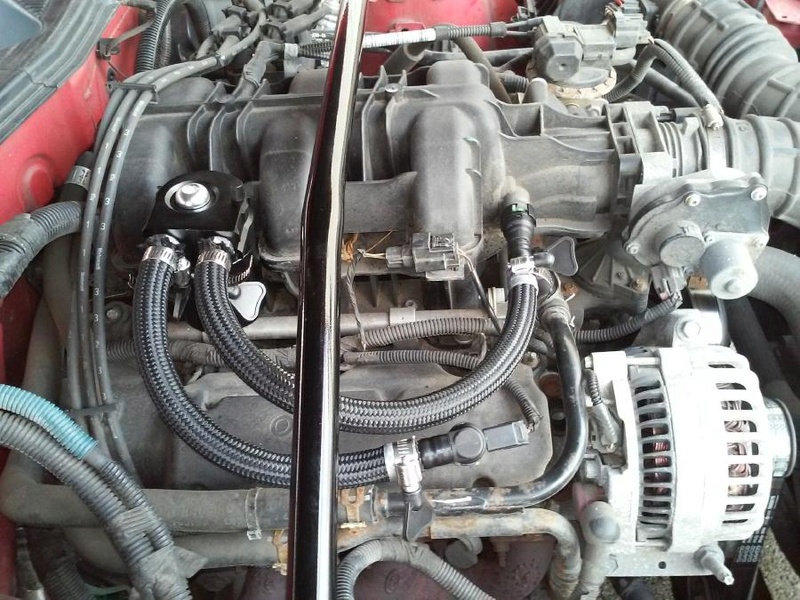 I know, mine is a V6, but just showing you that you can do it yourself much cheaper.
Steeda has ones that start at $110, to $115.
The reason you're paying $150, is all the correct fittings come with the kit.
https://www.summitracing.com/search/...del/gt-premium
Though I paid $25.00 for the catch can, I paid $10.00 more for the braided hose.
Still cheaper, but I cut my PCV ends off, and clamped the hoses on to those to
retain factory removal and installation of the hoses.
https://mustangforums.com/forum/v6-s...ml#post8616456
You're only supposed to need the catch on the passenger side PCV.
07-16-2018, 03:30 PM
4th Gear Member
Join Date: Jan 2018
Location: Pennsylvania
Posts: 1,914
---
They all collect a lot more than a table-spoon. I got about that within 5000 miles,
and the can is nowhere near full. Mine is small, which is 5" Height x 3.25" Diameter,
holds at least 10 ounces. They have a smaller one that's 250ml or 8 ounces of fluid.
A table spoon is 15ml, or 0.5oz.
07-17-2018, 06:43 PM
4th Gear Member
Join Date: Jan 2018
Location: Pennsylvania
Posts: 1,914
---
I have made catch cans from in-line Air Compressor moisture separators...
$23.00 at Lowes, they used to be, +2 fittings and some hose.
However, you NEED ridged hose here, as vacuum will collapse fuel, trans, or
coolant hose if you don't line them with stainless steel spring of the same diameter.
That's why I bought AN10 stainless braided hose.
07-18-2018, 11:05 AM
---
.
Using the Ford OEM tubing is working just fine, the set-up on the 2011 has been installed since 2012..
.
07-18-2018, 03:39 PM
4th Gear Member
Join Date: Jan 2018
Location: Pennsylvania
Posts: 1,914
---
Yeah, I know, it's hard plastic line, not rubber hosing. If you're making your OWN catch
can, and need custom length hosing, you need ridged hosing, which is why I used AN10
braided stainless line. If you're getting a $25.00 universal catch can, you're gonna be
customizing your hoses. It ain't coming with ford fittings on it for ford lines... The
hose the universal kits come with, you may as well just throw in the garbage....
I cut the fittings off the OEM tubing, and clamped them to the AN10 lines.
All I said was, you cannot use rubber hose for trans, fuel, or coolant, they will
collapse, unless you coil them with stainless, which we do at the shop,
in top of using ridged line. I said nothing about anyone's specific setup. Also
the coiling also helps whip oil out of the vapor...
We have started using transparent 10mm hard line, then we put 10mm stainless
coils inside the length hose as well. Things keep changing in the auto world,
people like certain things, apparently, they want to see a coil spring inside a
transparent hose that will turn color inside from the oil anyway...
They call it; Stainless steel inner hose support coil... Can you use it with the crap
hose? Sure, but for the price of the hose and coil, you can buy AN10/15 stainless
steel braided hosing, for less...
Thread
Thread Starter
Forum
Replies
Last Post
Saleen, Roush and Boss Mustangs
4.6L (1996-2004 Modular) Mustang
Vendor For Sale / Group Buy Classifieds