Sn-95 3.8L Dyno Sheets Thread
04-13-2011, 01:40 AM
Sn-95 3.8L Dyno Sheets Thread
---
That's right, time to post up those dyno sheets!!! The thread is simple, post up your dyno sheets along with your numbers, no secondary post or discussion, only dyno graph uploads and a list of only performance mods (horse power increasing only please) on the car at the time of the dyno. As stated I don't want this to be a discussion thread, do that in the general discussion, this is simply an area for members to show what power they were making with certain mods. Keep in mind that numbers will vary from dyno to dyno so don't be upset if your numbers are lower than another persons ran on a different dyno.

Have fun!!!
04-13-2011, 01:45 AM
---
1998 Mustang V6
Mods - Cold Air Intake, O/R X Pipe, Magnaflow Catback Exhaust, ASP U/D Pullies, 56mm Throttle Body, Port Matched Upper Intake to TB, Diablo Tuned
Dynoed on a Dyno Dynamics dynamometer
120.1 RWHP Untuned
125.4 RWHP Tuned
210 RWTQ
12.5 A/F Ration
06-16-2011, 10:17 AM
Join Date: Jun 2011
Location: NC
Posts: 1
Stock 1998 3.8L
---
Hi, I'm new here and planning my build for an SCCA ITS road race Mustang. I'm a relatively experienced SCCA road racer and just sold my ITS car, a Datsun 260Z.
Anyhow, in preparing for the build I recently dynoed my 1998 3.8L car that is 100% bone stock. I picked the car up a couple of months ago from the original owner and it has 73k miles on it. Never been apart, stock exhaust, stock everything down to wheels and tires. Car is in good shape and drives well.
Put down 125 rwhp and 189 rwtq on a Dynojet that we've used for years for tuning our race cars. Not too shabby for a 100% stock car I suppose.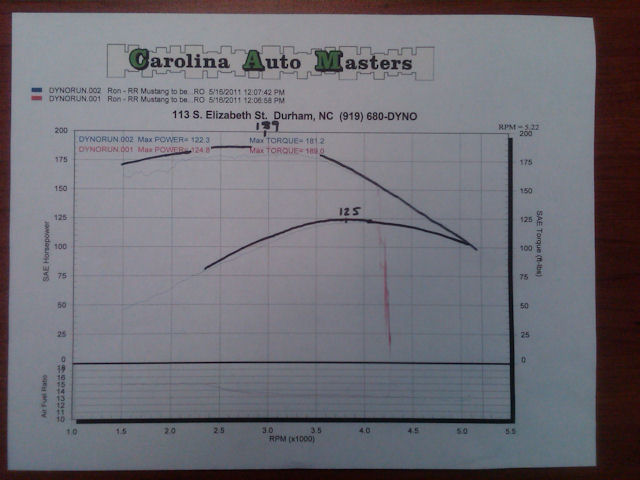 Thread
Thread Starter
Forum
Replies
Last Post
4.6L (1996-2004 Modular) Mustang