Stripes question
02-15-2009, 12:35 AM
4th Gear Member
Join Date: Oct 2008
Location: Henry County, Georgia
Posts: 1,636
Stripes question
---
I know there are a million stripes threads but i have 2 questions.

First, i hve the shr honeycomb panel, how would i do the stripes? I can only afford vinyl, but i dont want to have to take off the panel unless i really really have to.

Second, any have some pics of redfires with stripes? Im 99% sure im going with gloss black just not sure what style of stripes i want.
02-15-2009, 06:43 AM
---
hmmm....okay....
first things first, your stripes will give your car a look of kinda like being taller or sitting higher than it actually is....a rear blackout and or fogless front grille will give your car more of a horizontal look making it seem like it is sitting lower than it is....if you mix the two, its like apples and oranges....i have had some photoshops done on my car since i recently replaced my striped and was thinking about stripes with a rear blackout and a fogless front grille and decided against it for this exact reason....
this is what it would look like:
because of the mismatch in visual effect, i decided just to keep my setup and stripe the front bumper and rear decklid around the badge like ive had it in the past...
at any rate, if you still want to stripe your and keep the rear honeycomb panel, it is totally up to you...you could just run the stripes to just below your third brake light or you can run them all the way to the top of your blackout panel....i would go just below the third brake light though.....
hope this helps!
02-15-2009, 07:10 PM
---
If you purchase the BSM vinyl kit then yes the honeycomb panel will have to come off. The seam from the separate pieces is at the curved part right above the faux gas cap. This is so the seam is hard to see. I suggest you do it as I think it looks great to have your bumper completely done. Sorry ONF1R but your car looks unfinished with the bumper not done. Just my opinion
Here is a pic of a redfire with stripes. (not mine) (from forum member Rebel73 on mustang source)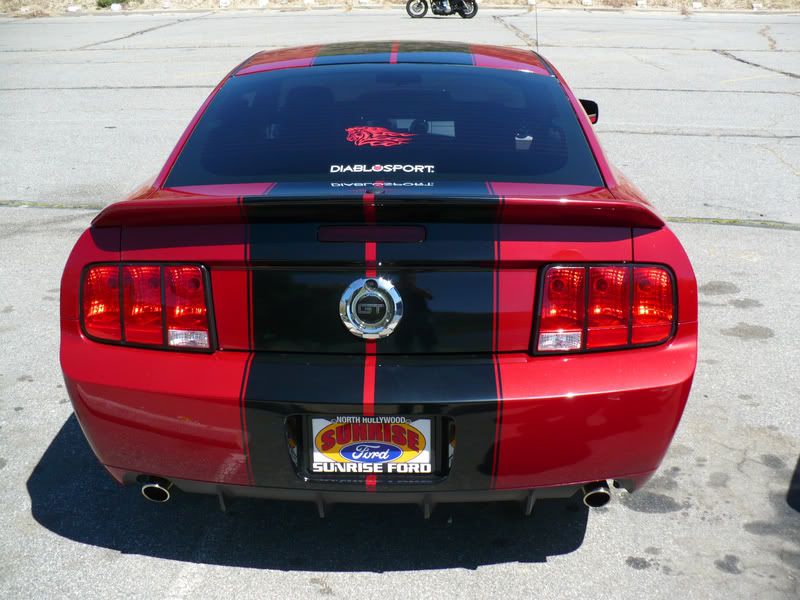 ---
Last edited by ewingfly; 02-15-2009 at

07:15 PM

.
02-15-2009, 07:29 PM
---
Here are some pictures of my Redfire GT with black stripes. The stripes were on the car when I purchased it, in my opinion they are too narrow, I am planning on adding a Roush hood scoop soon and I don't think it will look good with the stripes that are on my car? I just ordered a painted CDC Classic chin which should be in this week. If the hood scoop dosen't look good with these stripes I will remove them and eventually have wider ones painted on.
02-15-2009, 07:35 PM
02-15-2009, 08:44 PM
---
yeah you definately need to stripe the bumpers. from the bottom of the rear bumper to the bottom of the front bumper needs to be done for it not to look incomplete. If you stripe it bumper to bumper the rear panel will look ok. same goes for the billet grille.
Thread
Thread Starter
Forum
Replies
Last Post
4.6L (1996-2004 Modular) Mustang