Installed BBK Ceramic Longtubes today(pics)
05-18-2012, 12:26 AM
Installed BBK Ceramic Longtubes today(pics)
---
First off: I took pics, but it was hard to take all of the pictures that I needed because the working space for headers is so limited. With that said, here we go.
Shoutout to S197GT07 for all the help! Thanks a ton man.
Total time spent: about 9 hours
Special tools required: 13mm socket wrench, patience
Things to look out for:
-The front O2 sensors will need to have the small tabs on their sides clipped in order to fit into the O2 sensor extenders.
-The steering shaft on the driver's side will need to be disconnected in order to remove the stock shorty header. Make sure to mark the position of it so you can put it back in the same place (pic later)
-If you have a socket wrench with a pivoting head, use it. There are a lot of hard to reach spaces that you need a tool like this to reach. Also, socket wrench extensions come in handy.
I did NOT have to jack up the motor or remove the starter. I was using a lift so you may have to if you don't have access to a lift.
A few pictures from the install:
A shot of the top bolts on the passenger side that need to be removed: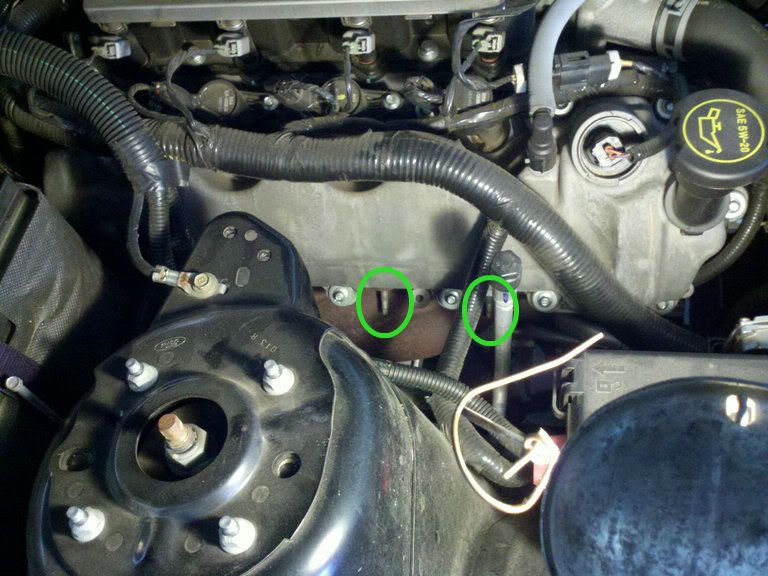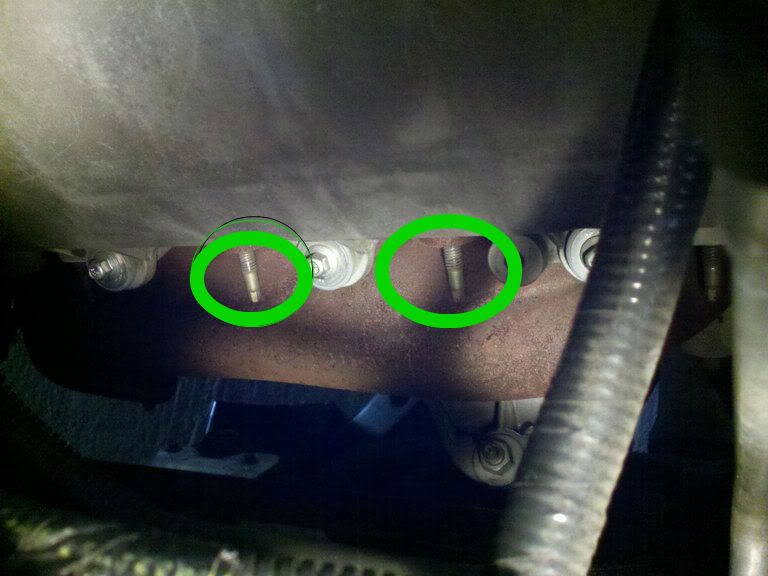 A shot of the steering shaft on the driver's side. You can also see 2 of the bottom bolts that have already had the nuts removed.
Steering shaft disconnected: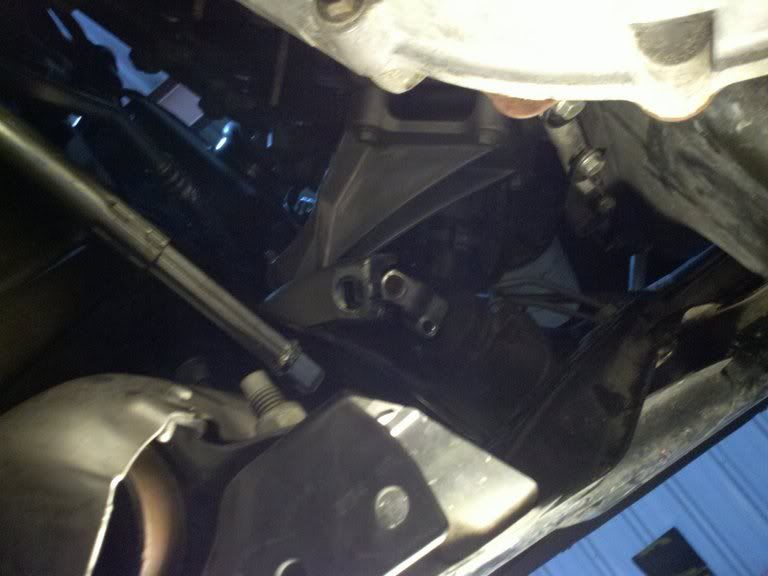 Stock headers are out:
BBK Ceramics are in:
X pipe connected, bottom side finished(we had to cut and re-weld the exhaust hangers because of poor placement):
And finally, a startup vid. We started it up once before but realized we hadn't torqued a bolt down and there was noticeable exhaust leakage.
http://www.youtube.com/watch?v=RCMO4...ature=youtu.be
I will try and make a good exhaust video soon, but I can tell you now it's awesome. It's relatively quiet under normal driving circumstances but as soon as you hit it, it's extremely aggressive.
It's been a long day and I didn't get a chance to test it out much, but I think it was definitely worth it. If I can do this, anyone can.
---
Last edited by Roush05; 05-18-2012 at

11:33 AM

.
05-18-2012, 12:46 AM
---
Congrats but you had a lift.............thats cheating! LOL
05-18-2012, 01:04 AM
---
Sorry. I'll take them off tomorrow and redo it using floor jacks and a creeper. NOT!! :P I can't imagine doing this without a lift.
05-18-2012, 06:12 AM
---
Nice job man, can't wait for an exhaust video. Man that car just looks freakin' amazing...
05-18-2012, 06:29 AM
---
Good job man! I knew you could do it!

Intertesting you didnt have to drop the starter. There was no way my ARH were fitting without it going down.

Now get to a dyno!
05-18-2012, 09:16 AM
05-18-2012, 10:40 AM
---
Thanks man. I may try and make one today if I can find a safe place to do it.
I had no fitment issues whatsoever with the starter. I probably would have been fine with the steering shaft except to get the stock shorty off.
I'm gonna dyno as soon as I find a set of Hot Rods and put them in.
05-18-2012, 03:56 PM
05-18-2012, 04:04 PM
---
Sounds fantastic! What's up with the truck backing up at the stop sign? xD He knew you were comin' lololol
05-18-2012, 04:07 PM
---
Haha, I guess I scared him! :P To be honest, he scared me too. I saw the sign on the side of his truck and I wasn't sure if he was an officer of the law or what, so I let off. I wasn't going very fast anyway, but the sound seems like it would attract bad attention.
Thread
Thread Starter
Forum
Replies
Last Post