need help
08-11-2006, 12:41 AM
Join Date: Apr 2006
Posts: 18
need help
---
recently my 96 gt has not been acting funny. it doesnt happen all the times i start it but a few. what happens is it will start then in a couple of seconds it dies right away. i dont know what is goin on.

if someone has any idea please let me know.
thanks
08-11-2006, 12:58 AM
1st Gear Member
Join Date: Jul 2006
Location: Sacramento
Posts: 119
RE: need help
---
could be somthing to do with the ignition, maybe it cant hold a spark, or its depriving itself of fuel, could be a number of things, if you can give a more accurate detail of whats happening, i could try to point you in the right direction.
if not then first check for spark then check for fuel problems, try getting injector cleaner then work your way back
08-11-2006, 01:15 AM
1st Gear Member
Join Date: Jul 2006
Location:
Posts: 62
RE: need help
---
My Haynes repair manual says
#1. loose or damaged wire harness conections at distributor, coil or alternator.
#2. Intake manifold vacum leaks. Make sure all mounting bolts/nuts are tight and all vacum hoses connected to the manifold
are attached properly and in good condition.
#3. Insufficient fuel pressure.
#4. Fuel injection or engine control systems malfunction.
you also might want to check and make sure your air filter isn't getting clogged.
Hope this helps??
08-11-2006, 01:18 AM
RE: need help
---
IAC. You need to clean it with some carb cleaner. That would be an easy and inexpensive place to start.
Let me find something...
Here's what I was looking for. Go down through the post and you will find a pic of what you need to clean.
GL
08-11-2006, 01:43 AM
RE: need help
---
Ok, here's another link that will help step by step and also a pic that will show you where the IAC is on your engine. It's easy, it is bolted to the higest point under your hood. Find the horse.
EDIT: You will need an extension to get to that bottom bolt.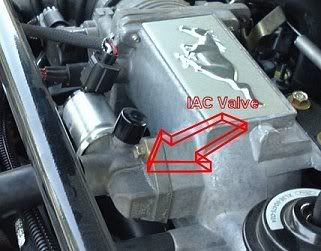 IAC Step by Step