My horn button doesnt work. Pics.
12-26-2007, 07:47 PM
3rd Gear Member
Join Date: Dec 2007
Location: Colorado
Posts: 923
My horn button doesnt work. Pics.
---
My horn hasnt worked since I got the car and I want to fix it because its a major safety issue. I took the horn cover thing off and took some pictures. I just dont know what its missing that would make it not work I tested the horn itself, and it works, and I tested the part of the horn that is still on the wheel--- it is getting power. I looked at previous posts and couldnt figure it out, and im still not even sure how everything is connected. Is there a way that I could just take a wire from one part of the contact wheel to another and see if the horn goes off? Im pretty much out of ideas. Here are the pics, the are bad quality so i took extra.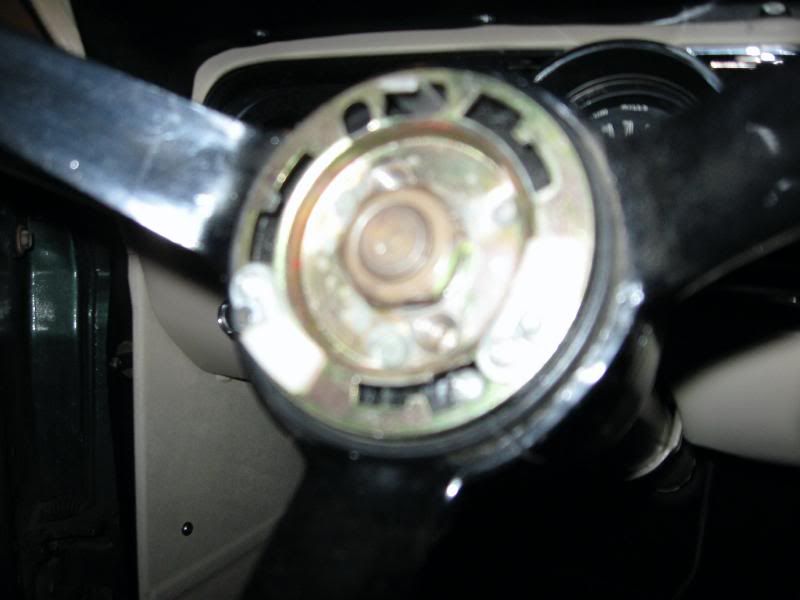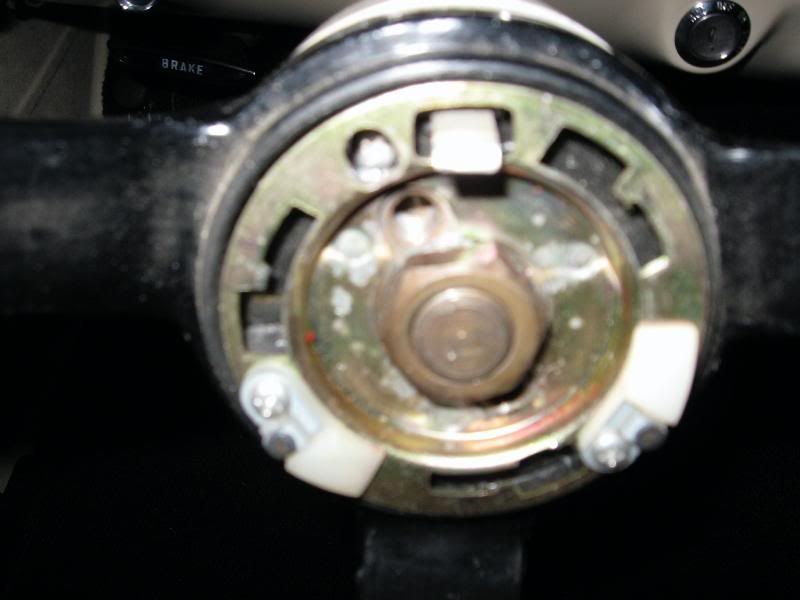 12-27-2007, 11:31 AM
RE: My horn button doesnt work. Pics.
---
You need to find the wires in the steering column and get ameter on themand start from there. I know this may sound stupid but have you checked the wires from the actualhorn and followed them back to the wire harness? Are those connected? Also you might want to hit the connection with a little steal wool to get the surface rust off.
12-27-2007, 12:32 PM
3rd Gear Member
Join Date: Dec 2007
Location: Colorado
Posts: 923
RE: My horn button doesnt work. Pics.
---
I checked the wires in the engine bay, they go to the main disconnect. On the other side of the main disconnect they go into the steering column. I cant see any wires when I look inside the horn button area, but there are 2 little connection points (Chiltons calls them the Horn Terminals) and both of them are hot. I would assume that those terminals should complete the connection to something that isnt hot, but also isnt a ground, and that will make the horn go. I just cant find out what those two things are. I have used a wire to connect different things to see if they make the horn go off and they dont...

does anyone have pics off of a 66 so I could see how it IS supposed to look? Or if someone knows how the horn button setup works, try to explain. Thanks.
12-27-2007, 12:44 PM
Join Date: Dec 2007
Posts: 23
RE: My horn button doesnt work. Pics.
---
I don't know what is missing from your horn button...that being said, here are some thoughts.Those leads that you mentioned in your previous post need to connect to your horn button somewhere. When you push the button, they should complete the circuit and make your horns honk.
12-27-2007, 01:27 PM
3rd Gear Member
Join Date: Oct 2007
Location: Illinois
Posts: 584
RE: My horn button doesnt work. Pics.
---
There are also 2 contacts which are part of the turn signal switch assembly for the horn. They are spring loaded brass contacts and you can see them in the picture here:
http://www.americanpony.com/store.mv?p=802211
You have to remove the steering wheel to get to them.
12-27-2007, 02:29 PM
6th Gear Member
Join Date: Oct 2006
Location: Cork, Ireland
Posts: 6,417
RE: My horn button doesnt work. Pics.
---
i'm not sure about this setup, have 64 1/2 mustang. different horn altogether.

same here, it wasn't working when I got the car and I have it working now (thankfully. twas wrecking my head).
I found 3 problems that I had with it to get it fixed.

i started the other way round:
1. make sure the horns themselves work. You'll see that the horn is screwed to the frame and there's only oen cable going to it (at least in my car).
remove this cable from the horn and lead a cable directly from battery+ to the horn where that cable connected.
as soon as you hit the contact the horn should beep no matter if ignition is on/off or whatever.
Don't do this when you have 2 contacts (cables) going to the horn.
if you have 2 horns try the other as well.

if it doesn't beep, then the horn itslef has no ground on the chassis. try again with a second lead from battery- directly to the horn (outside metal) itself. if that doesn't work i'd say the horn itself is fried

2. what year's you car ?

3. it seems to me that your horn button/ring doesn't come with cabling. If there should be some, follow the other posts. But for me it looks klike there's a pin sticking out on the top of your third picture. if the horns work, does it bep when you connect a cable from there to the mittle of the steeriong wheel (the nut)?

let me know the results and we'll go from there ....