car hasnt started in 4 days??? !!!HELP!!!!
01-21-2010, 05:53 PM
Join Date: Dec 2009
Location: ohio
Posts: 17
car hasnt started in 4 days??? !!!HELP!!!!
---
got it all back to stock today. tried to crank it over and it tries and dies. i figuared maybe there wasnt any gas in the fuel rail so i let it prime for a few sec and still nothing. so i call my dad and look at then engine a little to make sure all spark plugs are connected and they were. i try again and it fires up. and then just dies. smells like gas. prob from it being fludded. but im not sure. any ideas? :uhh:
stock plugs
stock maf
stock intake manifold
stock CAI
heres a video....
usually its a little more lumpy than it is here but you can still here it just fall off.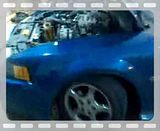 UPDATE!!!
took the upper intake off last night, checked for fould plugs, made sure the VAC ports were all accounted for. and then just put it all back together again. everything should be right. and then it started right up. a little rough in the beginning but smoothed out. i let it run for about 45 min or so.
after it got up to running temp i tried to rev it up and as soon
as i touched the pedal the car died
. then after trying to start it again i noticed that now its more consistant.
every time i try to start it now it goes up to the ~1500rpms as normal and then like something kills the engine. like a kill switch or something just turns everything off. its electrical. not sure what it is.
maybe IAC? or MAF?
Thread
Thread Starter
Forum
Replies
Last Post
Members Rides and Car Show Section