sbf s10 conversion
05-27-2012, 09:09 PM
Join Date: May 2012
Location: fl
Posts: 8
sbf s10 conversion
---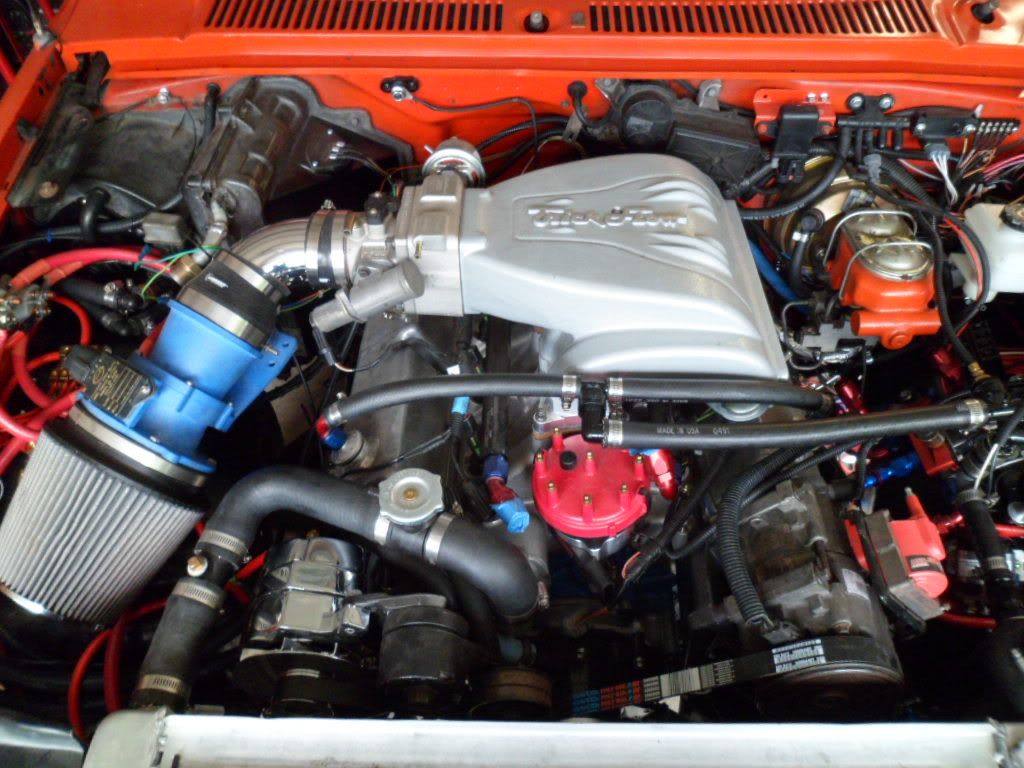 Just an update on project. Hope to start 1st time before month end.
IDIT 16" STEERING COLUMN + 5" W borgeson joints and splines MOTOR
427cid 7.0L FORD SB V8 W 1990 5.0L 7qt Milodon rear sump oil pan
1964 FORD COMET 7/16" thru bolt POLY motor mounts welded in
1984 F150 FORD P/U MANUAL 6.25 OAL bell housing 164T
1984 FORD top loader 164T block plate
ADVANCE ADAPTER adapter plate 7/8" W 4.848 INDEX
1995 FORD F150 LIGHTNING 5.8L 3/8" PILOT hitorque min starter
1997 DODGE 3500 1 ton diesel 2wd NV4500 manual 5 speed trans
1985 CHEVY S10 oem trans cross member cut welded for new trans
1.125 x 10 spline input shaft
1995 CHEVY NV4500 top plate threaded shifter handle TRANS
1995 FORD SFI BILLET FLYWHEEL 164T 28OZ EXT BAL
MCCLEOD 2600# FORD PRESSURE PLATE
CHEVY CENTERFORCE 1.125 X 10 CLUTCH DISK 11"
MCCLEOD INPUT SHAFT HYDRAULIC THROWOUT BEARING
CHEVY OEM HYDRAULIC CLUTCH M/C
ADVANCE DRIVELINE 30 SPLINE DRIVESHAFT
1990 FORD mustang ALTERNATOR SURPENTINE BRACKET 3 bolt
1994 FORD F150 A/C AND P/S SURPENTINE BRACKET 3 bolt
AMAZON HOSE FORD P/S PUMP TO CHEVY S10 BOX
AMAZON HOSE CHEVY RELOCATE ACCUMULATOR
AMAZON HOSE FORD COMPRESSOR TO CHEVY A/C LINES
OPTIMA BATTERIES YELLOW / RED trunk mounted BATTERY
PONY DOWN 3.0" BOLT CIRCLE EXHAUST MANIFOLD FLANGES
FORD 1990 FOX UNEQUAL LENTH SHORTY HEADERS EXHAUST
CUSTOM HEADER COLLECTORS W 3 O2 SENSORS AND 1 TEMP
FLOWMASTER 3.0" X PIPE & 2 CHAMBER 40 SERIES MUFFLERS
MOTOR SPECS ARE AS FOLLOWS
AFR 225 HEADS - 10.6 CR - 42# INJ - 80 PROM - 75 TB -TRICKFLOW R
COMP CAMS .592/.585 LIFT 252/256 DUR AT 50 AND112 LOBE SEP
TRUCK HAS A 3.42 REAR GEAR AND WILL CHANGE TO 2.73 AS SOON
AS IS DRIVEABLE JUST WANT TO FINISH AND DRIVE
ANYWAY THANKS FOR YOUR ATTENTION.
07-06-2012, 07:54 AM
Join Date: May 2011
Location: South Carolina
Posts: 9
---
I'm a Ford guy at heart, but a SBF in a S10 makes no sense... They go in Rangers and Explorers a whole lot easier.

The SBC is too long to fit let alone the even longer Ford engine.

Just my .02
07-06-2012, 08:04 PM
2nd Gear Member
Join Date: May 2008
Location: New York
Posts: 478
---
Thats awesome !!!!!! Very cool will really freak people out when you say its just a "small" lol is a 427 still a small block. And then you pop the hood very nice. Once you get driving Ill be intested in how you like the hyd thro out.
07-18-2012, 06:53 PM
Join Date: May 2012
Location: fl
Posts: 8
swap progress
---
thanks. updated to electric vacuum brake system / dash panels installed / batteries installed / hood is done.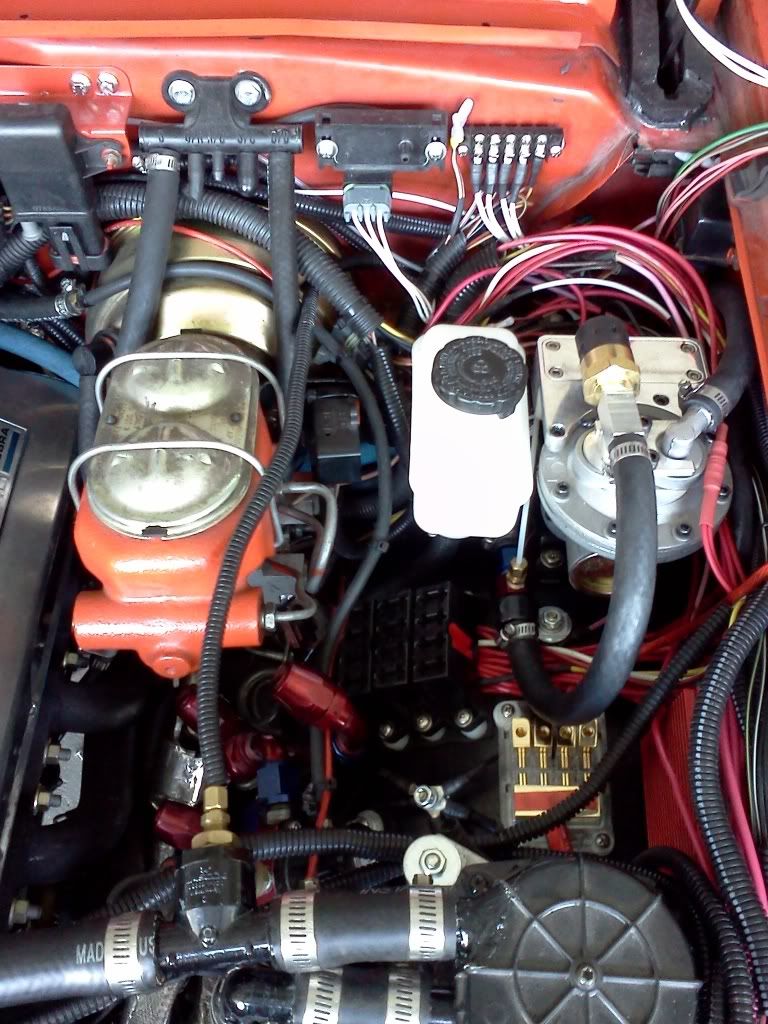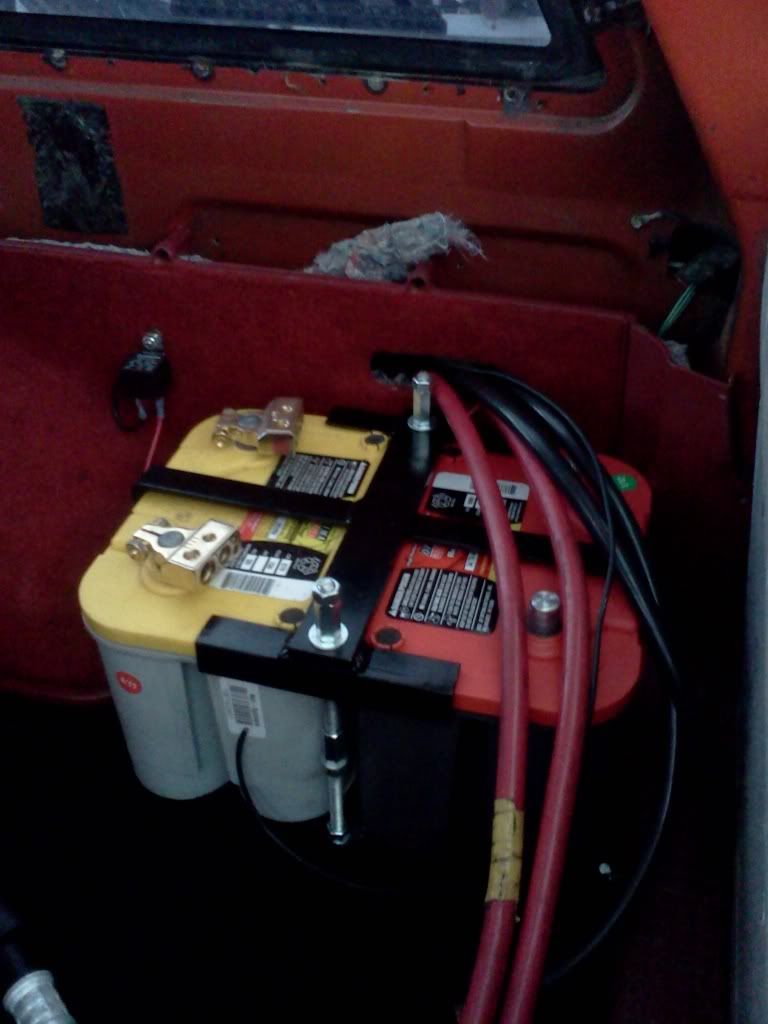 07-19-2012, 09:58 AM
---
I love it, nice swap and holy wirring.
07-24-2012, 10:27 AM
2nd Gear Member
Join Date: May 2008
Location: New York
Posts: 478
---
Still looking great, guess there will be no lifting the hood for the surprise. I'm trying so hard not to go the other way but ls1 s are so cheap compared to mod motors.
08-04-2012, 04:00 AM
6th Gear Member
Join Date: Oct 2006
Location:
Posts: 8,162
---
What are all the gauges you have ?
08-04-2012, 04:07 PM
Join Date: May 2012
Location: fl
Posts: 8
---
i have every guage auto meter offers including water pressure that is not in there catalog and am taking out the a/f analog and replacing with the 4380 d-pic in the a pillar. all the guages were unintentional just wanted to know what everything was doing. the ANDERSON PMS will display real time a/f.
08-04-2012, 10:46 PM
---
What made you go with a sbf instead of a sbc?
08-05-2012, 11:58 AM
Join Date: May 2012
Location: fl
Posts: 8
---
i started out w a 88 mitsubishi montero 2dr 2wd w corvette c4 suspension front and rear. eventually parts became extinct. i picked up a s10blazer cheap and they were still supported w dealer parts. thaught it would be ez. now im just addressing obstacles as they come. finishing up the a/c and plumbing the fuel system now.
Thread
Thread Starter
Forum
Replies
Last Post
Mustang News, Concepts, Rumors & Discussion