Official ET Ranking List-ONLY POST ETs PLEASE
04-17-2012, 01:49 PM
---
I guess I will play
2) The following vehicle information: 92 mustang lx
- Cubic inch displacement (CID) of engine -- 401 dart block
- Type of transmission (by model number) -- lentech AOD 4300 stall
- Size and Manufacturer of power adder -- twin 67's
- Pounds of Boost -- 16
- Rear Gear ratio -- 3.73
- Make and type of tire -- 28 x 10 x 15 et streets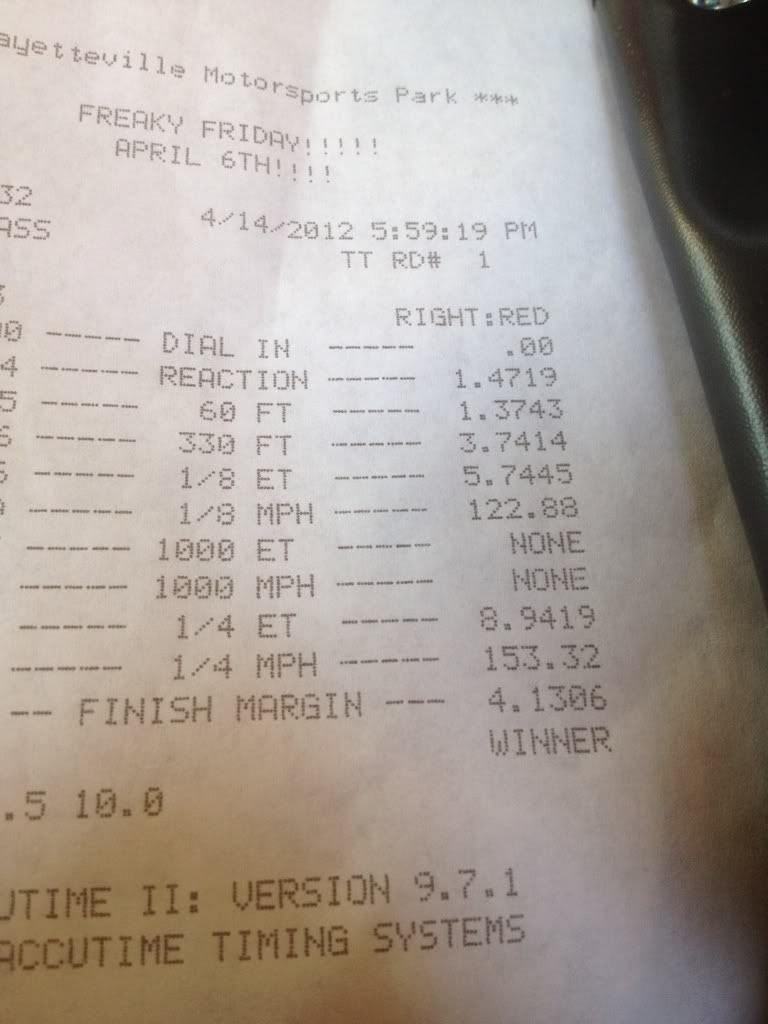 Here's video of my 9.4, 9.00, 8.94 passes
http://www.youtube.com/watch?v=ZnGgE...e_gdata_player
07-15-2012, 05:41 PM
---
My best run of the night. Got in about 11 runs with a full tank of gas, bunch of chairs and stuff in the trunk and a baby seat in the back
, Also running Toyo street tires. My time is on the right.
---
Last edited by millfire517; 07-15-2012 at

06:24 PM

.
07-02-2013, 01:12 AM
---
For your time to be added to the list you will need the following:
1) Best slip (#5):
2) The following vehicle information:
- Cubic inch displacement (CID) of engine - 281
- Type of transmission (by model number) - SR55S
- Size and Manufacturer of power adder, or N/A: N/A
- Rear Gear ratio - 4.10
- Make and type of tire - Nitto 555 275/40-18
3) Second slip:
Should get a lot better with better tires! Spin off the line bad right now from idle.
---
Last edited by bakerjd; 07-02-2013 at

01:14 AM

.
03-09-2014, 10:21 PM
---
This is after a 45 year layover..
best time from three runs; 12.01 @ 116.. I'm now shooting for mid 11's.. I have made a lot of mods this winter to lighten up the front end, moved the battery to the trunk, installed a two step and brand new rubber for the track..
08-26-2017, 10:00 AM
---
I went for the first time ever in my life last night..what a blast

2012 3.7 auto with everything listed in my sig... best run was a 13.877 and best speed was 102.14.. beat a stock S550 GT first race..was pumped.
08-26-2017, 10:05 AM
---
Thread
Thread Starter
Forum
Replies
Last Post
4.6L (1996-2004 Modular) Mustang