Good/Bad Buyers and Sellers
08-13-2008, 10:34 PM
2nd Gear Member
Join Date: Jun 2008
Location: palm beach,fla
Posts: 201
beware of erik40133
---
I bought a set a louvers and he states " lite scratches..very lite scratches..can be buffed out...i got paint chipped louvers and he states to bad i must have done some thing to them...here is his first email before and after i paid for them...and some pics
first email...
Erik40133 just sent you a private message at 8/6/2008 3:40:51 PM:
~~~~~~~~~~~~~~
RE: louvers
~~~~~~~~~~~~~~
"Yup same blue and all hardware. A few lite scratches on the bottom of the drivers louver and i do mean lite. paint work is very sharp and is clear coated."
let me know.thanks
---------------------------------------------------------------------------------------
and now...................................
From: "
[email protected]
"
To:
[email protected]
You do what you need to do and please do not email me again. I do not need scammers who receive goods then try to get money back emailing me. I am not sure what you did to the product after I shipped but my pics and my statements ring true. As for paypal they have a professional staff to see through scams such as yours, as I will be sending my emails to and from you.
Good day sir
---------------------------------------------------------------------------------------
here are the pics of lite..very lite scratches....."that can be buffed out"
what do you think....?????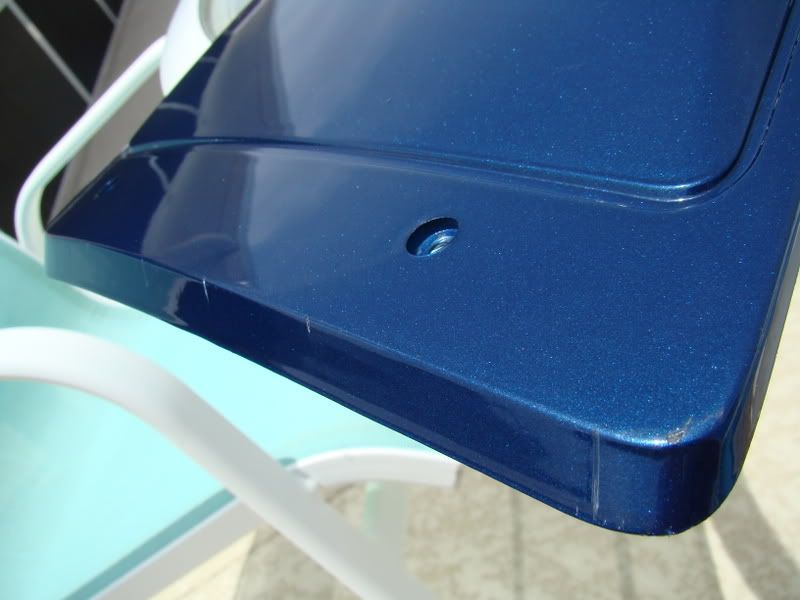 __________________
[IMG]
2008 VISTA BLUE GT, TWIN SCOOP AFTERMARKET HOOD , STEEDA CAI , SCT TUNER W/STEEDA TUNE , PYPES VIOLTORS AXEL BACKS , CUSTOM PAINTED STRIPES...
__________________
08-14-2008, 03:58 AM
---
I purchased a set of axleback mufflers and a rear bumper from The_Third, and in is last PM to me he said he had sent them in separate boxes. I have only received the mufflers and it has been around three weeks now and I can't get ahold of him now. So I don't know if he just kept the bumper or it got lost during shipping.
01-12-2009, 12:20 AM
---
Seller : Bert03gt

Item : Axel Back piping with Flowmaster 3" Tips

Rating : Very Good

I put a post up needing GT take offs and he had the Axel back off his GT that he sold me, we set up a day and met halfway..

Very Nice Product and Resonable Pricing..
04-20-2009, 10:04 PM
5th Gear Member
Join Date: Dec 2005
Location:
Posts: 2,005
---
Addermk2, sold me what was suppose to be a steeda 19, ended up being a junk cam, agreed to give me money back once i sent the cam back, he got it back, ups had his signature showing he signed for it and refused to admit he received it and wouldnt give me my money back, i got all my money back through paypal though since i paid for it through them. Hes an ******* and i dealt with it
06-26-2009, 05:10 PM
Railrider
---
Trader: Railrider

Item: Traded COD: WAW and GOW for COD:4

Thumbs up to Railrider, he shipped fast and the games came in in excellent shape. I know it's not mustang related, but I still did the transaction through MF.
09-08-2009, 07:57 AM
1st Gear Member
Join Date: Mar 2009
Location: NH
Posts: 79
---
Just bought an Cervini's Eleanor hood from Chase1121. This was probably the best transaction I have ever had on any forum. He sent pics of the hood on the car, when it got removed off the car, and called me several times to keep my up to date on whre the hood was while it was in route to my door. A friend of his was bring the hood to me while driving back to college. I highly recommend Chase1121 to any possible buyer. Great to do business with you and thanks again! The hood was wrapped up nicely and was in absolute mint condition.