Vinyl Stripe Problem/Question...
05-31-2009, 07:33 AM
---
06-01-2009, 12:07 AM
Join Date: May 2009
Location: Birmingham, Alabama
Posts: 9
---
Mine just has stripes on the top, and I partially agree with you, but it depends on the car. I'll probably remove the ones I've got and do a painted hood section later on.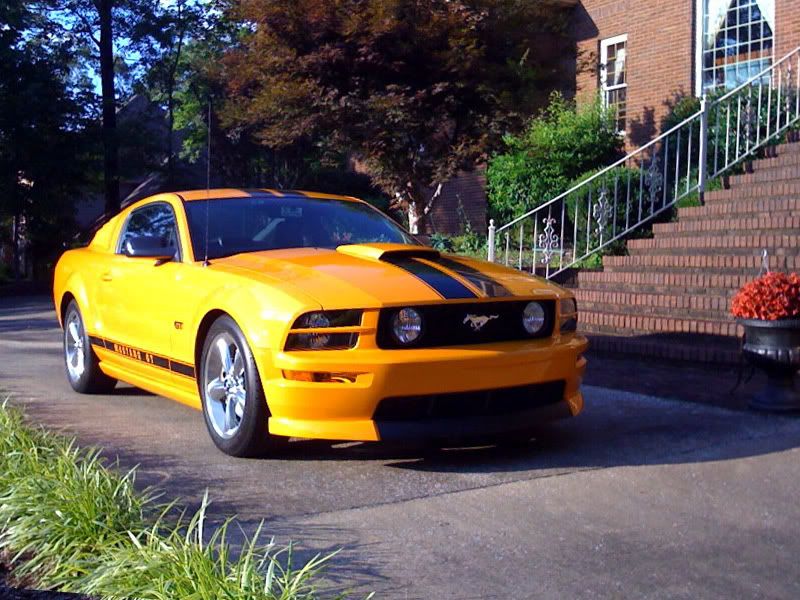 06-01-2009, 10:51 AM
---
I think the stripes make the car! If mine didn't have them already when I purchased the car they definately would've been my first mod!
06-01-2009, 01:01 PM
06-02-2009, 12:55 PM
---
Because I wanted a new car, not a used one. And, I am not into the racing scene. The base does everything I want. I'm not a 21 year old kid who wants to race others at red lights
I'm not saying that only that kind of person buys the GT - but we were in the market for a new car anyway - and the wife pushed me to buy the Mustang because she knew I always wanted one, and because of the awesome price in the Houston newspaper.
06-03-2009, 01:28 AM
---
ohhhh i see, but theres nothing better than pure american muscle at your feet!

im just kidding, thats cool but you need some rims and black out those corners and some stripes and a hood scoop...i need stripes and a hood scoop!

what color is your car mineral gray?
06-03-2009, 07:19 AM
---
Vapor gray
Actually, at first I wanted a scoop and those fake side intakes that go behind the door. They really look good on certain colors... On the Vapor gray, I don't like the looks, however. I looked thru tons of pics here on the sit. And, with this color, those things don't look too great to me. Just my opinion.
As for the stripes, if my wife weren't so against it, I'd have to figure out the color. I've seen white, gray and black stripes on cars with the same color. The white didn't look that great to me. I think the gray/offwhite or the black looked better.
I may get some better rims. Installed, a set fo 4 I liked is about $600. If I do it, I'll likely wait until I need the first set of tires. Tires that come with a new car usually wear out pretty fast, because they put tires on that are quieter, and not known for their longevity - at least that's been my experience in the past. So, probably 20-25k, and it will need a new set. I hate to pay for the install of the same ties I already have.
Thread
Thread Starter
Forum
Replies
Last Post
The New S550 2015-2020 Mustang