See related guides and technical advice from our community experts:
Browse all:
Brakes
s197 FAQ and list of bolt ons! PLEASE READ FIRST!!!
10-04-2007, 08:36 AM
s197 FAQ and list of bolt ons! PLEASE READ FIRST!!!
---
Since MustangForums is getting more and more new members (particularly in the S197 section), we wanted to identify the S197 Section Moderators and other MF Staff members (listed somewhat alphabetically) in case there is a problem.
S197 Section Moderators:
Administrators
Assistant Administrator(s)
Site Moderators
Please remember that we are volunteers here (and car enthusiasts!), but we cannot oversee every thread 365/24/7. If you see a problem developing, please shoot a PM to one of the Mods so we can take the proper action. That will help us keep this place running smoothly, which benefits all members.
THANKS!
Bill Jr aka 28HopUp
MF Administrator
---
Last edited by howarmat; 05-17-2009 at

07:32 PM

.
02-08-2008, 10:15 AM
5th Gear Member
Join Date: Mar 2006
Posts: 2,553
Attention MFers!
---
As the S197 section continues to grow, we have seen an influx of new members. While growth is a positive thing, it can have a negative impact as well. Lately, we have been conversing via PM's with regular members who are concerned about our section. So we wanted to offer up the following suggestions for all MF members:
AllS197 sections are for technical threads that are relevant to S197 Mustangs. If you want to write about off-topic stuff, it should be posted in Off-Topic. If you want to plan a regional meet, it should be posted in one of the Regional Sections. If you want to sell a S197 part, then it should be posted in one of the Classifieds Sections. You get the idea.
We have received complaints about threads being made in the 4.0L and 4.6L sections that should have been placed in their appropriate sub-forum (drivetrain, handling, appearance). That is why the staff is moving threads and leaving "MOVED" tracer threads. If you are making a new thread, please take to time to consider if it is being posted in the proper section. If we move one of your threads, please do not be offended - we want all members to find relevant threads in the appropriate section.
Bashing of different engine/platform/era Mustangs will not be tolerated - especially in the S197 Tech sections. If you want to spout off, then you should do that in Off-Topic.

Signature sizes have gotten out of hand. The maximum photo size is 500 x 250. You can right-click your mouse on your picture to see what size it is. If yours is too large, then please resize it.
Thank you for contributing to Mustang Forums!!! Our members are what makes this place a great resource for the Mustang enthusiast.
04-09-2008, 11:09 PM
S197 FAQ PLEASE READ FIRST!!!
---
The following contains a great wealth of knowledge from many members on this forum. While this is not an end all too all questions, it's a great starting place for a lot of the new guys on the forum.
Ford Mustang Workshop Manual
http://iihs.net/fsm/?dir=0
FAQ
Q: When I try to fill my gas tank it shuts off!
A:
Yes, there is a Ford TSB (Technical Service Bulletin) out on this.
http://cdn.lrsstatic.com/downloads/t...sb07-21-12.pdf
Q: There is a popping noise when I make turns.
A: Yes, there is a Ford TSB out on this. (Technical Service Bulletin)
http://cdn.lrsstatic.com/downloads/t...sb07-18-01.pdf
Q: My Emergency/Parking brake is stuck/frozen!
A: Yes, there is a Ford TSB out on this. (Technical Service Bulletin)
http://cdn.lrsstatic.com/downloads/t...sb06-05-04.pdf
Q: Does the airbag recall affect my tune?
A: No, the airbag recall does nothing to the PCM where you tune is.

Q:How can I improve the throttle lag?
A: You can purchase a CAI(cold air intake) and a tuner. Recommended companies include:
Brenspeed
,
American Muscle
and
VMP
See more below for tuning.
Here's a tip from a fellow poster to help with the throttle lag a bit:

Turn the key to ON (DO NOT START THE CAR!) and wait till all the normal lights in the dash go out, then slowly press the gas pedal until it is floored and release. Turn the key off, wait about 6 seconds and then start your car. Give it a try.ť - shave35
This will reset the throttle body settings and give the car a crisper feel. This is not a permanent fix but does help out every so often. Also unplugging you negative battery cable for 15 minutes will reset some settings but is not recommend unless you know what you are doing.

Q: How much for a gear install?
A: This varies from shop to shop, but 300-500 is typical. Anymore and you need to find a different shop. With that said the rear ends for the S197 are quite picky when it comes to gears. Many people complain about gear whine after install. Make sure your shop is good and has done a few 8.8 or 7.5 Ford rear ends. You might pay a little more that the guy across the street but if it's done correctly the first time you will thank yourself.
There is a huge debate on Motive vs FRPP gear sets. The FRPP are generally said to be better gears since the tolerances for the install are more lenient that those of the motives. Motives are a good gear and can be installed with no whine, but it depends on how good the install is generally, as FRPP if not installed correctly will whine also.
Q: How much for long tube headers to be installed?
A: This also varies from shop to shop. Quotes range from $300-900 for this. Again the best advice is to find a good shop and ask if they have done it before. You should be able to find a place that can do it in less than 6 hrs and less than $500. Some members have been able to do the install themselves in fewer than 6 on their backs, so a shop with a lift should be able to beat that pretty easily.
Q: I'm looking for a new exhaust, any sound clips?
A:
Click me!
Q: Will my performance mods void my warranty?
A: No, they will not void your entire warranty. Ford will just no longer cover the part that you replace. They can't say if your axle breaks that it was because of your exhaust upgrade. If you do a mod and they can prove that the mod caused the failure then they won't cover it. If you are having trouble at one dealer, try another!

Q: What is the difference between an axle back and a cat back exhaust?

A: A catback replaces everything from the stock h-pipe back and normally includes an axleback as part of the system.
An axle back is basically just swapping out the muffler.
Q: My car drones. What is a resonator and where can I get them?
A: Drone occurs when you are cruising at a constant rpm and have the exact same muffler setup on both sides of the car. The reason why this produces drone is because the sound waves occur at the exact same time, and sound exactly the same, creating a "drone".
What flapjack did was put the resonators staggered three inches to eliminate the drone. By placing them three inches apart the exhaust goes through one resonator before the other eliminating the exact sound at the exact same time. This eliminates drone. Midas or any muffler shop will carry them. -nicarc369


Q: What Does the Traction Control System Do?

A:
Your vehicle may be equipped with a Traction Control system. This system helps you maintain the stability and steerability of your vehicle, especially on slippery road surfaces such as snow- or ice-covered roads and gravel roads. The system operates by detecting and controlling wheel spin. The system borrows many of the electronic and mechanical elements already present in the Anti-lock Braking System (ABS).
Wheel-speed sensors allow excess rear wheel spin to be detected by the Traction Control portion of the ABS computer. Any excessive wheel spin is controlled by automatically applying and releasing the rear brakes in conjunction with engine torque reductions.
The Traction Control system will allow your vehicle to make better use of available traction on slippery surfaces while you are trying to accelerate or while your foot is on the accelerator pedal. The system is a driver aid which makes your vehicle easier to handle primarily on snow and ice covered roads.
During Traction Control operation, the traction control active light will illuminate. If your vehicle is equipped with a message center, a message will display during Traction Control operation. You may hear an electric motor type of sound coming from the engine compartment and the engine will not "rev-up" when you push further on the accelerator. This is normal system behavior and should be no reason for concern.
Q: How can I make my car MUCH FASTER with MORE POWER?

A:
The best way for big amounts of power (400+) is a supercharger or turbo charger. Very few people have gotten 400 HP to the wheels with bolts ons. This included head and cam work and is not cheap by any means, probably as much as an s/c or turbo.
Nitrous is another alternative for 400+ HP and if this is a route you would like to go then check out this thread.
Nitrous Oxide FAQ
Tips:
Do not let FORD charge you 100 bucks to replace your Cabin Air Filter
http://ratstangrestoration.com/cabin_filter_replacement_2005.htm
Mastersheet for 05+ Mustang Stereo Removal
http://akamaipix.crutchfield.com/graphics/download/sample_0190011.pdf


The Shaker has a an RDS option, hold down the menu button for 3 seconds to access the function. It will then display the radio stations or the type of music the station is.
The Owners Manual
The owner's manual is a valuable tool. It contains a huge amount of info. Read through it, keep it by the toilet. Most common questions can be answered by looking in there. (ex All fluid capacities, engine lights, shaker radio controls)
Here is a link to some downloadable versions of the manuals:
Owners Manual
General S197 Info and Tech
Scan through the link below to find many usual threads that our members have discussed through the last couple years. These are very common topics and are helpful to read through before you go posting.
S197 TECH (How To) & INFO Threads
S197 Factory Sound System (Shaker 500 vs Shaker 1000)
There are many questions about the difference between the systems. Here is the general info:
Shaker 500:
Consists of the 6 disc CD changer head unit. It has 2 door subs that are 8" and 2 5x7/6x8 speakers in the door and the same on the rear deck. The 4 main speakers are driven by the head unit and not their own amps.
Shaker 1000:
Consists of the 6 disc CD changer head unit. It has 2 door subs that are 8" and 2 5x7/6x8 speakers in the door and the same on the rear deck. The 4 main speakers are driven by the head unit and not their own amps.
Here is the only difference between this and the Shaker 500
There is another set of subs in the rear trunk area power by another set of amps.
To upgrade your 500 to a 1000 you will need the shaker 1000 head unit, the amps and subs for the rear and also the complete wiring harness. This upgrade is not recommended at all. Go aftermarket if you want something back there.
Also, if you replace the head unit with an after market unit,
the subs will still work.
Any dealer that says otherwise doesn't know what they are talking about.
TUNERS!

A tuner (reflashing) will change the program that your car runs on. To avoid warranty issues just "Flash" back to stock before having it serviced. It is really a case by case basis depending on your dealer. Read this post by scrming:

"If you flash your car can the dealership tell? Yes, they can... No, they cant.... The debate has raged on long enough!!!

Here is the answer I got back from my sources inside of Ford engineering... I even had multiple sources confirm this...I am sure someone is going to disagree with me... however I basically went to the horse mouth on this one...

As it stands TODAY, all the dealership can tell is the last time the computer has been reset. Notice I said reset, not reflashed. Yes, reflashing does set this reset "date". But guess what... so does disconnecting the battery! LOL! So the dealership has no way of known what caused the reset... Simply tell them you left your lights on! LOL! Or in my case the bottle heaters! Ok, so maybe not the bottle heaters! LOL!

Now Ford does have a way to download the programming in the computer... if you did not reflash the car to stock then they will obviously see the differences and no you reflashed the car... however if you put the computer back to stock then all they will be able to tell is that the computer was reset... again... oops... i killed my battery... LOL!

Hopefully this will put an end to the debate...."

-scrming


Here are the most common companies for the XCAL2 tuner in no particular order:

Lidio At
Alternative Auto
Brent At
Brenspeed Site Sponsor

TunableInduction
Site Sponsor
Note: These tunes are not the tunes that SCT or Diablo write. They are specific to your car and are generally better than the factory tunes on the device.


Everyone has an opinion and a reason why they chose the tuner and company they did (Price, Performance, Customer Service). You can find many debates and topics about tuning and companies by using the SEARCH function at the top of the page.
Here are a couple good links to common tuning questions:
Adaptive Learning questions answered by Doug and Brent both
Here is a post by post Furinox on his opinion of the thought that tuners save you gas mileage.
I am not sure why people say the gas mileage is going to increase because it really is not. If anything it is going to stay the same or go down. If you compare your current fuel mileage using 87 octane to your post tune mileage using higher octane of course you will get slightly better mpg because of the higher octane. What I think most of you really want to know when you ask if your mpg is going to go down or up is if it will end up costing you more at the pump after a tune and my answer is maybe. Some of you may disagree but pre-tune lets say you are getting 20mpg using 87octane at $2.50/gal. You have a 16 Gal tank so 16x20=320 miles per tank. The highest octane is usually a minimum of $0.20 more per gallon so considering a slight increase in fuel mileage could be 22mpg? Ok, so 22x16=352 miles per tank. so for a fill up from bone dry 87 octane is $40.00, fill up from bone dry with 93 is $43.20.

So...with 87 octane you are paying 40.00 bucks for a tank of gas and getting 320 miles.
With 93 octane you are paying 43.50 for 352 miles.

Thats an extra 32 miles for $3.50 more at the pump

with 87 octane $.125 cost per mile.

with 93 octane $.113 cost per mile.


If your gas station only charges $0.20 more for the highest octane and you actually see at least 2 miles per gallon increase while using it then it is about .01 cents more economical to buy the higher grade fuel.

Do not jump for joy yet. Other factors are going to go into account once you tune your car. It is my understanding that a CAI brings more air than fuel into your engine and that is why you require the tune. The tune tells the computer to add more fuel to the motor to account for the extra air thus giving you the extra power. Let me say that one more time, the tune is telling the computer to use MORE fuel. The amount of fuel we are talking about though is very minute.

It is my opinion from knowing what I have stated in this post that with a CAI and Tuner your MPG is actually going to go down, but so little that you wont really notice it unless you keep your foot in it.

All in all the Tuner/CAI is a great thing to add to your car for power and that little extra oomph. The only thing that is going to drastically change your fuel economy is you. -Furinox
*****BEFORE STARTING ANY WHICH S/C OR TURBO SHOULD I GET THREADť****
You need to ask yourself these questions and be able to provide the forum with these answers in your post. There are too many choices out there and these questions will help the experienced people answer your questions better. There are tons of threads with the debate/argument on this so please search for some general info first!
Again thank you to Modaddict who helped with the list
1. What are you planning to do with the car? i.e. - autocross, trailer drag car, daily driver, weekend warrior and occasional track, street/strip limited, street/strip weekly, etc

2. How much max power do you want to make eventually?

3. How much max power do you want to be able to run on the street?

4. Is torque important to you or just rwhp numbers?

5. Where do you live and what is the climate?

6. How many miles do you average on your car? (example - 12K per year)

7. Is your car lowered?... How much?

8. What is the max octane you have in your area? (example - 89, 91, 93, etc.)

9. Do you plan on rebuilding a forged motor?

10. Is 'whine' important to you?

11. Do you want to be able to have multiple boost levels and tunes? (i.e. race and street) Specific to boost - do you want to run different boost levels on the car?

12. Are you installing yourself? If not... who is?
13. Do you have access to a custom tuner and dyno?
Any suggestions? Corrections? I'll add to it.
---
Last edited by howarmat; 01-08-2015 at

09:06 AM

.
04-25-2008, 04:07 PM
Tired of posting those huge links that stretch the page?
---
*****here's a tutorial for you! (originally made by
99GTvert
)*****
Do you have a massive link that you absolutely must post, but don't want to suffer the embarrassment of looking foolish? Check it out, I have assembled a step by step process to help clean up a few threads. Pictures included
[hr]

Step 1 - Type in what ever text you want in the message box. For this example, I have entered the word 'hi'.
[hr]

Step 2 - Locate the icon that I have circled in the image below.
[hr]

Step 3 - Once you locate it, highlight your text in the message that you wish to hyperlink to, and click on the circled icon
.
[hr]

Step 4 - A little box will pop up. This is where you enter the URL/website that you wish to link to. Copy and paste the desired website into this box. You must include the http:// tag, or else it will not work.
For this example, I have copied the URL to the google search engine.
[hr]

Step 5 - Select 'OK'. Your selected message should be underlined with blue font, like so.
[hr]
Step 6 - Select 'OK' to post your message. Your post should look like this when fininshed, meaning other users will be able to click on it to go to the desired website.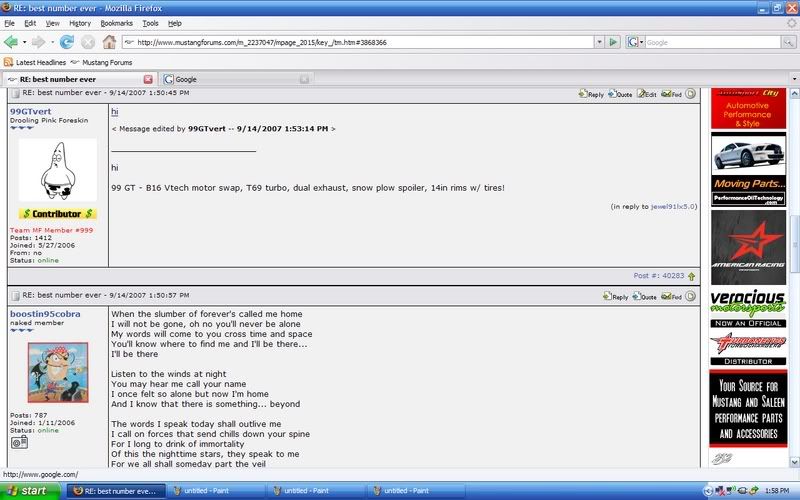 If you wish to see the example provided in action,
follow this link and look for post number 40283.
If it does not work, repeat the steps again.
kthxbye!!
*****originally posted by
99GTvert
*****
05-02-2008, 09:37 AM
*READ* PSA: Is your post on topic? *READ*
---
Moderator:
Why hello there, Timmy, and welcome to the 2005-2009 Mustang Tech forum, also known as the s197 Tech forum!
Timmy: Well gee-willickers, Mister! Gosh it sure is swell of you to welcome me! I sure can't wait to to post my experiences and thoughts in this forum to share with all the other s197 enthusiasts out there!!!
M:
Say! that sounds like a great idea, Timmy! Why don't you get started?
Timmy: Sure thing, Mister!


ORIGINAL: Timmy

lol hay guyz, wassup? so i was driving in my s197 and i saw a police car that was a charger and i was wondering what size motors to those have in them?
M:
Whoah, hold on there Timmy, just what do you think you're doing? Remember, this forum is for tech posts related to the s197 Mustang
Timmy: Well golly Mister, "tech"nically I was driving a s197, I thought it was good enough
M:
[musses Timmy's hair]
Haha, no Timmy, this thread is off topic, and should be posted in the
Off Topic section
. Posting threads in the wrong section makes you a Communist. You don't wanna be a Communist now, do you, Timmy?
Timmy: Golly gee no, Mister!! I hate those gosh-darn Commies!!

M:
We all do son, but there's no need to swear
Timmy: Sorry Mister! But how do I remember what posts are considered tech related?
M:
Why its easy Timmy, all you have to do is remember the word
S.H.A.Q.T.A.S.T.I.C.
Sharing opinions of a certain part or certain set of parts
How-to's
Asking where to find parts for your specific model of Mustang
Questions about features of your specific model of Mustang
Telling others you opinions on the aesthectics of your specific model of Mustang
Asking others about their opinion on modifications to your specfic model of Mustang
Showing others a new modification you have found or have installed
Trying to find a solution to a problem you are having with your specific model of Mustang
Informing people of a solution you have found to a problem involving your specific model of Mustang
Carefully scrutinized posts that you have asked permission for the moderatiors to allow
Timmy: Golly, that sure is easy to remember!! But what about a thread for when I washed my car and want to show off pictures of it


M:
That's what the
Photo Section
is for
Timmy: Oh boy! Now that I know what to post where, this forum sure will be keen!!!


M:
That's right, Timmy.
[addressing audience]
And remember, if your post isn't
S.H.A.Q.T.A.S.T.I.C.
, you're a Communist!!
brought to you by Laramie dish-washer salve
---
Last edited by Joolander; 08-14-2008 at

05:44 PM

.
02-04-2009, 12:19 PM
S197 FAQ PLEASE READ FIRST!!!
---
After having to explain this to allot of Mustang owners I figure it would be a good idea to put it here for those who are looking to do this mod. This is factual information gained from talking to a Ford parts dealer, others who have done this mod, looking at a GT500 rear bumper up close and my own real world experience. The myth is that the GT/CS and GT500 bumpers are two different bumpers when the fact is they are the very same bumper.

There are only two real differences, 1. How it's painted. And 2. Cost. For some unknown reason Ford wants you to pay more for what they call their GT500 bumper but the funny part is that it costs more (paint wise) to have it like a GT/CS bumper. The GT500 stile takes less prep and less paint to do so why do they want so much more for it? The only answer I could come of with is that they want you to pay for the Shelby name.

Below is the direct quote from a Ford parts dealer who currently works at a Ford dealership as the part manager:

"Ok Here is the Lowdown on the Other Parts. Ford Really Has A Mess on there Hands With Service Replacement Parts and Genuine Ford Accessory Parts. Most Dealers are Unaware of the Accessory Parts so you Usually Get Quoted for the Service Replacement parts Vs the Accessory Parts. The Service Parts are More than the Accessory Parts And you get Less! The Service Parts are Just a Bare Cover Where the Accessory Kits Have Extra Goodies. If you Have a GT You Will be Good to Go With the Accessory Kits but if You Have A V6 you Will Need the Additional GT Pieces your V6 will need to get to GT Bumper Specs! I as A Rule do Not Often Post Parts Prices or Part Numbers Because they Change Regularly. In This Case I will Post FORDS Suggested Retail in Order to Give you the Best Deal when Purchasing these Parts Locally!

Ford Suggested Retail, Part Number, Description
$472.88 7r3z17d957aa GT/CS & SHELBY GT Service Bare FRONT Bumper.
$399.00 6R3Z-6320049-AA GT/CS & SHELBY GT Accessory Kit Front
Bumper.

$518.27 7r3z17k835aaptm GT/CS & Shelby GT Service Bare Rear Bumper.
$355.00 6R3Z-6320049-BA GT/CS & Shelby GT Accessory Rear Bumper


$ 596.00 7r3z17k835baptm GT-500 Rear Service Bumper.

No Quote Kit for true 500 Rear Bumper. The Only Difference between the CS and 500 Bumper is a Lot of Money and the Rear Diffuser. On A CS or Shelby Gt the Lower Center Diffuser As Viewed From Directly Behind the Center lower Section Only is Matte Black on a GT-500 The Lower Section is Black all the way around to Match the Matte Black rocker Panels. Other than That the Rear Covers are Identical! Do the Math and Make your Choice! I hope this Clears up the Bumper

I have the 6R3Z-6320049-BA GT/CS & Shelby GT Accessory Rear Bumper on my car and I ordered it threw a local body shop who got it for a little below the quoted Fords suggested retail price. I can tell you for a fact that the texture on the lower half is the very same as the GT500 which I verified by comparing directly to a GT500 bumper.

Now lets talk about that texture for a min because allot of people also asked me, "is there any special prep work that has to be done or, does that texture need to be removed prior to painting?" The answer is no to both. After the normal prep work is done and the paint is applied you can't even tell it's textured any more and it blends right in with the rest of your paint. Here are two pictures of mine bumper to show you what it looks like with the textured area on the lower sides painted. I hope this answers your questions and clears up the mystery surrounding this mod.

Forum moderators, could you please stickly this in the FAQ section?
Consider it done and thanks for the write up-mygt500
---
Last edited by mygt500; 02-05-2009 at

07:15 PM

.
01-13-2010, 06:22 PM
Common Bolt On List
---
List of
Bolt Ons
with common abbreviations
Cold Air Intake (CAI)
Tuner
Underdrive Pulleys (UDPs)
Electric Water pump (EWP)
1 piece driveshaft
Long Tube headers (lt)
Short Tube headers (shorties)
Axle Back muffler (AB)
Catback system (ABs w/ over axle pipes)
Charge Motion Control Valve Delete Plates (CMCV or CMDP)
Coil On Plugs (COPs)
Off road X or H pipe (O/R)
Nitrous (NO2)
Throttle Body (TB)
Intake Manifold
Gears (3.55, 3.73, 3.90, 4.10, 4.30)
Methanol Injection
Other "bolt ons" (require engine work or tranny removal)
Lighter Flywheel
Cams
Heads
Torque Converter
There are also various mods to help reduce weight that you can look into to
get all available HP you can.
PM me to add anything else to the list.
---
Last edited by howarmat; 01-13-2010 at

06:25 PM

.
05-27-2013, 08:45 PM
---
Technical Terms
(R+M)/2==Average of Research Octane and Motor Octane and is the AKI of gasoline.
5r55 == the stock S197 transmission
60' == Your sixty foot time on your ET time slip
1/4 or 1320' == the quarter mile drag strip
1/8 == the eighth mile drag strip
A/B or AB == Axle Back (in reference to the s197 rear muffler location)
A/C COMP==air conditioner compressor
A/C==air conditioner
A/O = Air/Oil Separator
A4 == 4 Speed Automatic Tranny
A5 == 5 Speed Automatic tranny
ABS == Antilock Brake System
AFR or A/F == Air Fuel Ratio
AKI==Antiknock Index what the yellow sticker on the gas pump means.
ALT==alternator
AOD == Automatic Overdrive transmission
AT==automation transmission
ATF==automatic transmission fluid==be sure to use the correct one!
BAT==battery
BFH == Big Fing Hammer (Best tool in the toolbox)
BOOST == the psi level of forced induction
BOLT-ON == Add-on or modification that is designed so that the car owner can usually do the install without special tools
BOV == Blow-off valve
CAI == Cold Air Intake
CARB == California Air Resources Board
CAT==catalytic converter
CEL == Check Engine Light
Centri == Centrifugal-type supercharger
CMCV DP or CMCP== Charge Motion Control Valve Delete Plates
CO==carbon monoxide
COMP==compression
COPs == Coil on Plugs (referring to the ignition system)
CPS==crankshaft position sensor and/or camshaft position sensor
CTS==coolant temperature sensor (not a Caddy!)
CYL==cylinder
CI or CU == cubic inch
DD == Daily Driver (if the conversation is about your car), Deep Dish (if the conversation is about wheels (or pizza))
DIY == Do It Yourself
DOHC == Dual Overhead Cam
DRs == Drag Radials
DRONE == A low frequency sound that occurs at a specific RPM (usually 1800 – 2200) while the engine is under load
DS == Driveshaft
DSL == Driveshaft Safety Loop
DTC==diagnostic trouble code
ECU==electronic control unit
EFI==electronic fuel injection
EGR==exhaust gas recirculation
EGT==exhaust gas temperature
eH2O == Electric Water Pump
ET == Elapsed Time
EWP==electric water pump
EXH==exhaust
FI == Fuel Injection
FPDM - Fuel pressure Driver module
FRPP == Ford Racing Performance Parts
FWHP/TQ == Flywheel Horsepower/Torque
GND==ground also denoted as COM for common.
GT = Gran Turismo
HC==hydrocarbons
HID==high intensity discharge
H PIPE == A type of exhaust crossover pipe in the shape of an "H"
HO == High Output
IAT == Intake Air Temp sensor
INT==intake
IUP == Interior Upgrade Package
KS==knock sensor
LB == longblock (fully-dressed engine)
LCA == Lower Control Arm
LED==light emitting diode
LSD == Limited-Slip Differential
LT's == Long Tube Headers
M5 == 5 Speed Manual tranny
M6 == 6 Speed Manual tranny
MAF == Mass airflow sensor
MAP==Manifold Absolute Pressure Sensor (used on speed density cars, not MAF cars)
MET==Metric
MIL==malfunction indicator light
MOPAR....Must Order Parts After Race
MPI==multiport fuel injection
MSD==multiple spark discharge
MT or STD==manual transmission
N/A or NA == Naturally Asperated (or non-alcoholic)
N20 == Nitrous oxide
NOS == Nitrous Oxide Systems (A brand)
NOxnitrous oxides
NVH == Noise Vibration Harshness
O/D or OD==overdrive
O/R == Off Road (No Cats)
O2S or 02 sensor ==oxygen sensor
OEM == Original Equipment Manufacturer
OHC==overhead cam(s)
OHV==overhead valves
PCV==positive crankcase ventilation
PHB == Panhard bar
PLENUM == Another way to say intake
PN = Part Number
PS==power steering
PTEC==powertrain electronic control
PWR==power
RAD==radiator
Rib == Number of ribs (grooves) on accessory drive pullies. (Example 8 rib or 6 rib)
RT == Reaction Time
RWHP = =Rear Wheel Horsepower
RWTQ == Rear Wheel Torque
S/C == Super Charger
S197 == Chassis designation of the current production Ford Mustangs ('05+)
SAE==Society of Automotive Engineering (standard sockets)
SB == shortblock (referring to the engine without heads, intake, or exhaust)
Shorties == Short length primaries on Tubular header
SJB == Smart Junction Box
T/C TC == Tourqe Converter or TurboCharger or Traction Control
TB == Throttle Body
TCS == Traction Control System
TEL==tetraethyllead==old time Ethyl fluid used to raise octane of gasoline and also to protect soft exhaust valve seats on older cars. Extremely poisonous!!! Kills O2Ss and CATs on modern cars. For off road use only.
TPS == Throttle Position Sensor
TS == Twin Screw
TT == Twin Turbochargers
UCA == Upper Control Arm
UDP == Under Drive Pulley
VCT == Variable Cam Timing
VERT == Convertible
VI or VIS==viscosity index (motor oil)
WAO==wide *** open (same as WOT in most cases.)..
WB==wide band
WOT == Wide Open throttle
WP==water pump
Thread
Thread Starter
Forum
Replies
Last Post