2.8 Kenne Bell Install
08-23-2008, 09:17 AM
5th Gear Member
Join Date: May 2007
Location: N/A
Posts: 2,690
---
Well we finished bolting it up and we fired her up. Things look good we'll dyno tomorrow. We just ran out of time yesterday.
We had to remove the Metco Idler pulley because the belt was too small with the overdrive pulley. We could have gone with the smaller pulley on the blower but this block won't handle it and we need to break in the blower.
Once we get the blower broke in we'll get ready to swap the block. While swapping the block the Metco Idler will go back on along with the smaller blower pulley. We'll put the 90mm tensioner pulley on and we'll make a smaller pulley for the water pump so we can spin it faster (Since I don't have a high flow electric).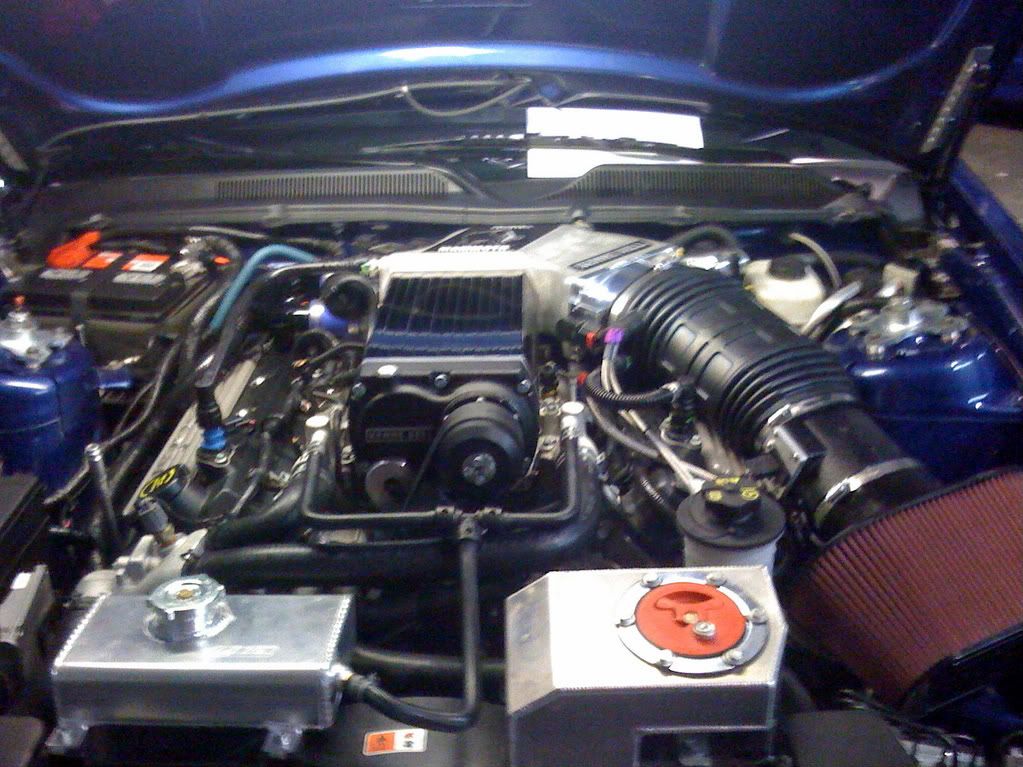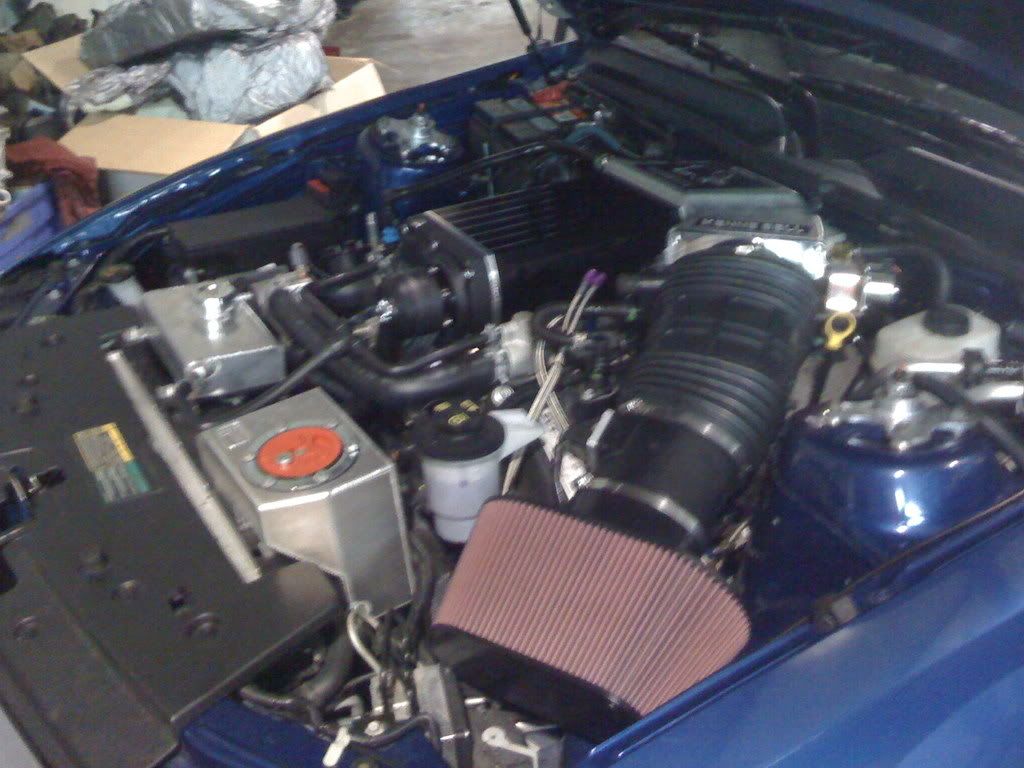 We finished the night with a couple of these!!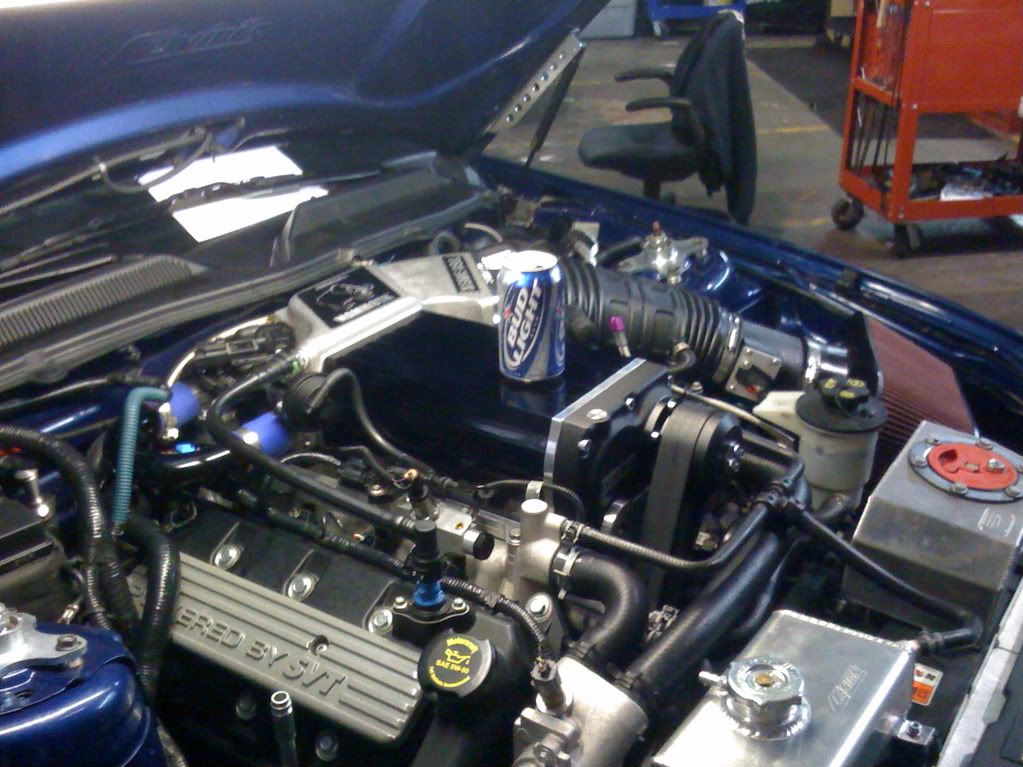 08-23-2008, 09:29 AM
---
Its funny how the pic with the beer can is the least fuzzy and the others look like you are looking thru beer goggles or something....>LOL car is amazing and I CANT WAIT TO HEAR AND SEE SOME NUMBERS AND WELL AS TRACK TIMES!!!!!!!!!!!!!!!!
08-23-2008, 04:43 PM
5th Gear Member
Join Date: May 2007
Location: N/A
Posts: 2,690
---
Well we tuned the car today. We have the break in tune numbers. This is with the big pulley on pump gas.
695RWHP in a 100 degree shop!
http://www.youtube.com/watch?v=nfEyxHWXk-o
Next we put in the built short block and we install the small pulley!!!
08-26-2008, 02:19 PM
---
That's it! I am getting jealous of that car!!!!
I can't believe the good numbers you are making, and you haven't even gotten the short block or the smaller pulley on that thing!!!!! AND.....if I were a betting woman....I would bet there was going to be nitrous in there on top of all that tooooo at some point!!!!!!
I am glad to see the automatic transmission getting the *respect* it deserves.......
Ok, I've got to be honest here.....that youtube video with your car on the dyno? That's damn sexy.....kinda got me torn up ......
So tell us.....what's it like taking that beast out on the track? And when and where are the test rides? I'm signing up for the first one!!!!
08-26-2008, 02:27 PM
5th Gear Member
Join Date: May 2007
Location: N/A
Posts: 2,690
08-26-2008, 02:32 PM
5th Gear Member
Join Date: May 2007
Location: N/A
Posts: 2,690
---
The car actually ran the same times with the big pulley and the Kenne Bell as when I was running the Eaton and the Nitrous!!
It also cut out .005 on the 60', that's HUGE!
Oh and Saddle, you can be first in line for the test rides.....as long as promise not to scream and break my ear drums!! LOL
Saddle if you were a betting woman....you'd be making some money.....there will indeed be nitrous on the car again!!!
08-26-2008, 02:36 PM
---
Those are great videos~!!!
That car sounds sooo darn good!!! Especially in that second video~!
I can't make any promises about the ear drums...we might need ear plugs......I think that car has enough under the hood to get me all riled up!
You've got an awesome car there, no doubt about it.