Anyone on the forum willing to admit their Stang was on the Weather CHannel?
01-10-2010, 09:19 AM
6th Gear Member
Anyone on the forum willing to admit their Stang was on the Weather CHannel?
---
A few days ago while watching the weather channel while they were reporting about the ice in the Atlanta area there was footage of a white S197 on black ice, careening front first into a wall. I don't know if it was the Atlanta area or simply stock foootage.

Regardless, I hope nobody was injured. It was pretty nasty.
---
Last edited by Nuke; 01-10-2010 at

09:42 AM

.
01-10-2010, 09:48 AM
---
Dunno who's white pony that was in the video, but I confess that this is indeed my s197...those with a weak stomach might want to look away: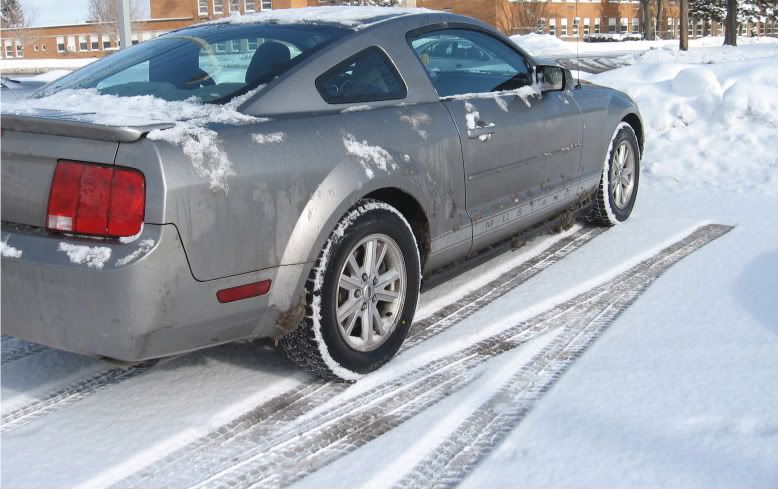 The buried parking sign gives you some idea of snow depth...these are some of the smaller snowdrifts around town. The ones on the side streets are taller than the car, making visibility around corners very interesting. Too bad there was not enough time to stop for a photo shoot with some of those!
And yes I'm proud to say that the Stang handles the snow very well...you just have to know how to frikkin' drive!
01-10-2010, 10:46 AM
01-10-2010, 10:59 AM
6th Gear Member
---
After living in the north all my life and then recently being in western Kentucky for 2 winters, I couldn't help laugh my azz off when they were ready to call in the National Guard because they were forecasting 3" of snow the 2nd winter I was there. I never even put the SUV in 4WD the 2 years I was there other than to exercise the drive train and mechanisms.

I can understand the fear that most people have when they see snow or ice for the first time or on that rare occasion. Best thing for those that can is to stay home. It's safer for those that know how to handle it.
01-10-2010, 11:17 AM
---
I can almost see the justification for sending out the Nat'l Guard. We still have plenty of idiot drivers on the road up north but it must be pretty terrifying to share the road where not a single person knows how to winter drive!