FOR ANYONE WITH THROTTLE BODY AND PLENUM QUESTONS
10-01-2007, 07:24 PM
RE: FOR ANYONE WITH THROTTLE BODY AND PLENUM QUESTONS
---
I installed my Accufab 75mm combo, and I could really feel the difference from the mid-range all the way up to redline, on my near stock 4.6. Don't have any dyno numbers to prove it, however.

10-02-2007, 09:41 PM
4th Gear Member
Join Date: Dec 2006
Location: pa
Posts: 1,420
RE: FOR ANYONE WITH THROTTLE BODY AND PLENUM QUESTONS
---
ORIGINAL: waggs
ORIGINAL: y2kStangGT

what is a plenum?
is it part of the Tb?
it's the part that goes right after the tb.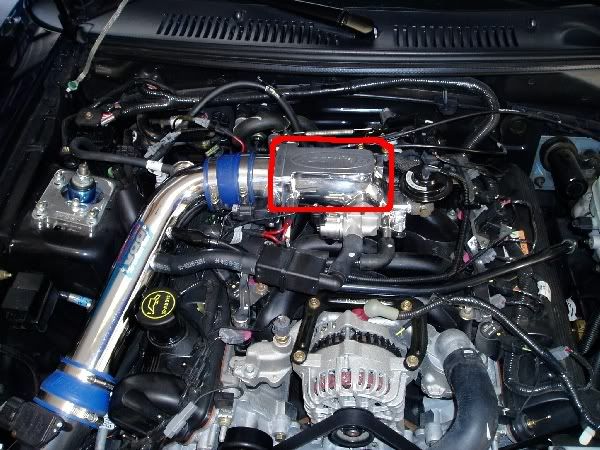 That sure is one purdy engine compartment ya got there
10-02-2007, 11:22 PM
RE: FOR ANYONE WITH THROTTLE BODY AND PLENUM QUESTONS
---
ORIGINAL: eventer289
ORIGINAL: NetChemica
ORIGINAL: GTowner4life

I read a 75mm T/B will lean out your car up to 30% And because my car isa N/A wouldnt a 70mm T/B lean out the car less and still give you the same Throttle response? What about MPG?
Why would a bigger throttle body lean you out? Is there air sneaking in past the MAF sensor?
Because the motor is able to take in more air than it could with a stock th/plenum. If the computer is not tuned to compensate, the car injects the same amount of fuel as it does stock, but with increased airflow, which in turn causes the a/f ration to lean out.
Wow. That's so not true. The fuel injectors do not just spray the same armount all the time. It all has to do what comes in the MAF! It doesn't matter what goes on after that.
02-03-2008, 10:30 PM
RE: FOR ANYONE WITH THROTTLE BODY AND PLENUM QUESTONS
---
for anyone who thinks of it look at it this way a n/a engine sucks air into the engine. So the better the flow the more air sucked in. Your maf is there to measure the amount of air coming in and to adjust the spray of the fuel injectors accordingly. So to a certain extentyour car will read the more and air and supply more fuel to the standards set by the company.I think it's safe to say you can not lean out a good working condition engine by adding a tb/plenum kit since our engines are fuel injected and controlled by computers but i could be wrong because this is just on my own experience. I don't see any way you could buy one so free flowing to make your engine ping or to lean it out enough as say 30% just my .02 on the worries of leaning out please feel free to correct me if i'm wrong.