how screwed am i (pics inc)
10-18-2009, 04:23 PM
how screwed am i (pics inc)
---
long story short, either bite the curb on the right side or get t boned, so i choose the curb. i put 3 pics in. question as to if this is fixable or do i start looking for a new shelby razor 20x9 cheapest prices? thanks for imput or experience.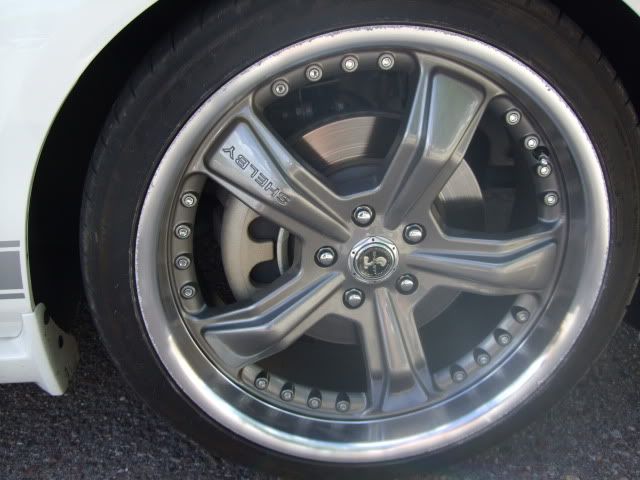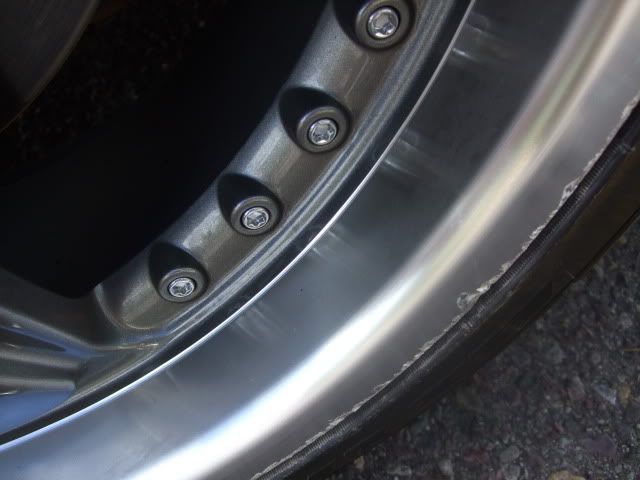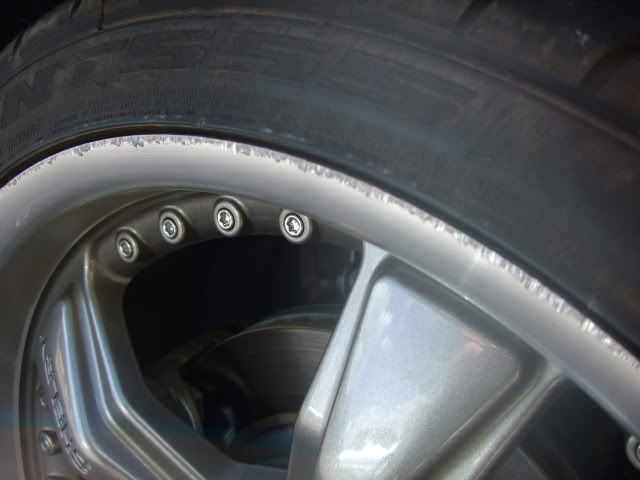 10-18-2009, 04:51 PM
---
looks fixable.

a shop should be able to buff/machine the worst of it out.

as long as all the damage is just on the face of the lip, and not anywhere near the seating edge of the tire bead.


personally, I'd just live and let live. might end up costing you the $$$ for a new set of rims for a repair job. but then again, I'm a el cheapo. Part of the reason I don't want to buy rims since it's inevitable they'll get some sort of damage.


best of luck
10-18-2009, 04:56 PM
---
I don't know about fixability but for a new wheel you will probably be looking at something in the 200 neighborhood. The hard part will be to find just one wheel instead of as a set (like many are on ebay). Not sure which offset you have but LateModelRestoration has them for 209/219 depending on offset.

Better to have to get a new wheel then a new stang so good job saving the car tough luck on the wheel though.
10-18-2009, 05:14 PM
---
Yeah, perhaps a local (reputable) machine shop could take a look and see what they could do. It should be able to be buffed out, or ground down a tad and cleaned up. Look around before buying a new rim.

Reminds me of a friend of mine who let a lady friend of his drive his car (he had a 02 Mitsu Lancer w/ Rims) to try and impress her. She ended up curbing it, actually taking a chunk of rim with it. Sucka.
10-18-2009, 10:08 PM
---
looks like a new one it is, i will check with mike @ cruzin customs first as he sold me the orginal set, then perhaps through jegs and late model and stuff, unless anyone else knows where i can get good deal on just one rim. im thinking 30 or so bucks to dismount the tire and sensor band and remount to new rims. thanks for the imput from everyone
10-19-2009, 06:57 AM
---
sorry to hear about what happend, but sounds like it could've been MUCH worse if you'd gotten T-Boned.

as far as the wheel, I would be the same way....fixed or replaced immediately. me personally, I would find someone local who repairs wheels and get a quote to compare to against the cost of a new wheel. take that information and make my decision based on the cheaper of the two......because I've personally seen repaired wheels, and if done right, it'll look as good as new (if not better). maybe go to a wheel & tire shop to see if they have recommendations.....they're not going to recommend someone they wouldn't use.

good luck!
Thread
Thread Starter
Forum
Replies
Last Post