AFR 205's!!!
03-22-2007, 07:07 PM
2nd Gear Member
Join Date: Jun 2006
Location:
Posts: 151
AFR 205's!!!
---
Guess who just bought a set of afr 205's?? Yep i did. Haha sorry im just reeeeaaaaallllyy excited. These will be going on the 408 stroker project that im currently in the process of building.

Does anyone have a suggestion as to what intake would match well with the 205's? Im almost 100% getting a custom cam. If anyone has any advice at all id really appreciate it. Thanks.

Oh and this is 90% for sure going to be carbed. Just FYI
03-22-2007, 09:21 PM
RE: AFR 205's!!!
---
stealth prolly too mild for those heads, victor jr is probably the way to go..... although a performer rpm airgap would be more streetable. lastly, you could be that "other" guy and get a good ol' offy intake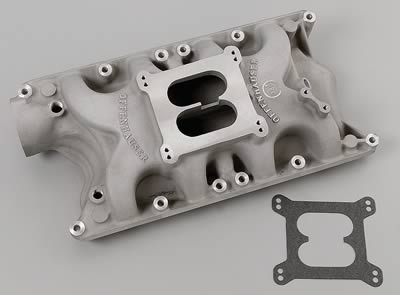 03-22-2007, 11:22 PM
4th Gear Member
Join Date: Jun 2006
Location:
Posts: 1,892
RE: AFR 205's!!!
---
ORIGINAL: black89gt

damn what mods do you have to run those big *** heads?
lol a 408 is a big *** engine... if he has nice flowing exhuast which guessing he will with a good intake and a custom cam hell need those heads.... if he had 185 the would be restricting him... not to mention if he has ne further plans his got a lil head left for the 205... even wiht a 190 id think he would be pushing it....
if u were goin EFI i would throw out some names but i dunno to much about carbs.... i know victor jr is a nice flowing intake but i honestly cant tell u wants better...it also depends on what power band u wanna run and what kinda carb you puttin on top of it... everything needs to fit together if u know what i mean.... otherwise ull lose power and waste money becuase u dont have a cheap build set up
03-23-2007, 12:59 AM
RE: AFR 205's!!!
---
dont use a stealth.. bad choice for those heads victor junior or super victor those heads will make all there power over 5000 rpm a medium rise dual plane is usually designed between idle-6500 rpm.. on top of that stealth has a poor runner design compared to edelbrock