:) possible future carnage???
03-30-2012, 09:09 PM
:) possible future carnage???
---
Hitting up opening day at the track tomorrow....hopefully nothing breaks since I drive this car to and from school M-F....120 mile trip a day lol I know the wheels are not exactly wide enough for the tire but its all I had for them and I got an awesome deal on the tires the other day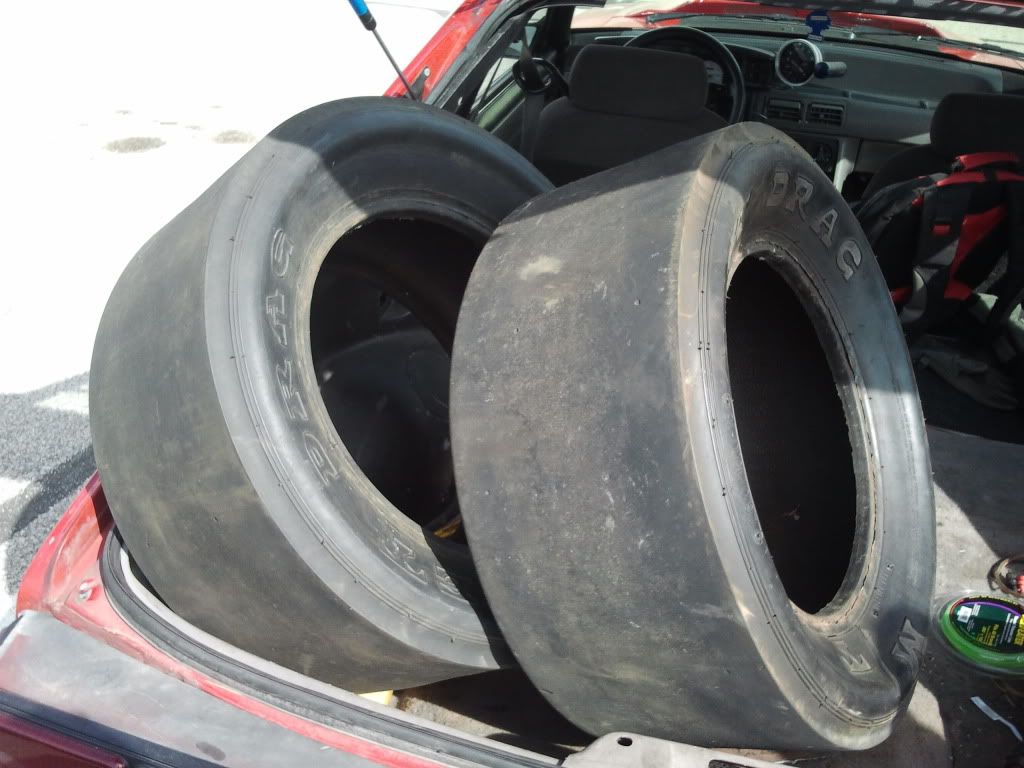 03-30-2012, 10:35 PM
03-31-2012, 07:31 AM
---
First off buddy, watch your tone. If you can not follow forum rules you can/will get an infraction from either myself or Mjr. But you did downsize it some so thank you.
And I will as soon as I get a chance tonight.
Mike, thanks!
Tinman, If I break 1 axle...I will be ok because I have another to replace it. If I break something in the diff..I have an extra one of those and a low milage 3.31 gear set, install kit and friction modifier ready for it
I am not going to go out and just dumb the clutch on the launch though nor and I am gonna power shift into 2nd..maybe 3rd but it will most likely cause me to miss it. This trans does need a rebuild but it works just fine on the street....4th gear..yea its getting shifted as hard as possible lol. Mainly because I know I can do it to 4th.
03-31-2012, 07:15 PM
---
Well good thing is, nothing broke and everything went pretty well. I only got 2 runs in because of some delays but its ok.
First run was on my 275/40/17 sumitomos. launched easy in 1st, short shifted into 2nd at around 4k and smoked 2nd gear having to back out of it a little and short shifted into 3rd.
2.319 60ft
9.204 1/8th at 82.78
13.930 at 105.23
Second run I used the MT Slicks at 15 PSI. I spun them over in the box, moved out of it and ATTEMPTED to smoke the slicks to warm them up BUT the were sticky enough to over power my brakes ( didn't dump the clutch at a high enough RPM) so I rolled forward as I was spinning them. Launched at 3k and matted it....hooked up good, snatched 2nd, 3rd and 4th. A little wobbly on the big end but all is good.
1.833 60ft
8.410 1/8th at 83.69
13.251 at 104.66
Was in the lanes to go a third time but the tree failed and we had to wait. They ended up shutting us down since it was after the 5pm shut down anyway. I was gonna launch it at 4k and get a better burn out before hand.
Gotta say I LOVE the slicks lol. That was my first run ever using slicks and other than the low RPM burnout it went pretty well.
My buddy ran a 12.3 with a trick flow top end and a 150 shot. on the way home I stuck with him from 30mph to 120 the whole way....a run before he decided to feed me the bottle and ran away from me when he noticed I was staying with him
Good times!! Can't wait to do it again