Shaker 8" Subwoofer Details & Specs
05-29-2018, 07:23 PM
5th Gear Member
Join Date: Jan 2018
Location: Pennsylvania
Posts: 2,028
Shaker System Details & Specs
---
This post has reached it maximum image limit. It continues in Post #4.
Just in case anyone wants to know, this is what you need to know about the factory shaker systems,
speakers, and subwoofers for when you want to replace them with something better.
I will be adding data as I find it.
05-09 SHAKER 500 RADIO:

05-09 SHAKER 1000 RADIO:


The difference between the Shaker 500 and 1000 is, there is another subwoofer
output on the small connector for the trunk subwoofer amplifiers.
The Radios drive the door and deck 6x8" speakers, and the amplifiers drive the subs.
10-15 SHAKER RADIO:


The head unit for this, is like a Base or Shaker 500 / 1000 as seen above without the faceplate attached.
The information center (shown in another post below) displays the radio information.
16-17 SHAKER RADIO:

This is the unit behind the bezel.

94-04 DOOR SUBWOOFER:


Unknown specs at this time.
07-09 DOOR SUBWOOFERS:

PART#:
The "MX5UG" indicates revision. I have seen a set from a 2014, and UG were the last two.
Up above, you see MX5UC, from an earlier year. The last set of four numbers change too. That
seems to indicate the run number. I saw a pair taken from a 2014, with the left side 1781, and the
right side 1551.
SPECS:
10-14 DOOR SUBWOOFERS:
Same specs and part#, different revision. Front grille is also different.
15-18 TRUNK SUBWOOFER:


Made by Pioneer.
Single amplifier attached to rear of cabinet.
DOOR SUBS:
Yes, 1.2 ohm dual wound voice coils. This is important when replacing these with something better.
Optimally, you need to get another set with dual wound coils, but you probably will not find anything
aftermarket lower than 2ohms, and most are going to be 4 ohms. The higher in ohms you go with
your replacements, the less volume there will be.
The direct drop in aftermarket kits use only one coil, and you aren't going to use one set of wires
for the speaker. The directions tell you to leave one wrapped up, so you are essentially losing one
60 watt coil, cutting your sound output in half, and even more since they're not 1.2 ohm speakers.
So, unless the amp soft-switches it all to one terminal non sensing a second coil, and I have not,
read anything about that, you're loosing some volume.
Those directions tell you to take the white with a blue stripe and solid white, tape them up and fold them
back. (You will use only one pair to connect the new woofer, you will not use these.)
The Kicker KA-8s used are 4-ohm, single voice coil. You're going from 1.2 ohm to 4ohm. Not
a good thing if the amp doesn't put 120 watts to the one pair of wires used instead of splitting it
to 60watts to both pairs.
Then, using a Dual 4ohm voice coil may overheat the amp, that's too large of a load for
a 1.2ohm stable amp. The amplifiers are 40 watt x 2, 2 ohm x 2.
I would look for a dual 2ohm voice coil subwoofer as a replacement.
There are a lot more dual 4-ohm voice coil replacements.
Mounting depth
is roughly 3.5", to go higher would mean you need a spacer ring.
Shelf:
Indications are, as you can see here, the limiting factor hasn't much been the depth of the speaker, or the cutout diameter, its been the diameter of the magnet.
It needs to passed that plastic at the upper right of the opening. Rather than cut it out, which compromises the enclosure, you can round out what is needed
for the magnet to get passed it. Or heat it up to round it where needed. Courtesy of
Derf00
DUAL COIL 2 OHM REPLACEMENT OPTIONS:
Some modification may be required on some.
Some may be or are discontinued, but found on eBay and such.
Infinity REF-FLEX8D
:
Adjustable Mounting Flange
Shallow Depth
High-efficiency polypropylene woofer cone
Large Roll Rubber Surrounds
Power Handling: 150W RMS, 600W Peak
Sensitivity (@ 2.83V): 84dB
Frequency Response: 25Hz – 500Hz
Voice Coil Diameter: 1-9/16in. (38.9mm)
Impedance: 2+2 Ohms
Kicker 40CWR82:
8" Subwoofer with dual 2 Ohm voice coils
Top mount debth: 4-1/8"
Injection-molded polypropylene cone
Rubber surround
Power handling: 100-300 watts RMS (150 watts per coil)
Peak power handling: 600 watts
Frequency response: 30-500 Hz
Sensitivity: 82.8 dB
Kicker CWRT82:
8" 2 ohm Dual Voice Coil CompRT Series Subwoofer
Injection-molded polypropylene cone
Santoprene surround
SoloKon technology
All-weather thin subwoofer
Top-mount depth: 2 11/16"
Sensitivity: 81.8 dB
Kicker 10CVR82:
Kicker CVR8 8" Subwoofer CVR Dual 2 Ohm
RMS Power Handling (Watts): 200
Peak Power Handling (Watts): 400
Frequency Response: 30 - 500 (Hz)
Hole Cutout Diameter: 6-15/16"
Impedance: Dual 2 Ohm
Mounting Depth: 4-1/4"
Sensitivity (dB): 82.8
Surround Material: Santoprene Rubber
Pioneer TS-SW2002D2:
8" Dual 2 ohm TS Series Shallow Mount Subwoofer
Power Handling: Peak: 600 watts / RMS: 150 watts
Mica injected molded polypropylene cone
Elastic polymer surround
Dual 2 ohm voice coil
Top-mount depth: 2-5/8"
Frequency Response: 20 - 200Hz
Sensitivity: 86dB
Rockford Fosgate P3SD2-8:
8" Dual 2-Ohm Punch Series Shallow Mount Car Subwoofer
Power Handling: Peak: 300 watts / RMS: 150 watts
Impedance: Dual 2 ohms
Top-mount depth: 2-11/16"
Frequency response: 38-250 Hz
SKAR Audio VD-8D2:
8" Dual 2 Ohm VD Series Subwoofer
RMS: 400 watts
Competition grade paper cone
High strength foam surround
2 Layer conex spider for high performance handling
Advanced cooling design also allows woofer to perform well in smaller enclosures
Cast aluminum basket
Spring loaded push terminals
2" High quality BASV voice coil
45 oz. Ferrite magnet
Resonance Frequency (Fs): 43.5 Hz
Top-mount depth: 3-15/16"
Sensitivity: 85 dB
There are also plenty of single 2 ohm voice coil replacements if you want to go
that route.
Shaker 500 front amplifier
, the internal view shows; NXP TDA8566Q 2*40W @ 2 ohm (
2007 Revision
)

http://pdf1.alldatasheet.com/datashe.../TDA8566Q.html
Shaker 6x8" Door 50W @ 4-OHM:
These were the style in my doors.
Rear Deck 25W @ 4-OHM:

These are like the ones in my Trunk/Rear deck.

These are from 2007 and down; DECK and DOOR speakers.
Rear deck (2005-2006 models)
To replace the factory speakers, pry the grilles up from the rear deck. Once you have the screens off, remove all of the Torx screws that secure the speakers,
and lift each unit from its respective bracket. You also have the option of installing 5-1/4" round speakers in mounting bracket adapters.
Rear deck (2007-2009 models)
The rear speakers require a little more work to remove. The grilles are integrated into the rear deck cover, so you have to remove it to get to the speakers.
This involves removing the trim panels beside and above the back seat. These are not held in with torx bolts, they're regular hex-head bolts.
Convertibles 2005-2009
, the speakers are under the rear side panels.
MACH Speakers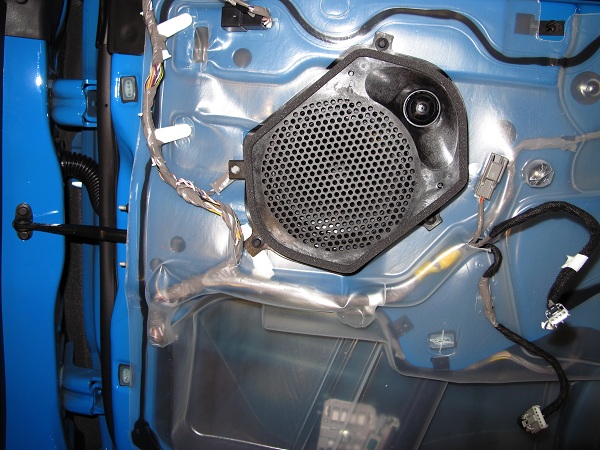 2013 Door Speaker


05-09 Convertible Rear Quarter Speaker
05-10 TRUNK MOUNTED SUBWOOFER & AMPS:

Dividing baffle between the two subs, not very ridged, and flexes easily.
Polyester fiberfill material inside the box to aid in damping on both sides of the baffle.
Some models the grill honeycomb pattern isn't as prominent.
The trunk mounted Shaker Subwoofers are 10" - Dual voice coils @ 78.5 watts each coil, @ 4.6 ohms each coil.

5" Deep from the basket mounting surface with about 3/4" more with the bracket.
Ohm meter testing the coils resulted in a 4-ohm reading.
They're also vented; center pole. You can see part of the vent hole on the next photo.

Each voice coil is powered by a separate amplifier = 4 amps, on a rack mount.

No specs on the AMPs yet, but if anything like the fronts, they're probably under powering the subs too, ~65 watts @ 4-ohm.
15-18 TRUNK SUBWOOFER:


Made by Pioneer. Single subwiifer, dual voice coil. Single amp mounted to cabinet back.
Wattage and specs unknown.
2015-2017 SHAKER PRO 9 SPEAKER SET:


SHAKER PRO 9 CHANNEL AMP:

---
Last edited by 08'MustangDude; 01-01-2019 at

03:13 PM

.
05-30-2018, 07:07 PM
---
Thanks for the information, not much out there. I would like to replace the "woofers" in the door with something for more bass; but would like to avoid doing subs in the trunk and boxes and whatnot. Been there done that. I find when people do a sound system upgrade they usually just leave those factory 8's in the doors and change all the other speakers and/or sub in trunk. Or they leave them disconnected/removed. The Shelby Kicker has 8" speakers/woofers for the lower doors but most of what I've read is people saying the sound [volume] is lacking. I suppose forgoing the door amps and using a real amp to power new door subs would yield the best results.

What have you chosen to replace those door woofers with and how will you power them?
05-30-2018, 07:41 PM
---
the problem isn't that the stockers are DVC and 1.2 OHM, its trying to find an aftermarket DVC 2 ohm 8" sub that isn't rated less than 400 watts, and if you do, the stock amps just wont push it. if the stockers are in decent shape, an aftermarket head unit will wake them up a bit and make them sound decent.
05-30-2018, 08:16 PM
5th Gear Member
Join Date: Jan 2018
Location: Pennsylvania
Posts: 2,028
---
2011-2014 Information Center:
The information center (made by Sanyo) is for the non double din bezel, with the NAV radio.
My Eonon woke the subwoofers up just fine...
Also, if you cam FIND them, Fender makes a dual wound 8" Subwoofer for Volkswagen.
I have one... If I can find another one, I can upgrade mine... I took mine out of the
'13 TDI I had. I was seeing if there was a way I could mount the enclosure in the
Mustang trunk area (deck, or lid), it's proving difficult to find mount locations to drill
holes for...
---
Last edited by 08'MustangDude; 01-01-2019 at

03:45 PM

.
06-01-2018, 12:53 AM
5th Gear Member
Join Date: Jan 2018
Location: Pennsylvania
Posts: 2,028
---
It's not an effort, I can do this kind of work in my sleep. Those Fender 8" Subs
are 2ohm dual voice coils, and just ONE of them was fantastic. They're
mounted in an enclosure that hangs from the rear deck. If I happen to come
across another one, then I will install them in the doors. I will be upgrading
the front 6x8s tomorrow with Kicker CSC68s.

$61.00/pair with harness adapters for Ford. So, I am going to dynamat
the doors while I am at it.
06-03-2018, 04:01 PM
5th Gear Member
Join Date: Jan 2018
Location: Pennsylvania
Posts: 2,028
---
DECK SPEAKERS: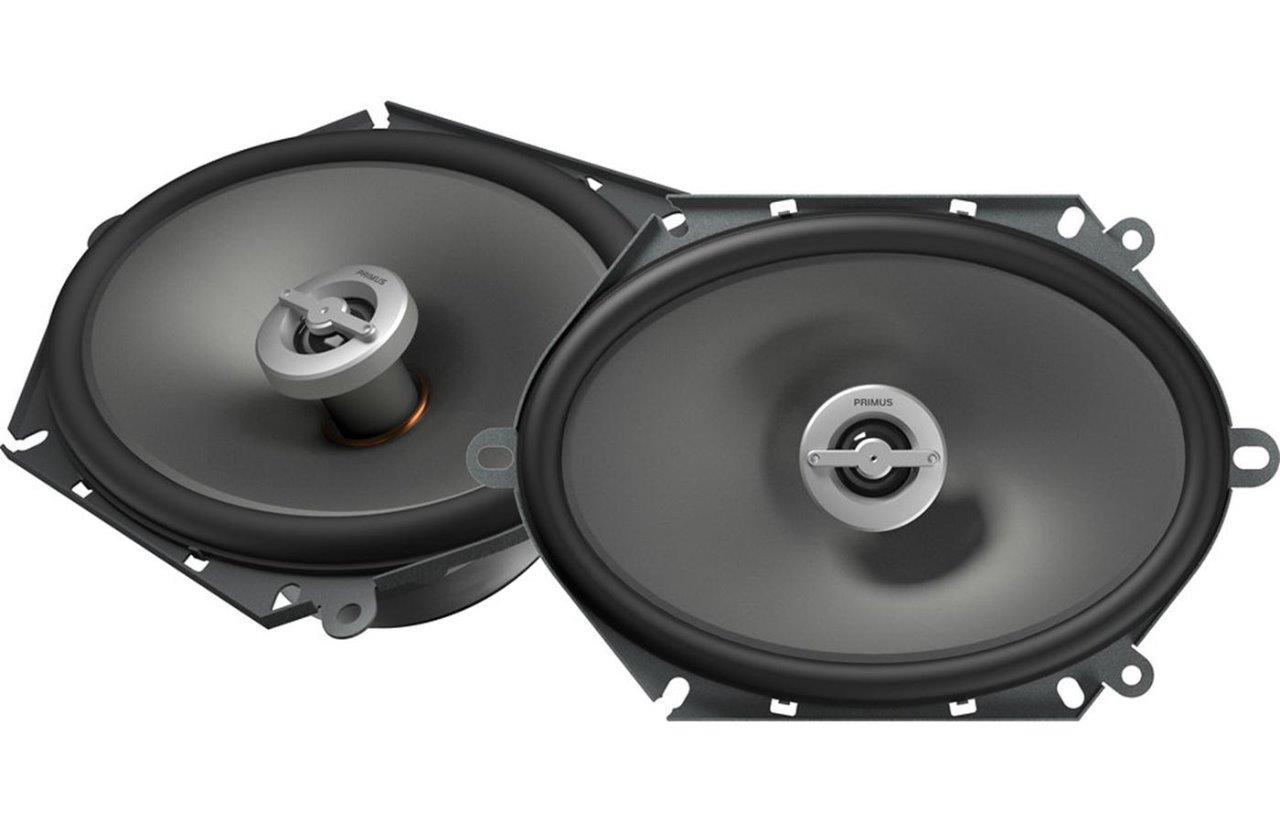 Infinity PR8602cf:
Plus OneŽ polypropylene woofer cone
Rubber speaker surround
Supertweeter size and type
3 ohms impedance
---
Last edited by 08'MustangDude; 06-03-2018 at

04:07 PM

.
06-04-2018, 03:10 PM
6th Gear Member
Join Date: Feb 2005
Location: AZ
Posts: 11,549
---
It's been years since I did auto audio. Like back when Cerwin Vega, Soundstream, Alpine, Harmon Kardon, Rockford Fosgate, and Blaupunkt were considered top tier.
Anyways, as I recall, it's ok run a higher resistance load on an amp but you have to be aware that the output power will be severely limited the higher you go. Lowering your impedance load below it's rated stable rating, that, could damage the amp.
So, if your amp is rated for
[email protected]
ohms and
[email protected]
ohms but 2 ohms is considered the lowest stable rating, you could still go to 1 ohm and get say 300w but you risk over driving the output of the amp and damaging it. Not the other way around.
Ideally, given the low rating of the factory subs which are matched to the other speakers in the door and will be hard to find, if you're going to replace one speaker (6x8 or sub) you should replace them both so you can best match the impedance. Of course, I can't tell from the pictures if the subwoofer is wired in series or parallel.
I'm going to guess series which is 2.4 ohms. In parallel that would be 0.6 ohms which would be just plain stupid. just my $0.02.
06-04-2018, 03:59 PM
5th Gear Member
Join Date: Jan 2018
Location: Pennsylvania
Posts: 2,028
---
Factory subs are not wired in parallel or series. They are dual wound voice coils,
at one channel for each coil. As a pair, they are not wired parallel or series either.
NEITHER:
Each speaker represents a coil, as there are not FOUR speakers, there are two, but four coils;
each sub has two voice coils. Each sub has a two channel amp.
Also, who said anything about only replacing ONE speaker, of any type? Even a novice knows you
replace both, unless you are replacing one bad factory speaker with another good factory speaker.
The 6x8" door and deck speakers on the Shaker power from the HU, not an Amplifier. They're 25watt,
with the HU putting out 22 watts per channel.
My Eonon is 42watt x 4, stable to 2-ohm. Most car amps made are stable to 2-ohm.
My infinities are 3-ohm, the Kickers are 4-ohm.
---
Last edited by 08'MustangDude; 06-04-2018 at

06:28 PM

.
06-05-2018, 03:25 PM
6th Gear Member
Join Date: Feb 2005
Location: AZ
Posts: 11,549
---
My comment about one speaker vs two was referring to the number of speakers per door as in you should replace both speakers. It was my bad I completely Alzheimerd the fact that you would never run full range and subs off the same channel of an amp unless you have an active or passive crossover in the output path. Something auto mfg's don't do.

I didn't have access to the wiring diagram so I was not aware that ford ran each coil off what appears to be its own channel on the amp. My comment about impedance still stands with respect to series or parallel and wiring of dual voice coils. I have a very hard time believing ford uses two dual-channel, 1ohm per-channel stable sub amps. Without testing the circuit myself I can't say anything to contrary though.